Okay, so they're the yuppy puppies of purani Dilli. A couple of indeterminate age -- with a knee-high daughter -- move heaven, earth and snooty school corridors to ensure that their child will speak English, not Vinglish.
Here's a more than politically correct subject, peppered with dollops of realism as well as fanciful ones, and on occasion, contrived twists and turns in the plot, which add up to an utopian take on the lamentable state of education in the nation. In fact, it's tempting to overpraise Hindi Medium directed and co-written by Saket Chaudhary (of the aborted Side-Effects franchise) as much as it would be incorrect to solely carp about its flaws.
Moreover, like it or not, the same subject was narrated with pith and pungency three years ago by the Bengali film Ramdhanu: The Rainbow. It dealt with a Kolkata couple's plight in enrolling their five-year-old son to an elite school. There the husband owned a chemist shop, here he runs a 'boutique' vending imitation designer lahengas. Sorry, but largely the approach to the theme – of critiquing the Right to Education Act, passed by Parliament in 2009, forbidding parents and kids from being 'interviewed' – does seem to be deja attempted to ignore.
Saket Chaudhary has denied the rip-off factor of course. I'm mentioning it just for the record, and will go with the age-old theory that purposeful minds can think alike. Moreover, Bollywood rarely takes up cudgels against the governance-fuelled (whichever the ruling party may be) Establishment. In its own kabhi- comic-kabhi serious way, Hindi Medium does so , and passes with honourable marks.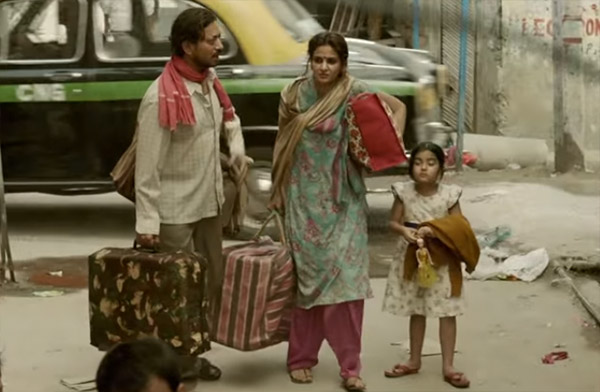 Image Source: youtube/tseries
Over then to Raj (
Irrfan Khan
) and biwi Mita 'Honey' Batra
(Saba Qamar
), denizens of the old world-oozing Chandni Chowk. Life's beautiful and all that till their bids to secure admission for their daughter to 'classy', angrezi-friendly school is stonewalled.
The face-to-face encounters with the school authorities are perceptively and hilariously written and picturised, a ritual which most parents in the audience will connect with. Not that this is a new age malaise. Ever since the post-Independence era, and probably even before that, corruption has seeped into the school admission procedure, depending perenially on 'donations', the child's pedigree and the alertness is handling across-the-table inquisitions of the questionable kind.
Not to be outdone, the Batras move to a swishier south Delhi address, besides dolling up in flamboyant designerwear and striving to do as the wannabes do. Plus, Raj is subjected to the third degree of getting the spellings of his new put-on lingo, dot-on. So far, so heart-tugging. It's when the Batras move to a downbeat, mosquito-rat-infested bastee to masquerade as slumdog millionaires of sorts, that you have to suspend your sense of disbelief. Such extreme measures, really?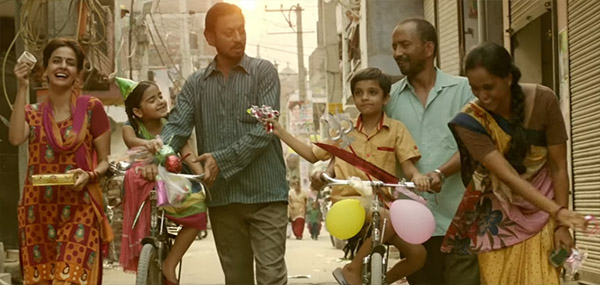 Image Source: youtube/tseries
Gratifyingly, the script co-written by Zeenat Lakhani, still keeps you sufficiently engaged. Next: the desperate parents aspire for their daughter's school enrollment via the quota reserved for the underprivileged. And in this incredible move, are helped considerably by a factory worker (Deepak Dobriyal), who has been dreaming of an upgrade for his son. The irony of a deprived parent coming to the aid of a well-heeled couple is simplistic and implausibly rendered.
Worse, the climax is too stagey and excessively plotted to ring true. Never mind, because Hindi Medium does offer rewards aplenty, right from its technical proficiency (particularly Sreekar Prasad's elegant editing chops) and the use of authentic locales to a zestful music score. Throughout, Chaudhary's direction arouses tremendous empathy for his big little people. Indeed the Batras come off as your next-door neighbours confronted with a topsy turvy world.
Of the performances, Amrita Singh as a dragonette of a school headmistress, is pitch-perfect. Deepak Dobriyal packs in an emotive wallop.
Pakistan's Saba Qamar correctly blends a go-getting drive with wry humour. Undoubtedly, Hindi Medium, belongs to the ever-bankable Irrfan Khan. At 50 in real-life, he may be a bit too mature for the part. Yet, he vaults over the age barrier. Absolutely lovable and calibrated, he's once again expert in the limitless alphabet of acting.
In the event, I'd sweep my reservations under the rug. Unsolicited suggestion: buy yourself a ticket right away for this bittersweet learning experience.




Thumbnail Image Source: youtube/tseries & instagram/hindimediumfilm