Oh oh. Do check out these facts. Out of eight million people, there's at least one case of two dudes who share the ditto mental and physical side-effects. And hello, on being quizzed about the name of the capital of Afghanistan, the response is, "Kabul? Noo noo it's Qabool."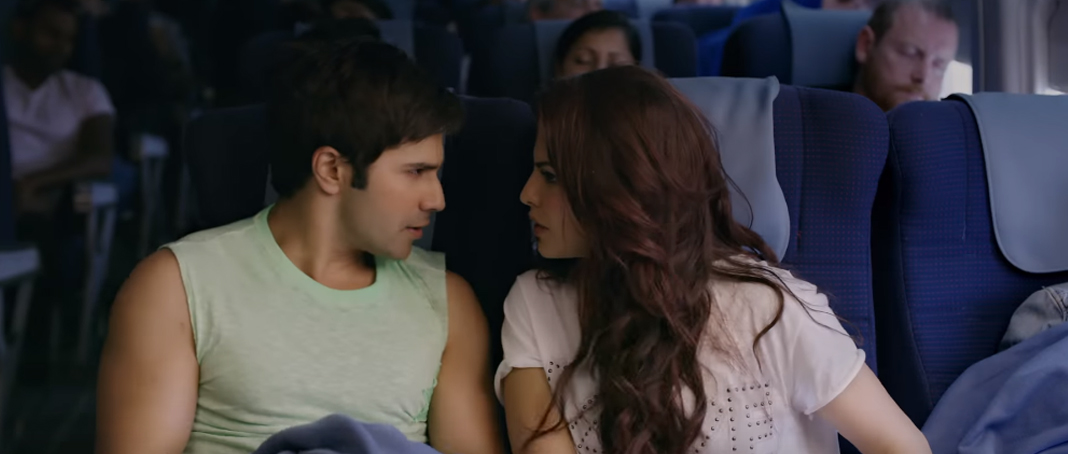 A Still From Judwaa 2

Chuckle chuckle? Now that depends on your mental faculties entirely. If you believe such drivel equals to entertainment, then aaiye padhariye to David Dhawan's Judwaa 2, recooked 20 years later from his own Judwaa jamboree, double-starring Salman Khan. Bees saal baad, Dhawan saab rekindles the yaad.
For the record, it might be reiterated that the Khan hit flick was a re-tread of the Telugu tee-hee Nagarjuna fest Hello Brother (1994) anyway, which itself was heavily inspired by Jackie Chan's Twin Dragons (1992). Uff, this business of originality, or the paucity of it, can be so complicated.

Indeed, a dewaterisation policy has been seeping into the Bollywood eco-system. Add a gushing tapful of water, rewrite the gags, alter the cast (natch), update the chartbusting songs, and presto a naram chai, paani zyaada, doodh kam, is read to be served. Not even piping hot but tastelessly lukewarm.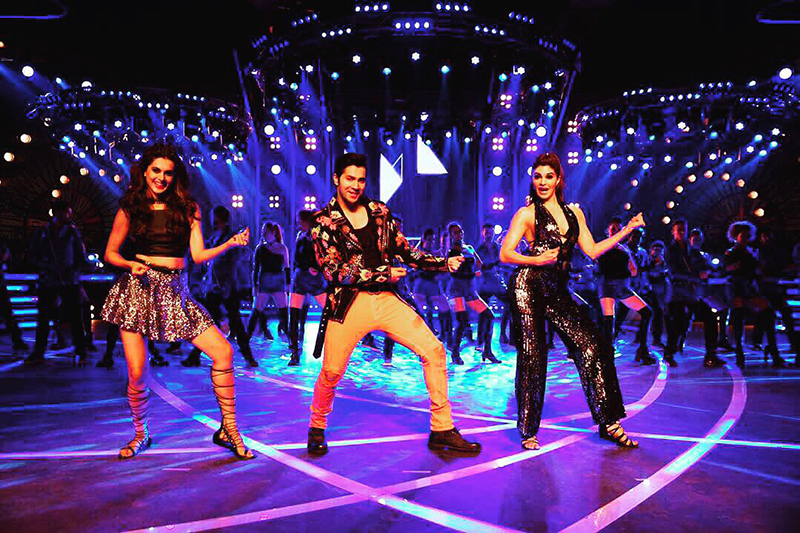 Taapsee Pannu, Jacqueline Fernandez And Varun Dhawan In Tan Tana Tan

Over then to the judwaa lookalike bhais, London ka squeaky clean Prem (Varun Dhawan) and Mumbai streets ka mast mastiwalla Raja (You Know Who). Alas, the screenplay's determined to make both of them behave like dopes – in their quest to take on the cliched baddies -- rather than doppelgangers. Not suprisingly, then, the outcome's a brain-banger. Ouch.

At this point, you might ask – hey but what did you expect? After all, Dhawan and team don't pretend to be anything else but purveyors of movies of the masala, chutney and achaar variety. Right but there has to be a digestible main course to enjoy, too, the sort which was served by the fantasy chef Manmohan Desai. A tall order, maybe, but I'm still idealistic – or foolish-- enough to crave fun-'n'-games which are finessed.

In J 2, woebetide, the frantic antics are crude, rude and lewd. Anything goes, even if it's throroughly out of date even by Bollywood's moanstream standards. No point in bemoaning that maybe. More often than not hokey-pokey stuff still sells. So phooey to the carpers like moi. Quantity of footfalls count, the quality quotient be damned.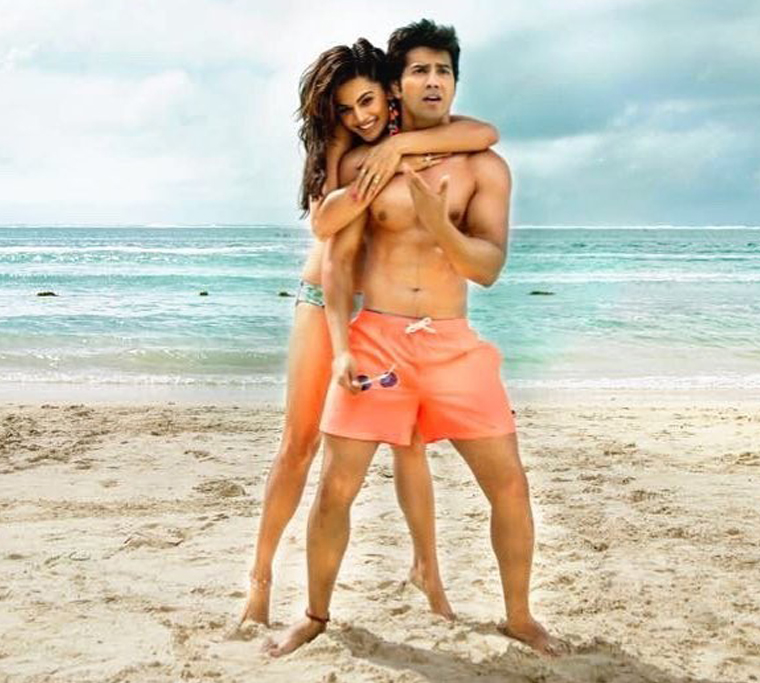 Varun Dhawan And Tapsee Pannu In Aa Toh Sahi

There are bound to be takers galore for the once-again-lost-and-once-again found Prem and Raj bhai sahebs. Of the two, Raj is the crowd-pleaser, with his jaguar speed tongue, bindaas attitude, an ethu-cutlet of a girlfriend (Jacqueline Fernandez), and the hair couture of a bygone era's rock star.Above all, he can peel off his shirt to show off the lord-know-how-many-packs-abs, a device which has taken precedence over acting mutton chops nowadays.

As for Prem, he's supposed to be as cute as a Ken doll, is assigned a Barbie (Taapsee Pannu, labouring hard to do the zing thing), and quite frankly admits, "I'm a weakling." Heavens, the ghosts of the valiant Ram and the meek Shyam – quite easily the best ever twin roles in Hindi cinema performed by Dilip Kumar – continue to preside over the double role bromances.

The knockabout slapstick signature of David Dhawan hasn't altered a jot over four decades. So be it. The sing-and-dance sections – including the reprise of Anu Malik's tunes Oonchi hai building and Tan tana tan – are executed with a spirited style.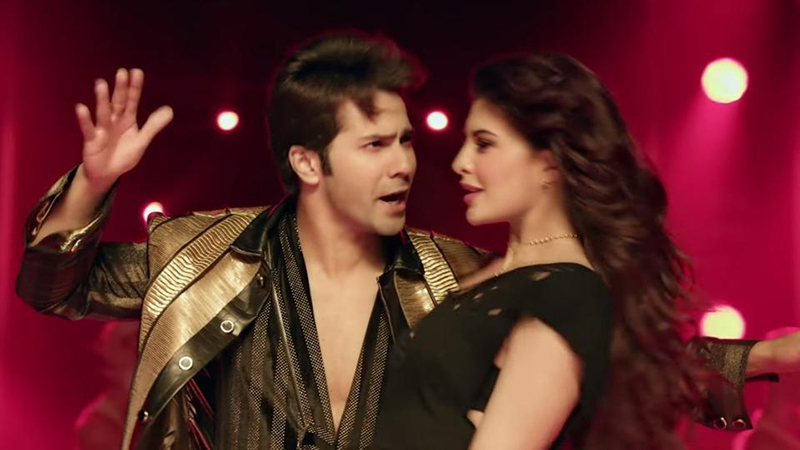 Varun Dhawan And Jacqueline Fernandez In Judwaa 2

The dialogue writing and the supporting ensemble (especially Rajpal Yadav as a meant-to-be hilarious speech-impaired flunkey) are strictly slapdash. Salman Khan's cameo is a sporting gesture and that's it.

Jacqueline Fernandez and Taapsee Pannu, outfitted in swimsuits, are around for the glamsham quotient.

Ergo, what's the saving grace if any? It's two Varun Dhawans for the price of one. The actor has what it takes to be high-energetic and endearing. In the event, he succeeds in varying his impersonations of the as-different-as-moonlight-and-sunshine bhai bhai. Mercy be.

Free advice: Judwaa 2 is immune to criticism. That's a given. Take this ticket to ride only if you have an appetite for globs of gadbad ghotala topped by masala, chutney and achaar. Burp?


Image Source: youtube/foxstarhindi & instagram/varundhawan