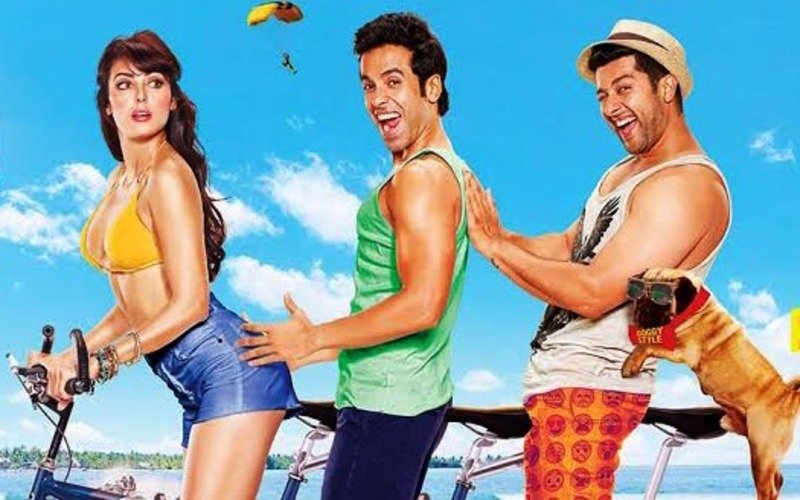 Rating: Zero, baida, shunya.

My dear Ektaji,
I went to your KKHH Chheee, knowing completely what to expect. Vulgarity
unlimited. Lewd wisecracks on the lines of "Main deti hoon, main leti hoon",
"kitna bada hai", a mouse wriggling into a male's trousers (without biting his
private parts), not to omit cheesy close-ups of breasts, behinds and faux
erections.
Okay, so I can endure totally downmarket, toilet humour, but what I
experienced was enough to give anyone a brain tumour. I finally left the
auditorium (Inox, Nariman Point, 12.15 p.m. show) feeling tortured. The
audience of 10 or so in a 100-plus-seater wasn't giggling or tittering either.
Sannata, there was.
Right, so this sick flick is no aphrodisiac for the multiplexes. It's calculated, as
the trade would maintain, on the business toted at the single-screeners.
Good luck to you, may you make crores and crores, but ever since I've seen you
as a young woman of substance – who has made a deadly impact in male-
appropriated show business -- I do have 10 questions to ask of you.
I would go to the extent of defying you to answer them on this space if you have
the guts. And I know you do, which is why I'm baiting you.
If you wish to ignore them, no problems. That's your call entirely. Critics,
reviewers, whatever, like myself, especially myself, are dumb clucks. What do we
carpers know about what sells and what doesn't? Money makes the world and
cinema go round, but at what cost Ektaji?
Anyway, here are the 10 questions for your consideration:
You've been a feisty young woman who established her hold on TV serials

and then, filmmaking. Are you truly happy with hawking this puerile

punishment, the Kyaa Kool…franchise. And if so, could you tell me why p

lease? Pretty please.



Sex flicks, packed with execrable situations, about the male libido (or the

lack of it) have been a pretty rabid fixture in Hollywood. Did they inspire

you or do you just have this subconscious desire to depict men as

mindless, brain-castrated bozos?



Actually not a bad agenda, that, cutting men to size. They all seem to be

over-endowed, what with crows perching comfily on their you-know-

whats. Consistently, your males give the impression of being freaks of

nature. But child, why portray women as batty bimbos, who breathe

heavy (one explains that by claiming she has asthma), and do things with

their mouth as if they were on a dentist's chair for a root canal?



What's with the bikini phobia? Sorry but your Mandana Karimi doesn't

do much more than grinning wiiiiiiiide and posing as a mannequin in

itsy-bitsies.



Imposing a gay, effeminate sidey in the plot amounts to homophobia,

doesn't it?



Why allow lewd puns from writers Milap Zaveri-Mushtaq Sheikh,

directed by one Umesh Ghadge? Good ole Sholay has been retitled as

Kholay, just in case that missed your perusal.



Hollywood sex flicks do have storyline of sorts. None here. If at all, it's a

mishmash of two bachelors, Rocky and Kanhaiya, who fly to Thailand to

act in porn movies and then lampoon Sooraj Barjatya's Hum Aapke Hain

Koun..! The Barjatyas are named as Karjatyas. How dignified is this of

you?



Aftab Shivdasani and your kid bro Tusshar Kapoor, are now associated

essentially with sexcapades. Is this the way to re-invent their careers or

ending them prematurely?



One ancient gentleman in KKHH3 swallows a heap of Viagras because

he's about to be introduced to 'laundiyas'. Are you cool about women

being called 'laundiyas'?



From what I've perceived over the years, Ektaji, you're super-intelligent

and have carried the work of your father, actor Jeetendra, to the next

level. Like it or not, though, there's the danger of becoming an Ekta Bhi

Kabhi Dhansoo Thi. Repetition of risque business – whether it involves

two uncool heroes, that frisky mouse or a potty-mouthed parrot -- can't

go yawn forever.



These 10 questions just amount to my take, nothing more, nothing less. But
wait…
Last additional question: Will you please stop and save us from a Kyaa Kool
Hain Hum 4? I promise to send you a normal, clean-cut parrot…if you do.
Warmest regards of the season.