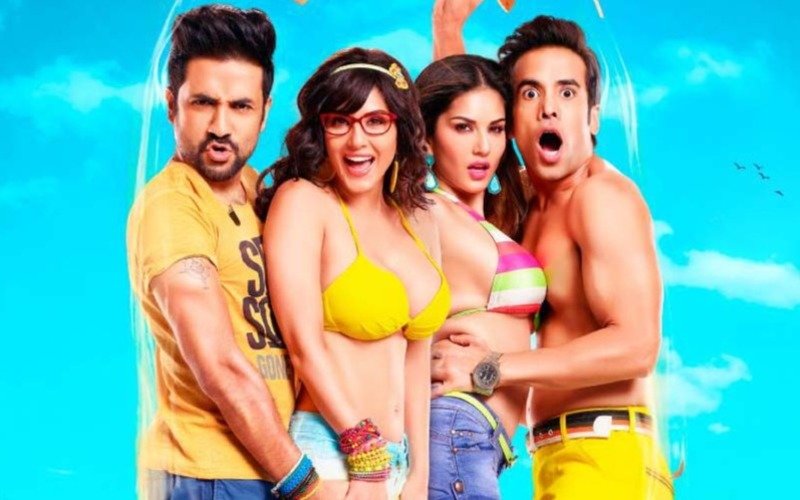 Rating: FORGET IT



Ooh loo loo. Run towards the closest restroom, pick up a broom, clean the floor, close all the doors, remove the stench, the dirt, the filth, the kachra, the garbage. What you've just endured at the multiplex is gawd-offal.


Quite surely the worst movie ever made – hands and every other body part down – Mastizaade, scribbled and misdirected by Milap Milan Zaveri, is also so reminiscent of last week's Kyaa Kool Hain Hum 3, that it could well be a regurgitated remake. Both the purported sex-vex comedies, believe it or barf, have been concocted by the aforecited Mr Zaveri. Chhhhheeee!

Indeed, the chief karta dhartas of both the production companies, could take umbrage for the sicko similarities, right from those le-le, de-de (take-it-take it-give it-give-it) double entendres, the ever miscast Tusshar Kapoor and a nervous cameo by long-lost journalist-now-co-writer Mushtaq Sheikh, not to forget gross bestiality (Kool went gaga over a frisky mouse, here it's a sleepy horse who becomes the butt, literally, for a ghastly gag). Call the SPCA!




That bemoaned, let it be clarified that it's rude to be prude. Nothing wrong with raunch, libidinous jokes and miscellaneous pokes. There's no one in this whole wide world who hasn't guffawed or giggled at sexy wisecracks. Alack, there's nothing remotely like 'wise' in Mastizaade which could well be titled Bustyzaade.

Cut, then if you must, to two overgrown bustoholics, who work in a mad ad agency, currently designing a campaign for a gotiwala soft drink. Gotis, by the way, mean fiddling around with testicle-like marbles and balls. Eeeeesh.

Anyway, subsequently one of the busters (Tusshar, please retire) flips out over a Laila (Sunny Leone without specs). And the other bust-boy (Vir Das who should stick to stand-up stage acts) goes walnuts over a Lily (Sunny Leone with specs). In between, they bed every female in sight. What a fright!

You get it? Ms. Leone, in a dual role a la Seeta aur Geeta, is this rotten fruit salad's prime Papeeta. Snag is that the bustoholics also have this curious fixation about bananas and on other occasions, lollipops-'n'-plastic nipples, sucking at them to raise laughs but only prompting you to wish that you could nipple them in the bud. No chance. They're beyond rescue. No Airlift for them.

On their own volition though, the Bustwallas fly to where else but Thailand? The plot thickens and sickens. Correction: there's no plot. A stringy series of scabrous skits, keeps bludgeoning you with a creepy crawly kadhai of characters: a gay nutter perfect for an offensive display of homophobia, an Ancient Chatterbox (Asraniji), and gasp, a wheelchair-bound armyman (Sword-cut Moustache) who knits the Indian flag. Shiver your timbers, even the spirit of patriotism isn't spared.

Above all, do meet a sexpert (Riteish Deshmukh, are you okay?) who pops up at the outset, vanishes and then reappears as a godman of The Orgasm Ashram. Rum one, that.

Director saab in his desperate effort to go ha-ha, fractures your skull rather than your funny bone. Truly, from which chakki does he get his aata? What was he smoking, drinking, eating or doing, please, at the Thai resort? Without a blush, he even makes a cheesy guest appearance. Truly, it needs some kind of a warped mind to get this vulgar. Unsolicited advice: Think about it Zaveri saab, do submit yourself to a shrink.



Inadvertently, perhaps, the chemistry between Tusshar Kapoor and Vir Das is more palpable than it is with dear Sunny Leone, who just flits around the scene like a trapped butterfly. Watch, if you're held at gunpoint, the frisson between Kapoor and Das massaging each other's toes, the obvious suggestion being that they're hands-on. Please, such public display of disaffection is just not happening.

Technically, the result looks as if Masti-whatever was an endeavour towards the gaudy, the bad and the ugly. Incredibly, the cinematography is the handiwork (oops!) of the normally-topnotch Sanjay F Gupta. Sad.





What else? Oh yeah, ditzy digs are made at Bollywood movies again. In lieu of the one coin in Sholay, several placed on the crotch fly up explosively to the ceiling.




So will your hard-earned bucks if you dare to venture into this (bleep bleep) travesty. Aaaarggh. WT*#!! Enough said, and suffered.


Image Source: Facebook/Mastizaade