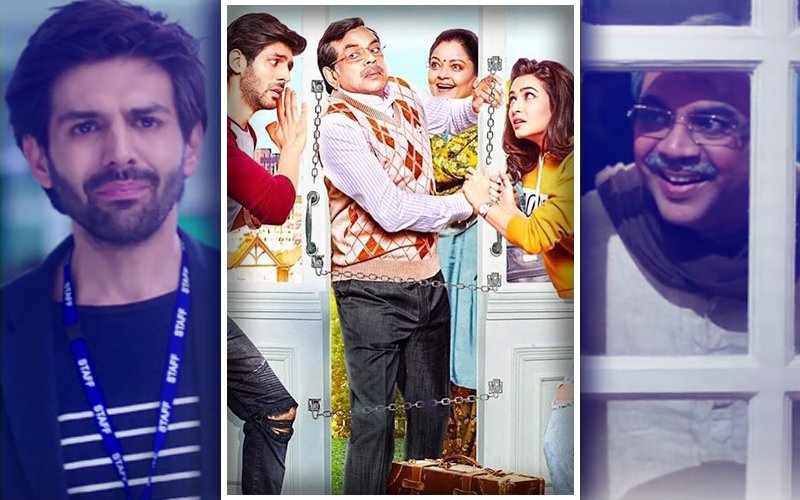 Think stink. Take some smelling salts or a cologne spray along if you dare to evidence the farting sprees of an Uncleji out there in city of the Big Ben. The oldish man is so given to letting off farts, aka paads, that you wonder why they didn't title this windfest, Paadman. Much better than the staid Guess Inn London.

Which by the way totes a couple of firsts: the record number of paads heard on a movie soundtrack and that peculiarly spelt Inn. In dinon aisa bhi hota hai.

Now, this spin-off from the Ajay Devgn-Konkona Sen comedy Atithi Tum Kab Jaoge (2010), has also been directed by Ashwn Dhir (Ashwn? Or should it be Ashwin?). And seeks to roll on with an Atithi franchise, without bothering about bringing back the earlier actors, save for Ajay Devgn in a time-pass guest disappearance.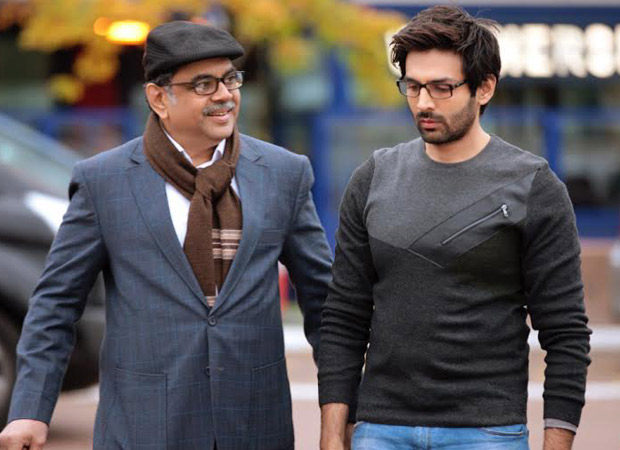 Paresh Rawal And Kartik Aryan In Guest Iin London
It's supposed to be a new story (if you can call it that), a sorta new caboodle of characters and execrable gags galore. Bore. That uncle, believe it or belch, is called Gagga Chacha (Paresh Rawal saab). And the grin-and-bear-it Chachiji is more sedately called Guddi Chachi (Tanvi Azmi), as a concession perhaps to your jangled sensibilities. Honestly, how desperately you long to cha cha cha straight out of the multiplex audi. No such luck. Cluck.

Incidentally, the concept of an unwanted guest, who may not seem to be who he is, was created way back in 1992 by Satyajit Ray, no less. Adapted by the master director from one of his own short stories, Agantuk, featured Utpal Dutt as a 'maan-na-maan-main-tera-mehmaan' who gatecrashes into the lives of a young, married couple. I'm pointing this out just to state that even the first Atithi rigmarole by Ashwn Dhir seemed to be an 'inspired' concept. Enough said, in respect to the memories of the glorious Ray saab and Utpal Dutt sir.

Back to Chacha Paadu then. And his two victims – a coltish pair (Kartik Aaryan-Kriti Kharbanda) who're planning to get married so that one of them can acquire British citizenship. Ergo the gaga Chacha's aberrations and yuck manners have to be endured. After all, Chacha can be a handy witness to the wedding, the couple's live-in relationship, whatever. Truly, the remnants of your brain are being pickled into a nimboo achaar by now.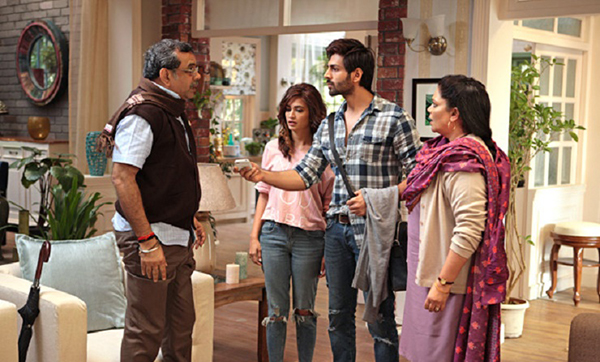 Paresh Rawal, Tanvi Azmi & Kartik Aryan In A Scene From Guest Iin London
It would be as futile to tell you much more about what happens or doesn't in the course of an excruciating running time of 138-minutes. Suffice it to moan that I've never ever experienced such a barrrage of racist slurs, homophobic PJs, male chauvinism, allusions to 'surgical strikes', jibes at China, Pak-bashing – Sanjay Mishra fetches up as a British cop of Pakistani origin, if you puh-lease – and to top it all, a full-fledged ghazal dedicated to ewww, the fart fixation.

About the only tolerable element in this Bollywooden farce, are the slickly photographed London sights. The more said about the brazenly low-brow script, the toilet humour-centric direction and the jingle jangle music, the worse.

Of the cast, Kartik Aaryan, whom you might remember him from Pyaar Ka Punchnama, he passes muster. Ditto Kriti Kharbanda, whom you might not remember at all.

As for the estimable Paresh Rawal, whatever happened? Back on screen after a hiatus, such a sub-zero enterprise doesn't behoove his status. And what's to be said about Tanvi Azmi? She strives to retain her equanimity, and keeps smiling tentatively as if she had landed up at the wrong location shoot.

Unsolicited suggestion: Stay far far away from this madding crowd of a movie. Unless you want to get into stomach trouble.
Image Source: youtube/panoramastudios