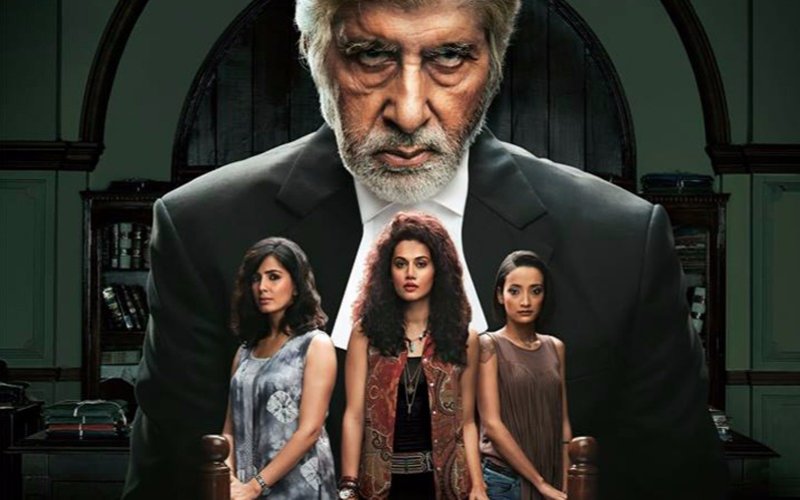 For sure, Pink has its heart and mind in the right place. Absolutely. It's dramatic, topical, adroitly assembled, and above all enhanced by A-grade performances. Still, there's this gnawing feeling – haven't you seen the bare bones of the plot, in differing forms, already outstandingly recreated by Raj Kumar Gupta reality-culled No One Killed Jessica (2011)?
And there are resonances too from Hollywood's The Accused (1988) for which Jodie Foster took home an Oscar for portraying a sexually abused woman who hauls a bunch of heinous hell-raisers to court, and wins.
Obviously alluding to the Nirbhaya rape case of December 10, 2012 in Delhi, producer Shoojit Sircar and director Aniruddha Roy Chowdhury create a fictional story about three young women brutalised by a politician's nephew and his cronies. To add insult to injury, the girls are framed. Now, it's up to an on-the-skids lawyer to obtain that elusive factor called justice in the city known as the 'rape capital of India.'
The ace in the film's sleeve are the characterisations of the three working girls (Taapsee Pannu, Kirti Kulhare, Andrea Tariang), who have pooled their resources to live as flatmates in a tony South Delhi neighbourhood (think Greater Kailash, Panchsheel Park. Incidentally some sections were shot in the journalists' upmarket enclave Gulmohar Park). No paying guest barsaatis for the girls. Throughout the trio are recognisable, spirited young women of the 21st century. If the girls wanna have a spot of fun, that's as natural as breathing oxygen.
The politician's nephew Rajveer and assorted bozos (Angad Bedi and Co), however strike you as done-to-death clichés. Somehow, even while dealing with an all-too-pertinent subject, if you're in Delhi that means blame it on the netajis and their ilk. Without a doubt, countless politicians and relatives do behave like scum of the earth whether it is in acquiring a driving licence, school admissions or lording it over at the night clubs. How you wish the director and his writer Ritesh Shah could have probed other sections of male predators as well, to expose inconvenient truths.
Admittedly that would have been another story altogether. So there you are then. 'Political connections' are the baddies, and inevitably the general chauvinistic attitude of neighbours looking upon women's mode of dress, smoking and drinking as proof of footloose morals.
In the event Deepak Sehgal (Amitabh Bachchan) achieves the status of the heaven-gifted hero, combating the odds despite his bipolar disorder, an ailing wife and his state of retirement. By the way, quirks like his attention being diverted by a cockroach in the courtroom, humanise his character with a touch of humour.
Image Source: Youtube/Times Music
The one-man army of concern for the girls, undoubtedly, is a case of perfect casting. Bachchan gets a terrific opportunity to drip sarcasm, ignite fireworks and employ the armoury of his extraordinary voice and diction in the courtroom. At the age of 73 now, here's his finest hour in years. His coolly calibrated performance has you hooked, and should be a strong contender for prime honours during the next awards season.
Some narrative points rankle though: Why didn't the lawyer do anything when he witnessed one of the girls, who stays close by, being roughed up? Plus, the parents of the three girls are conspicuous by their indifference.
On the upside, the ensemble acting crew is of the highest order. Taapsee Pannu shorn of glamour and newcomer Andrea Tariang are impressive, backed by a script which understands the exact nuances of their roles. Piyush Mishra as the diabolical Rajveer's lawyer swashbuckles ably with Bachchan in court. And Kolkata's Dhritiman Chatterjee as the judge is as lifelike as you can get in a superior-quality Bollywood product.
The production design, punch-lines in the dialogue and the background music score (a forte of Shoojit Sircar enterprises) also exhibit a cutting edge.
Moving at a tight and tension fraught pace, Pink serves as a slap on the face of the still-widespread misogyny and regressive values, be it in Delhi or any other metropolis. The result shakes up the complacent viewer, and is more than value for your ticket money.
With all its pros and some cons, then, here's a power-packed tract. I would rate is as a must-dekko albeit with the faint reservation because of its impossible to overlook shortcomings. Expect a potent film which tackles a pertinent subject. But please, don't expect a masterpiece.
Thumbnail Image Source: shyfyy