Here's the story of a girl who thankfully doesn't want to end her life after she ends up in bed on her first date (with somebody who doesn't matter in the cast) and crosses all boundaries to marry the man of her choice even if that amounts to eloping with him without his knowledge!
Yeah, you read it right. That's exactly what happens in Running Shaadi, and I want to cross all boundaries in praising this girl who lights up the screen every time she walks in and you just can't take your eyes off her. Taapsee Pannu impressed you in Pink and she proves it in Running Shaadi that her histrionics in the Bachchan starrer were not a fluke.
Amit Sadh scores brownie points when the role gets serious for him in the second half, but could have done a little better in the first. Mind you, he doesn't have an easy role.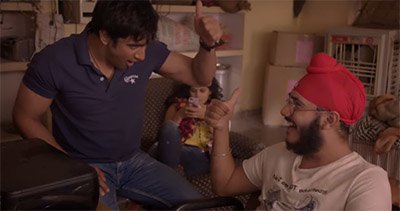 Image Source: youtube/timesmusicindia

Amit's friend played by Arsh Bajwa lends a bit of spice with his mannerisms.
I never like to go into the details of the story when I review a film and today is no exception, but I cannot refrain giving you a hint that Running Shaadi looks- at least faintly if not strongly- inspired by Jab We Met, Tamasha & Co- you know this aaj kal ka trend where one person in the relationship is somewhat not sure about his feelings and gets a clarion call only when he sees a third person in the picture. There is also an undercurrent of Band, Baaja Aur Baaraat in the film.
It's a simple film which however still has a kiss towards the end. Fair, and I am not being prudish. After all, kiss is an expression of love.
The music by Anupam Roy, Abhishek-Akshay & Zeb could have been better, though. Also, a few scenes could have been eliminated from the first half. Yet, Shoojit Sircar (producer) and Amit Roy's (director) hard work froths up every now and then.
Roy proves to be a good writer too, his work with Navjot Gulati deserves respect. If he hadn't held the leash, Running Shaadi had all the possibilities of becoming a loud film.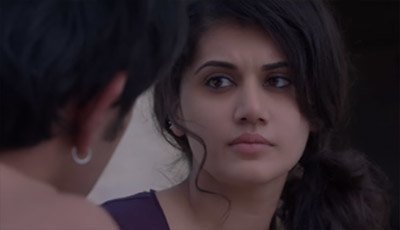 Image Source: youtube/timesmusicindia

Back to Taapsee. Watch her in the scene where she tells Amit that she has missed her period. Watch her in the scene where she tells him that she laid out a plan to elope with him without keeping him in the loop. Watch her in the scene where she gets aghast on seeing Amit's bride-to-be for the first time. Lots more in this girl which raises my rating by half-star.
I'll go with Three.


Thumbnail Image Source: youtube/timesmusicindia