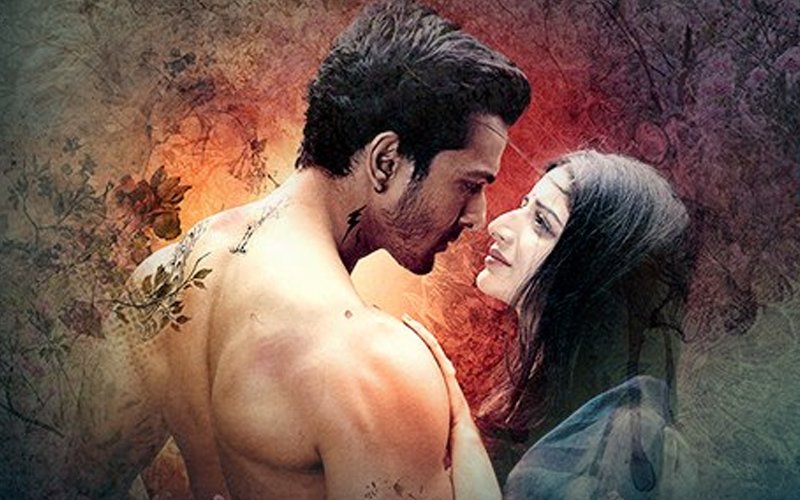 Reach for a paper tissue. Out here everyone has a heart-tugging issue. Nothing that a sane five-minute conversation couldn't resolve.

In the absence of talking sense, Dissolve to a scenario where each and every human being wrapped in a quilt of vexatious woe. Behold and lo!

Indeed despite its stale title, Sanam Teri Kasam directed by Radhika Rao and Vinay Sapru, could have been an intense love story, but the duo bury you under an avalance of implausibilities, outmoded family values and a running time of 155 minutes which convinces you that the clock, somewhere down the line, stopped going tick tock. There's just no movement in the plot which turns as stationary as a huge truck stuck in a traffic block.




Most fatally, though, it's just not possible to swallow the story premise that the sweet, amiable heroine Saraswati aka Saaru (Mawra Hocane) is an ugly duckling merely because she wears a pair of jumbo-sized spectacles. Countless eligible bachelors who have rejected proposals advanced by her Tam-Brahm parents must have either been blinder than bats or just plain rats. By contrast, her kid sister is called a "beauty queen" even if she isn't. Yeah.

Anyway Ms Duckling gets herself a make-over, dhaniyaads to her mysterious tattoed neighbour (Harshvardhan Rane). A bit late in the day, because her Daddy Uncool (Manish Choudhary) has kicked her out of the house – such a louse – simply because she was applying ointment to the injured back of padosi Tattoo. "Mere liye tu mar gayee," he bellows, deflecting any explanations. What to do? Dads, it's suggested, are like that only. Bludgeonly curmudeognly.

Incidentally, duckling Saaru's make-over is masterminded in the course of an item number by a Dharavi-domicled smuggler of designer cosmetics. You read right. Cosmetics, not narcotics. And gasp, the strangely oriental item cabaret set in a studio-manufactured Dharavi isn't performed by Sunny Leone or Malaika Arora Khan. It's performed, gasp, by Vijay Raaz. You read right again.




Speaking of Raaz, Tattoowala Neighbour has a raaz or two, too. By the time, that nugget's revealed, you're in deep slumber. Zzzzzzz. Wakey wakey. A blood-test which has been announced casually in the dialogue, now turns deadly serious. Instead of dozing, you're delirious. Why oh why this villainous terminal illness?

You get the drift. Tragically, duo Rao-Sapru squander yet another opportunity to grab the spotlight. Earlier, they blew it with the chaotic, Salman Khan headlined Lucky: No Time for Love, and the barely seen Sunny Deol-Kangana Ranaut I Love New York. Squawk.

Unarguably, the writer-director twosome do have a flair for glossy visuals, besides unusual dance set pieces, evidenced in the case of Sanam Teri Etc, with a rambunctious prance-a-thon picturised in a fish-cum-veggie market. In addition, the heroine is assigned the unconventional profession of a librarian, who recommends J D Salinger's book Catcher in the Rye as a must-read. Wah wah.




Apart from such likeable asides, this purported weep-rom grates on the nerves by espousing regressive values. It seems there's no better catch in the marriage market than IIT-IIM graduates. More irksomely, Saaru's fuhrer-like dad is about as imaginable as a black-and-white peacock.

Clearly, the clash of generations – the rigidly orthodox versus the free-spirited 'now' generation – required a dramaturgy which didn't lapse into absurdities.

Music-wise, Himesh Reshammiya's output is sufficiently zingy. And Chirantan Das' cinematography pastel shades the locations. especially the backstreets of Dadar's housing colonies, a wonderfully architected library and the old-worldly tenements.




Fresh-faced newcomers are an asset. Harshvardhan Rane, who has impacted Telugu cinema, strives hard to add conviction to his part of the silent lover, succeeding whenever the directors allow him to break free of the addled script. Pakistani actress, Mawra Hocane, rocks. She's effortlessly expressive and endearing.

So, it's a crying shame that the endeavour – given its stray plus points – can't rise above the level of the average. All said and tolerated, this endeavour could well have been titled Unlucky: No Time for Improvement.


Thumbnail Image Source: facebook/SanamTeriKasamFilm