True confession: While writhing in my seat through Sarkar 3, I felt I was chomping into a cheeseburger from the same fast food chain which I did in 2005 and '08, the years of the first and second-parter of the desi Godfather. No difference at all, in the sauce tang, the buns, the onion rings, dash of mustard and the patty.
The taste was as bland and nutrition-challenged. The same 'ole, been-there-somehow-digested that. Indeed, Ram Gopal Varma's Sarkar 3 is quite a hat-crrrreak, what with ominously lit rooms, doors, shadows, Venetian blinds and above all a cheesy installation of a clay-marble-plaster-of-Paris bulldog, the sort which would pass off as tacky home décor decades ago.
Oh, but then everything and everyone is a prop – a puppet on the string of the ageless, humourless and tea-quaffing Subhash Nagre (Amitabh Bachchan, disclosing no alteration in the styling department). The outcome, excusez moi, suggests that times, Mr Ram Gopal Varma and his creations, they certainly aren't a changin'. For the better, that is.
Departed son played by Abhishek Bachchan from part 2 is a smiling black-and-white portrait. Another lost son, portrayed by Kay Kay Menon, like Banquo's ghost is conspicuous by his memory. Mrs Nagre Seniormost, Supriya Pathak, is as worried-sick as ever. Suffer, suffer.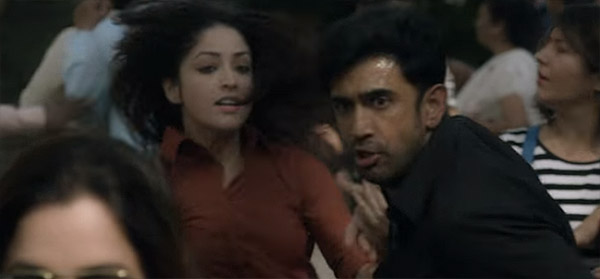 Image Source: youtube/erosentertainment
Sure, there are new players around, but you can bet your bottom rupee, that they'll get their comeyuppance for messing around the already messy scenario. Although the political governance may have changed, everyday newspaper headlines have other stories to tell, the cyber media goes all guns blazing, it's still status quo chez the Nagres.
The Boss is Lion (how I miss Loin Ajitbhai), his single roar can decimate intended projects of multi-crores. Hence when his tacit consent is sought for the development of a slum project by a builder -- which means dishousing thousands of underprivileged families – his ire is raised. After all, godpapas must be sheep cloaked in wolf's clothing, no?
Result: Nagre saheb is re-re-glorified. And he's 21st Century-Foxy enough to know that if his arch-enemies take even a day's casual leave, his existence will become as meaningless as a cell phone without a recharge. After all, power corrupts, and absolute power corrupts absolutely. So hey guys, at your own risk lend Mr Varma and his company your ears to that boom-boom background music blasting on the multiplex speakers.
There isn't much by way of solid (dare I say updated or inventive?) story-telling here. Who needs that? When you have a Sarkar with his pause punctuated voice intact? Moroever, his baleful glare can still melt glaciers, his fist has a rudraksha mala and the forehead has that tikka: perfect-o for the posters, promos and of course, the classic, superstar-friendly silver screen.
So Sarkar sir's back beleagured by an armada of foes, spearheaded by a Machiavellian orator of a politician (Manoj Bajpayee), a rangeela Dubai-based tycoon..er.. named Michael Vallya(Jackie Shroff) accompanied by itsy bitsy bikinis, and a feisty woman politician (Rohini Hattangadi). Since there must be a token leading lady, out pops a femme (Yami Gautam) with vendetta on her mind. For more obstacles in the Sarkar Bhandar, count a disgruntled aide (Ronit Roy)and tan tana, Chiku a gargoyle of a grandson (Amit Sadh) aspiring to do a Brutus on Julius Caesar.
Alas, none of the characters is sufficiently amplified to pose a plausible threat to the immortal godpa. In the absence of a right royal conflict, the dramaturgy is as tame as a garden picnic interrupted for a while by a swarm of bumble bees. Really. Most of the adversaries are apportioned abbreviated parts, while the grandson Chiku you can predict doesn't have an ice lolly's chance in hell. It would even seem that Varma is far too much in awe of his godpapa to subject him to a fight to the finish.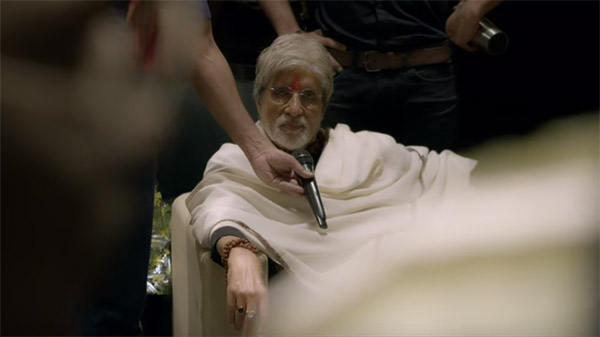 Image Source: youtube/erosentertainment
As for the director's evolution, let's just say that this project is superior to his recent servings of cheeseburgers (especially Department). Varma gaaru extracts marvellously shaded cinematography from Amol Rathod. The look is right, but the script credited to P. Jaya Kumar is direly shallow. As for Ramkumar Singh's dialogue, heaven help. It yields such nuggest as, "We don't have a problem with the position" and allusions to lions, tigers and rats. Pure retro stuff.
Of the cast, Manoj Bajpayee despite an underwritten part, rocks. Yami Gautam, Rohini Hattangadi and Ronit Roy are wasted. Jackie Shroff is unintentionally holwarious. Amit Sadh is okey-dokey.
Big question: Can Mr Bachchan save the creaky film from collapsing? Yes and no. He's flawless and imposing as ever, but also repetitious. Moreover the smattering of Marathi isn't quite convincing, used just for fleeting effect.
The angry young man of yore had his vulnerable, self-questioning moments. The angrier nonagenarian man doesn't. A point which may leave you angrier than ever with the stuck-in-a-groove Mr Ram Gopal Varma.
To see? : You must be joking.


Thumbnail Image Source: twitter/RGVzoomin & youtube/erosentertainment