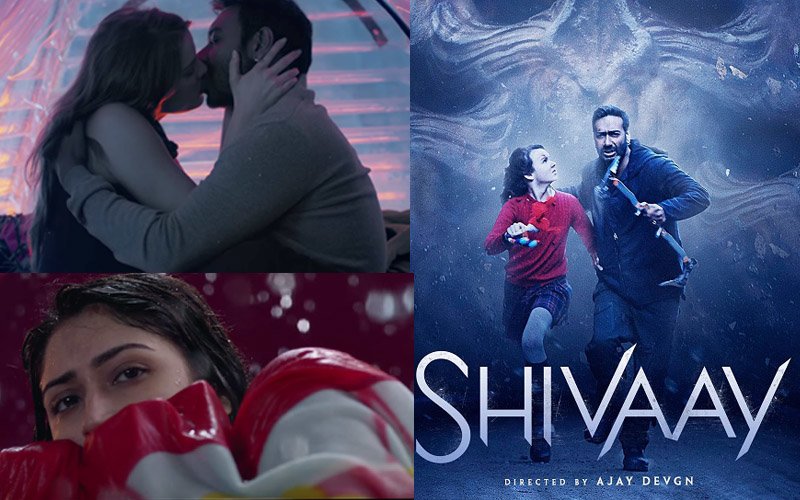 Brrrrr, this one left me icy cold and older by three interminable hours. Wish I had carried along some warming whisky sours. And a suspension of disbelief, too, because the tale sought to be told here is taller than any high-rise or tower. How you glower.

Anyway since it's our gifted, supremely intense actor Ajay Devgn at his second go at direction (after U, Me aur Hum six years ago), and the promos did promise stunts of a high-calibre besides a cute tot, I ventured into Shivaay. Only to end up shuddering-`n'-shivering. Nope, the outcome can't come anywhere close to say, Martin Campbell's Vertical Limit (2000), the survival thriller about derring do on perilous mountaintops and peaks and in slipperry crevices.

Okay, so you might ask why do we have to match Hollywood standards? The answer to that, my friends, is why not? Every month or two, we receive our fix of imported high-octane actioners. Since we claim that we can match the best in the world, especially in the action department, how about proving it once and for all? Admittedly the opening sequence and a stray few death-defying segments are executed expertly (thus the two-star rating).

That the Devgn team was sincerely dedicated to deliver the thrills, spills and kills is evident. Also evident is the fact that the result falls way short of sustaining our interest rooted in the never-ending chain of catastrophes and what-confrontations-have-you.




Indeed if you believe your life is beset with more problems than anyone else's in the world, meet the imperilled Shivaay sir (Devgn). He's having a worse time than any of us. Ditched by the love of his life, a Bulgarian lady (Erika Kaar) who you discover speaks in a strange Hindi argot, our super-dupper-hero is raising up their adorable eight-year-old daughter Gaura (Abigail Eames) in a small Indian town. Frown.

Time to travel, then, to Bulgaria where sir intends to oranise a mother-and-daughter reunion. Instead, he sets off a hornet's nest. Eowww, mafia monsters, corrupt cops (are there any honest ones in the movies, huh?), flesh trading creepoids and an assortment of 'wormicellis' turn the lives of sir, baby G and willy-nilly ours, into an ordeal. You can sense that dearest daughter will be targeted by yucky evildoers and oh oh, that does happen, reminding you sharply of Liam Neeson's similar predicament in Taken (2008).

And wait. Surprise, surprise, there are more twists and hair-pin bends ahead, which are straight out of Ripley's Believe It Or Not. Trouble bubbles.




The supporting cast could have yielded at least an endearing character or two, for a measure of relief. No luck here either, unless you find an 'ethical hacker' (Vir Das, get a life!), a garrulous guy (Saurabh Shukla, hmmmm) who keeps talking about Bihari folk. Plus, there's a physically-impaired aged gent (Girish Karnad, what!) who looks bored to the gills. Not to forget the debutante (the mysteriously spelt Sayyeshaa Saigal) who has a yen for Devgn sir and receives her few minutes of fame while lolling in a bath-tub. She does indicate potential but alack, Shivaay hasn't turned out to be an ideal launch pad.

The screenplay is the major let-down of Devgn's ambitious project. Instead of cutting to the chase, there's too much of a build-up leading to sound and fury signifying precious little.

Inevitably the miles of footage are dominated by Devgn. Besides flashing his customary rage and outrage perfectly, the physical rigour invested in the performance is undeniably commendable.

The trouble is that the rest of Shivaay isn't.

Unsolicited advice: Try only if you must. Even then don't expect a firecracker of a movie.




Image Source: youtube/ajaydevgn