Come on, don't be shy. They're stranger than fiction, speak in theatrical diction, and are always up to some fret and friction. Still, you've never quite met any one like them before. So what if their deeds and misdeeds eventually tend to bore? Indeed to sit through this 167-minuter is akin to carrying out a laborious household chore. Snore.
Anyway, make what you will of Julia, a B-grade action heroine (inspired evidently by Fearless Nadia), her besotted benefactor Rusi Billimoria (can't figure out whether the allusion is to movie magnate J.B.H. Wadia who discovered the stunt diva, or to his brother Homi Wadia who eventually married her). And for that theeka triangular tadka, there's soldier Jamadar Nawab Malik (striving to be mega-gallant in the sullen yet sharp visage patented by Humphrey Bogart in Casablanca). Voila, here's a trio attempting to exude brio in Vishal Bhardwaj's Rangoon. Alas, the result turns out to be more of a bane than a boon.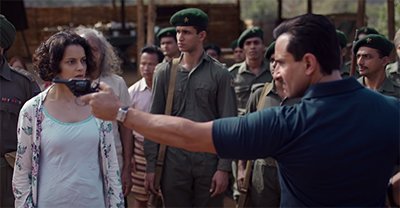 Written by Matthew Robbins, the screenplay is a designer suitcase, overpacked to such a degree that the zip keeps coming apart. Too many stories – three-and-a-half to be precise -- set around the backdrop of World War II (1939-'45) form the jumbo mumbo here. Primarily, Bhardwaj and Co. are concerned about the jazzy Julia (Kangana Ranaut) who must choose between her kabhi-cutie-pie-kabhi-chauvinistic mentor (Saif Ali Khan) and the upright soldier (Shahid Kapoor) who has treated her to an erotic kiss-and-wrestle tryst in wet mud. So much mud-mud-ke-na-dekh really.
The second story, which escalates into a nasty, bloody-hellish battle between the British gora and freedom strugglers attached to Subhash Chandra Bose's rebellious Indian National Army, is straight out of a vintage Manoj Kumar saga.
"Pish posh," bellows the bubble-gum complexioned Major General Harding (Richard McCabe, an unbearable caricature). "I'm white so, I'm right." No wonder at one juncture, he returns from the dead.
Incidentally, a comment is foisted in about how a fair complexion for a woman is an asset in the time of the British Raj. Ever so oddly, too, a sarcastic remark in the midst of all the nationalist fervour, jingles jangles. Opines the Major General, "I tell you if the British leave, India will end up as the most corrupt society in the world." A wave of knowing giggles are aroused from the audience, at the preview show at least. Chip chip, tally ho, point noted.
And the third story – if you're exhausted by so many stories, believe me I was – revolves around a priceless talwar as magical as the King Arthur's Excalibur, which can do wonders in combating the Brits. This super sword has to be delivered to the right hands, it seems, and why Julia's troupe was selected to ferry it across troubled waters (oh yeah, there's a rickety bamboo bridge), is as mysterious as the Major General's kidney-pie Eendi-Ooordu accent. "Atteee attee soondar," goes he to convey, "Very beautiful" or some such.
As for the third half of the plot, it's devoted to an extensive trek through perilous terrain by apni Julia and soldier Nawab, with a Japanese prisoner (Satoru Kawaguchi) in tow. Owww. Slow as peak-hour traffic, this segment is not only superfluous but at best, an excuse for the aforecited mud-coated erotica, besides foisting in a Quentin Tarantinoesque volley of action-vaction in the ruins of a church. Much much ado about nothing truly.
Result: overall the triangular love-story, which should have served as a main course, is essentially as an appetiser to the let's-bash-up-the-Brits melodrama. More: there's a skit lampooning Hitler too, and a stageshow item preceded by comedy which weirdly recalls the frantic antics on the Kapil Sharma Comedy Hour. Absolutely dour.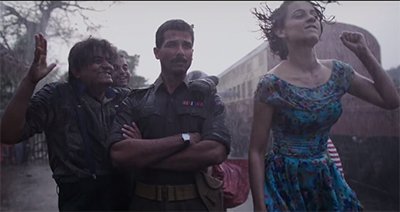 Hang yawn, guys though. Since Rangoon is a Bhardwaj creation, doesn't it debunk some Bollywood cliches? Isn't it wonderfully photographed and punctuated with fab music? Yes to the photography, except when it's needlessly enhanced by colour tinkering and special effects. As for the music score, the number Bloody hell does have a bounce and blast. Unarguably, the set décor and the production design are extraordinary.
By the way, the dialogue is littered with unintentional humour. Example, the soldier chiding the haughty heroine with the line, "It's more difficult to make you understand than to teach an elephant how to wear chuddies." Whoa, wazzat?
Over to the performances, which certainly aren't any of the ensemble's career-best. The soldier even requests Juliaji, "Stop overacting." Right. Kangana Ranaut does lapse into over-the-top bits and doesn't quite strike you as a woman of enigma. At most, she is effectively vulnerable during the occasional introspective moments.
Shahid Kapoor is mercifully restrained, expressionless to convey intensity and darting sunshine smiles to assert that hey, he's human after all. Vis-a-vis Saif Ali Khan, his part is underwritten and doesn't occupy the amount of footage it could have. So why did he assent to portraying the cigarillo-puffing Parsi filmmaker and a gentleman? Obviously, because he finally gets his five
minutes of fame and glory towards the finale.
All said and endured, would I recommend Rangoon for the price of a multiplex ticket? Sure yes, if you have the time, money, patience, a regard for Bhardwaj's expressionist style, and just about above-average ticket to a la-dee-dah-land.



Image Source: youtube/ Viacom18 Motion Pictures