Yakeenan, keep the faith. Believe in yourself, in others, in clean-cut principles, in magic and miracles. In the quest of bludgeoning such home truths, practically every person in a hilltown called Jagatpur, keeps using the word, yakeen, yakeen, yakeen, yakeen, yakeen, yakeen, yakeen, yakeen till it comes out of weary ears. Above all, what this make peace-not-war tract, revolving around the India-China conflict of 1962, required a Thesaurus on location.
An entertainer of the namkeen kind, alas co-writer-cum-director Kabir Khan's Tubelight, isn't. In fact, your heart goes out to
Salman Khan
, who deserved a far superior script, sharper dialogue and credible characterisation. Indeed, on the heels of the above-the cut Bajrangi Bhaijaan, the director and the super-star actor, don't come up with a Bollywood 'commercial' flick which collars you with its emotional ballast or let's just say, a story well conceived, written and executed.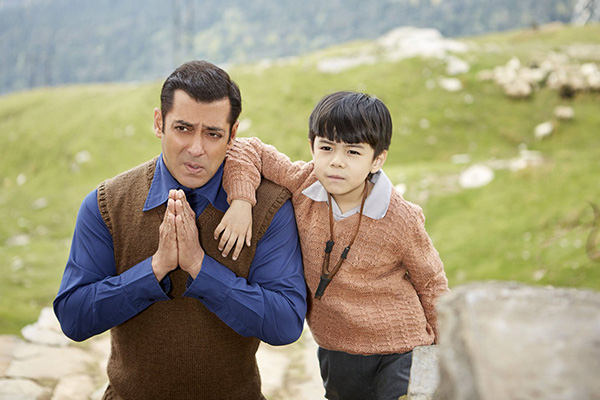 Salman Khan And Matin Rey Tangu In A Cute Still From Tubelight
Repetitive to the nth degree – with excessive montages and cry baby cry scenes -- the outcome is a vast disappointment. Yeh kya hua honestly? After all, Salman possesses such a dynamic screen presence that he can virtually connect with the viewer just by being himself.
Part of the problem-oh is that Kabir Khan labours far too hard to tinker around with the Salman Khan image. The star doesn't take off his shirt for once, doesn't engage in daredevilry or machogiri, avoids the element of romance as it were dental plaque. And he's etched as a child-man of an indeterminate age, who could well slide into the shoes of Forrest Gump or closer to home, into the footwear of the guileless common man apotheosised by Raj Kapoor. Sorry but it's an uncomfortable fit.
Okay, so the absence of machismo and the mandatory love track may be negative virtues. Like it or not, the effort to portray the slow-on-the-uptake Tubelight, aka Laxman Singh Bisht, in a 'different light' turns out to be a gamble which is a dead-loss. If the hero had to be presented as a loser who, by ceaseless and impausible twist of circumstances, comes of age (sort of), the script as well as direction had to be way more mature. The formula had to be broken audaciously – instead of ditzing around the green hill slopes till you want to flee from the multiplex out of sheer ennui.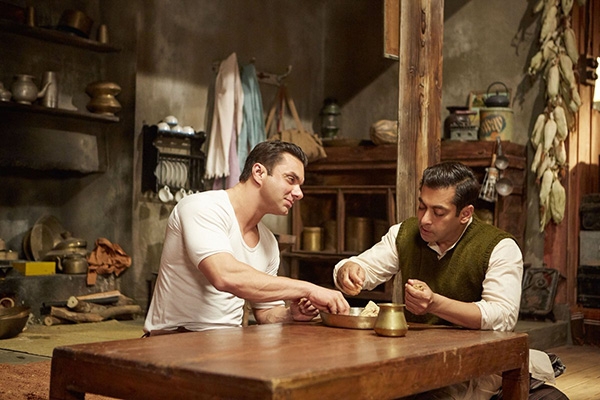 Salman Khan And Sohail Khan In A Still From Tubelight
Hence, if you hang on it's merely to evidence Salman, trying to do the best out of a thankless job. Waits and waits he for his chhota bhai Bharat (
Sohail Khan
) to return alive from the warfront. In the meantime, gazillion yards of footage are expended on three boulder-strewn fronts.
One, Boy Laxman has to convince the village that the new residents of a cardboardush cottagem Ma'am Zhu Zhu and her cutie pie son Matin Rey Tangu, are Indians and shouldn't be mistaken for Chinese. This is meant to serve as a wake-up call for those who have the gall to identify India's north-east people as outsiders. Fine, a noble message which is underlined again and again and again.
The second front: Let's follow Gandhian tenets, as suggested by a benign Uncle (the late Om Puri, needless to say excellent). Let's also strengthen our inner selves, suggested by a jadugar Go Go Pasha (Shah Rukh Khan, no comments), so that bottles and mountains can be moved with some strenuous hand movements.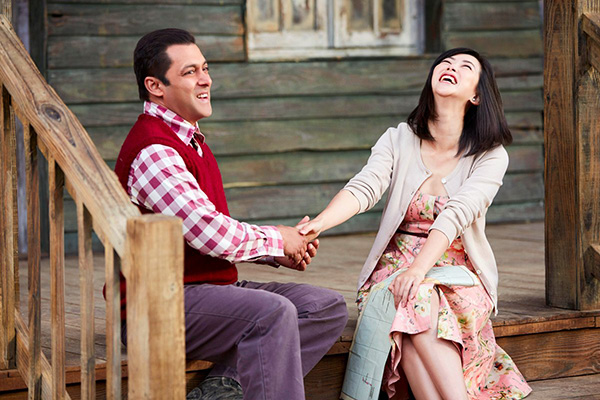 Salman Khan And Zhu Zhu In A Still From Tubelight
And on the third miscelleneous front: Love thy brother, just tolerate the bumptuous local bully (Mohammed Zeeshan Ayub, just about endurable), crack a wry joke about a father who drunk himself to death literally, don't ever mention the mother (the late lady is never shown), dance with scissor-style knee movements, forget to zip your trousers (again and again and again), jest about Gu Gu and Su Su. Woohoo. You get the drift.

Technically, Tubelight is sufficiently glossy. The special effects less so. As for the few skirmishes with the Chinese soliders, their orchestration lacks tension and throb.
At the risk of repetition myself, the aim to re-invent Salman Khan as a mega-vulnerable, lachrymose boy-man is the film's major goof-up. His eyes well over with a tankful of tears and although you want to share his on-screen grief, all you can do is go, "Good grief."
Give us our happy, snappy Khan back, is all I can howl out loud. Or if he has to change in any which way, how about a recognisable relatable human being rather than a flickering candlelight?
Guilty admission: For lack of an option nowadays, see Tubelight just to check out why on earth it lacks an electrical charge.
Image Source: twitter/BeingSalmanKhan