Mubarakan Movie Review: Anil Kapoor-Anees Bazmee's Magical Combo With Arjun Kapoor's Comic Tadka Is A Laugh Riot
Director Anees Bazmee is back to his league of churning out some A-class comedy. After a few failed slapstick comedies, this Anil Kapoor & Arjun Kapoor starrer is set to redeem Anees' status as a cult comedy director. Here's our review of Mubarakan...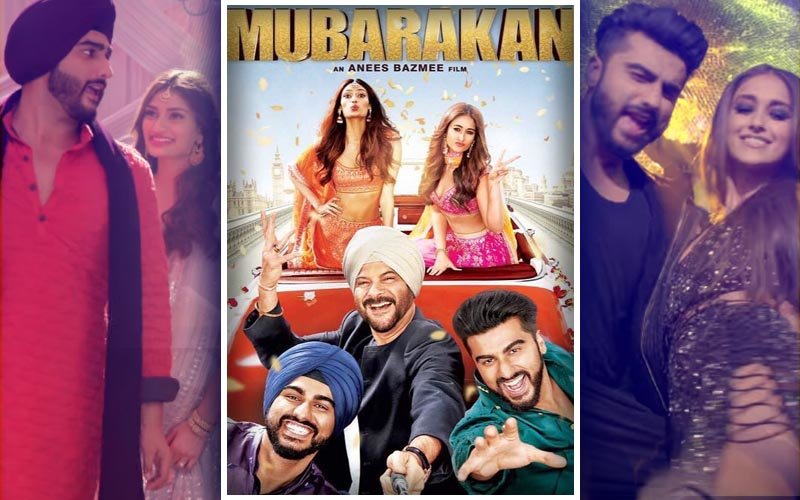 Anees Bazmee is back with a hilarious laugh-a-thon, Mubarakan. This is the first time chacha-bhatija,
Anil Kapoor
and
Arjun Kapoor
, have come together in a film, and the story couldn't have been better to bring out their real-life fun chemistry on the screen. So without further ado, here's what the movie's all about:
Singleton Kartar Singh (Anil Kapoor) is passed on the responsibility of raising his two orphaned nephews. Unable to manage it alone, he asks his brother (Pavan Malhotra) in Punjab to raise Charan (Arjun Kapoor) and his sister (
Ratna Pathak Shah
) in London to raise Charan's twin brother Karan (Arjun Kapoor again). When these twins cross continents to get their love, they leave behind a trail of confusion, which makes for a hilarious comedy of errors.
What's hot?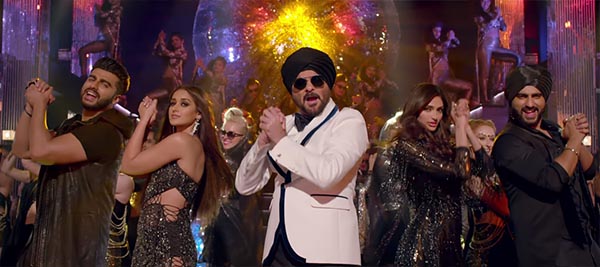 Arjun Kapoor, Ileana D'Cruz, Anil Kapoor And Athiya Shetty In Mubarakan Title Track
The whole of the first half is! It will make you guffaw for breath as you will be constantly laughing your guts out.
It's Anil's funny antics and hilarious nick-of-time mannerism that stay on with you much more than Arjun's heroics. Arjun as the sober, quiet and calm Sardar is far more lovable than his London-grown loud-mouthed twin.
Also watch out for Pavan Malhotra's over-the-top Punjabi possessive father character. It's a treat to watch how he changes expressions from happy to angry in a fraction of seconds and manages to nail both to the T. Ratna Pathak Shah too manages to make her saucy mother character more lively with each dialogue. Their stellar performances add weight to the story. But all and above, it's Anil's street-smart dialogues and one-liners that make you want to watch him again and again. He is a scene-stealer with his half-British and half-Punjabi act.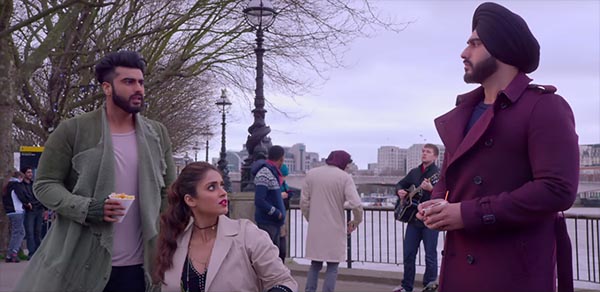 Arjun Kapoor As Karan And Charan In Mubarakan
Then again, it was Anees's fantastic screenplay which made all this come together in perfect harmony. The plot leads to a very interesting confusion created amidst the twins who are somehow about to get engaged to the other's love interest, and their only savior is Anil.
Moving on, the emotional wedding scene at the end in the Gurudwara played very well to the audience's psyche as it stood out to be Anil's best scene in the whole movie.
Finally, the VFX used in the movie to make Arjun Kapoor's double role was flawless. Except a brief scene right before the interval, there wasn't a single place where you could say or even think that the characters weren't played by real twins.
What's not?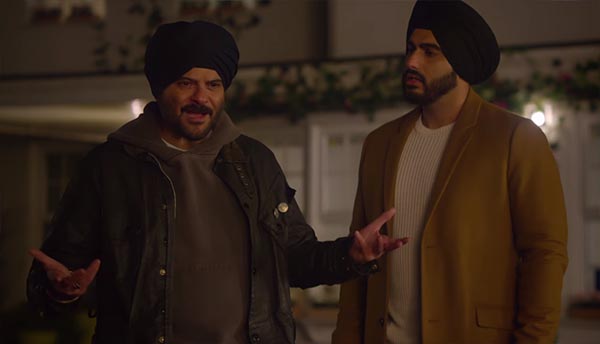 Anil Kapoor And Arjun Kapoor In Mubarakan
The leading ladies have been a wasted all through.
Ileana D'Cruz
manages to have a longer screen space, and get some funny lines. But
Athiya Shetty
seems to have more of an extended cameo than being the leading lady. In the whole first half, she just has one blink-and-miss scene. Neha Sharma's guest appearance seemed more than Athiya's whole character span.
Arjun as the London-grown lad could have done so much better than just constantly agree to what Anil was planning. It suited on his twin brother (The Sardar), as he was pretty submissive by nature.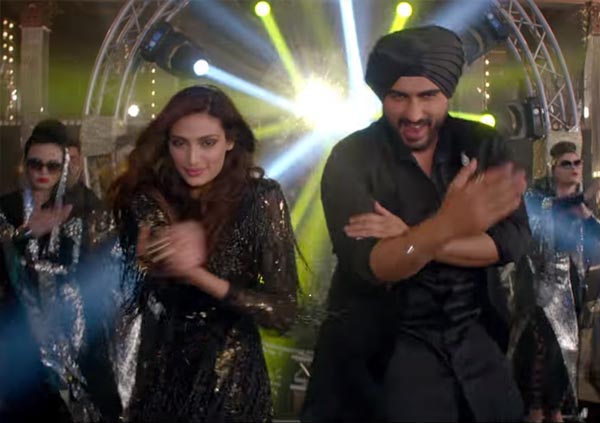 Arjun Kapoor And Athiya Shetty In Mubarakan
Also, the second half has some of the most unnecessary songs, which came at a time when you were expecting more of funny sub plots. The hype created by the first half was brought down a lot in the second half and a lot of that can be credited to the forced-on-your-face songs. Moreover, except a couple of old rehashed songs, none of the originals were that great.
Finally, the comedy scenes give way to a ghostly appearance by Sanjay Kapoor towards the end, which didn't solve any purpose to the running plot of the film.
Verdict
It's NOT one of those brainless slapstick comedies where you are forced to not think too hard about the storyline - it actually has quite a decent plot which is laden with funny gags and punches. So, if comedy is your thing, then this is a sure shot winner.
Image Source: instagram/arjunkapoor & youtube/MSMMotionPicture