Sukhee Film REVIEW: Shilpa Shetty Starrer TRIES It's Best To Tell A Story Of Every Housewife, Instead Leaves You With Mixed Emotions!
Directed by Sonal Joshi, the film stars Shilpa Shetty Amit Sadh, Kusha Kapila, Dilnaz Irani, Pavleen Gujral, Chaitannya Choudhry, Kiran Kumar, Vinod Nagpal, Purnima Rathod, Sejal Gupta, and others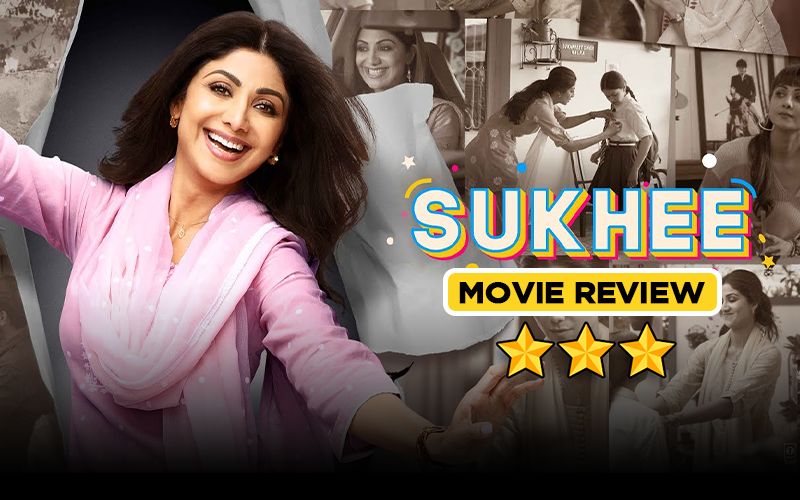 In the last decade, the number of woman-centric films has taken a sharp surge and even the audience has accepted these ideas with open arms. However, Bollywood has a long way to go!

Speaking of modern ideas and portraying the right kind of feminism, films like Neerja, Raazi, Queen, English Vinglish and a few more have instilled themselves as means of communication with the masses for insightful ideas. However, in retrospect, a slew of films like Aisha, Akira, Namaste London, Haseen Dillruba, and many more have failed to strike the right chord amongst the masses.
Directed by Sonal Joshi, the film boasts a women-led team, with Sonal Joshi as the director, Radhika Anand as the story writer, and Paullomi Dutta as the screenplay writer. But, despite the film being helmed by the girl gang, Sukhee falls short even to resonate with the audiences and hardly any of the scenes seem relatable.
Sukhee starts with Sukhpreet "Sukhee" Kalra (Shilpa Shetty) reminiscing about the good old school days and in no time she is hauled back to reality where she spends all her time caring for her daughter and fending underwear for her husband who constantly demands help from her to crack deals for his business.

The film also explores the various roles that women perform in society and what occurs when one decides to take a brief vacation from her daily routine.
What seems to be rather obvious, the film indeed puts forth Shilpa's character as an ambitious, self-reliant, erratic, and staunch self-loving female who is ready to take over the world. But, in the end, she ends up being a housewife!
Shilpa's character Sukhee who oozes a strong and erratic vibe during her school and college days, all of a sudden becomes a homemaker after eloping with the love of her life. The film's entire foundation is somehow unappealing and it barely keeps you hooked to the screen.
Well, we have a lot of examples wherein women have achieved a lot more even after having a husband and kid.
What sets this film apart is the casting and makers have done an impeccable job of bringing together a slew of actors who can actually live up to the portrayal of their designated characters without any effort.
While Shilpa looks fabulous as Sukhee, Kusha Kapila has done a terrific job with her performance as Meher and she appears to be nothing but natural. Amongst everyone, Meher is actually a well-written character that has a lot to deal with. Struggling from her breakup period, the character feels a lot more realistic and natural as she keeps her problems to herself and is more concerned about helping Sukhee. What's hilarious is that more than Sukhee, her friends seem to be living a genuine and pragmatic lifestyle.
The slice-of-life film explores the sacrifices women make in their lives and how their roles are often taken for granted. The unfortunate part is that the film was only about Sukhee! What could have been impacting is the girl gang helping each other deal with their struggles in life.
The film also promises to be a coming-of-age story of how the lead character finds herself conforming to societal expectations. But, why only Sukhee, or any other married woman? Why not also portray the struggles of her friends who are trying to make a living in the cut-throat competitive world? That plot would have been much more interesting!
The film touches upon the family, friendships, and familial expectations in this roller-coaster of an emotional ride. However, hardly any of the scenes are relatable. Sukhee has its highs and lows. While the film did try to set an amazing tone with the drama and humour, it all comes crashing down as the film turns preachy towards the end.
Unfortunately, the makers failed to utilize Amit Sadh. He could have been an ace for the makers, provided they gave his character a few twists.
In conclusion, the film is pretty average and it just can be passed on as a one-time watch. While the film does tackle patriarchy with much simplicity and a sensitive approach, there are a lot of things that could be easily twisted making an appealing storyline that could cater to a wide range of women from different walks of life.
RATINGS - 3/5 (***)