Ranbir Kapoor's Cousin Aadar Jain Opens Up About Kapoors, Nepotism, Trolling & His Debut Qaidi Band
Aadar Jain In his FIRST & EXCLUSIVE INTERVIEW is extremely frank and forthcoming. The 22-year old takes every question on his chin as SpotboyE.com grills him on Kapoors, nepotism, trolling and even his brother Armaan Jain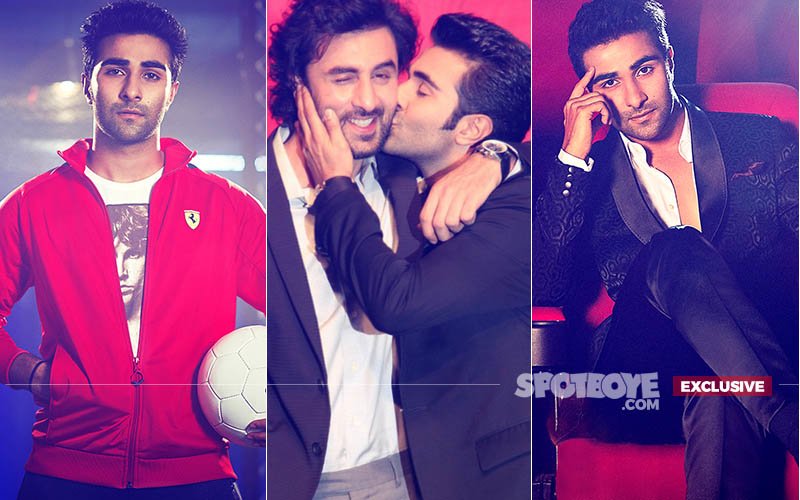 Aadar Jain, the new talent from Yash Raj Films, is the son of
Raj Kapoor
's daughter Reema Jain. Aadar, who is 22-years-old, was recently introduced in a press conference by his cousin
Ranbir Kapoor
and actress
Anushka Sharma
.
Aadar will star opposite Anya Singh in Habib Faisal's upcoming Qaidi Band.
Qaidi Band is also Anya's first film.
Excerpts from out EXCLUSIVE chat with Aadar, last night:
Coming from the Kapoor clan, did you have any other career in mind?
I was a bit lost as I grew up. I wasn't great in studies but a lot into cricket, football and drums. And then, I got into some talent shows. Drums and talent shows on stage gave me a high. I decided that I should become an actor.
And then?
I flew off to New York to do a course in acting and filmmaking.
And when you came back?
Relive the experience...
Farah is an entertainer and taught me how to handle an ensemble film. Karan used to enact
Aishwarya
, Ranbir and Anushka's scenes before calling 'Action' and you can imagine what a learning experience that must have been.
But after those two movies, I didn't know how to go about pursuing my decision.
Suddenly, one day, I went and met Shanoo Sharma (casting director at Yash Raj Films). I was auditioned for 3 months, after which I was asked to meet Habib Faisal who auditioned me again.
You come from a family where almost everyone has been a fantastic actor. Comparisons are going to be drawn...
I don't look at my family as the big family of films. We are normal individuals when we are together. Comparisons will be drawn by the outside world. But right now, I don't want to start thinking about all that. I would rather enjoy what I have set out to do.
Your cousin Ranbir made a point recently: Aadar will have to face the nepotism conversation. Let's talk...
Nepotism exists in many industries, it has started to get highlighted in our industry nowadays. But can i tell you something? We may be be able to get an audtion or two, but one needs to have it in him/her to sustain here.
Let's talk about my family. Ranbir is a classic case in point of 'talent talking'. Ditto for my uncle
Rishi Kapoor
and my grandfather Raj Kapoor.
Let's talk outside my family.
Ranveer Singh
and Anushka Sharma are classic cases in point (pauses).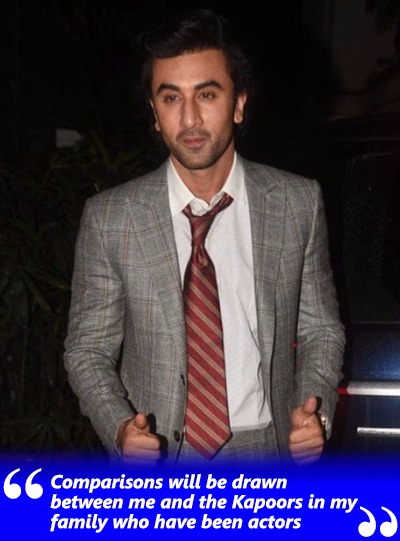 Go on...

My mom told me to concentrate on my work.
You mean when you were trolled? Did you feel bad?
Of course, I felt bad. After one gives so much to his film, attends press conferences... and then reads things like these... I am human, after all. But what could I do? Give me a chance and watch my film first.
What do you think about your leading lady in your debut film Qaidi Band, Anya Singh?
Anya is a fun-loving person and a very supportive colleague. We both ended up teaching each other a lot.
Did you feel that she will be the chosen one in Qaidi Band? You must have auditioned with many girls...
Well, she was on the film before me. In fact, she auditioned with many boys, including me.
Did she get a feeling that you will be the chosen one?
(Laughs) Tough question. I haven't asked her that. Maybe she can tell you that if and when you talk to her.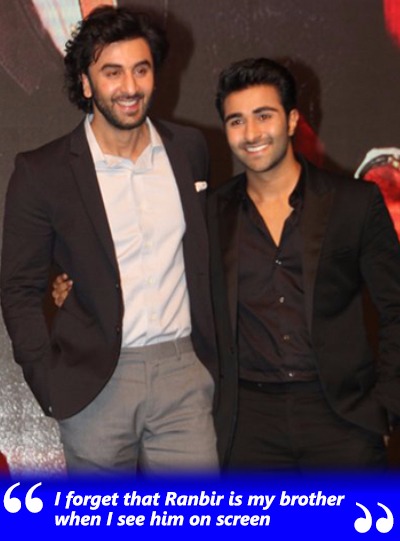 I can't avoid asking you about Ranbir's acting talent, which I think is an ocean. What does it do to you?
Provides me a big high, big inspiration. He is one of my closest cousins, and trust me, I have forgotten in all his on-screen characters when I watched them, that he is my brother. Did you watch Jagga Jasoos?
Yes, and I loved it. I think it requires immense courage to do amd make such a film. Was he ever worried that it had taken too long to complete?
No. Think of it, Ranbir does not discuss work. He is basically a private person. Frankly, nobody in our family discusses work as and when we meet. We discuss food, movies in general, and so many other things- but never work. And how can I forget that Ranbir and I in particular discuss football a lot? Ranbir is a big Barcelona fan and I back Manchester United.
Over to your brother Armaan Jain. His first film Lekar Hum Deewana Dil didn't do well. How has he taken it?
Of course, agar first film kaam nahin karen, toh dukh ki baat hai. He did feel bad after the film, but I guess that one has to pick himself up and continue working. He is in talks with some producers and very soon, you'll get to hear some announcement on his front.
Do you have friends in the industry?
Most of my friends are outside the industry but yeah I am quite close to
Athiya Shetty
and Arjun Kapoor.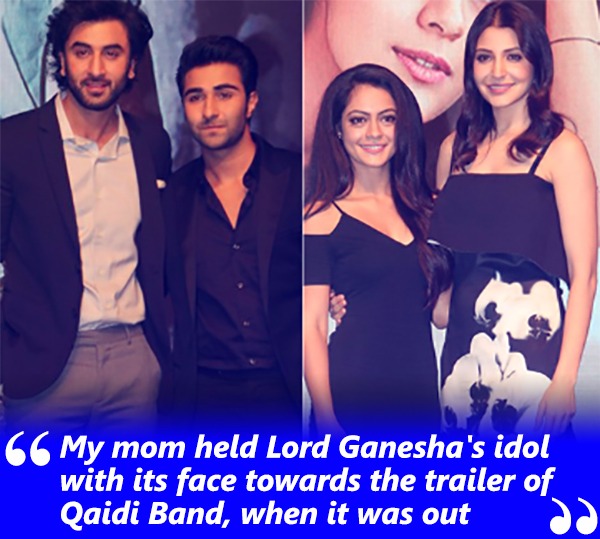 Are you ready for link-ups? For all you know, you might get linked up with Anya...
These things will happen. We can't control that part, but I want to be talked about for my films. My first one Qaidi Band is so fresh and nice. The response has been very positive and encouraging.
My uncle Rishi Kapoor was very surprised because he had never seen me acting and he said: Good work. My cousins Bebo (
Kareena
) and Lolo (
Karisma
) are very proud of me.
Let me tell you a story. It's something to do with my mom. She was holding Lord Ganesha's idol with its face towards the trailer of Qaidi Band, when it was out. Incidentally, Qaidi Band is releasing on Ganesh Chaturthi day.
Tell us about your role in Qaidi Band...
I play a young man who lands up in jail. I grow up very fast owing to circumstances, as my hopes lie shattered. What happens next, I think I shouldn't let it out.
Habib Faisal made a fabulous film Do Dooni Chaar with your uncle Rishi Kapoor and aunt Neetu Singh...
Yeah, and he was on my wish-list of directors.
It's also great to be launched by Aditya Chopra. The list of lovely films from the Yash Raj stable is very long...

It's a dream to have a first film, produced by Aditya Chopra.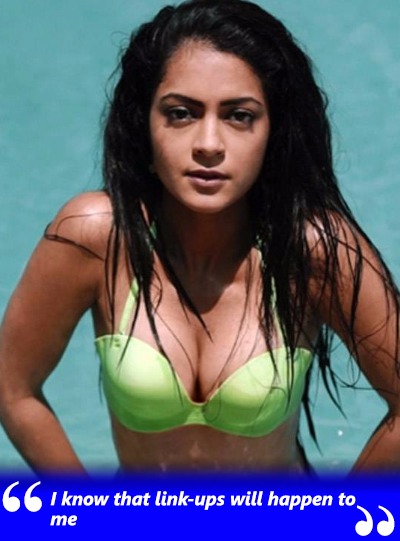 What did Aditya Chopra tell you when you first met him?
Give it all and leave the rest in the hands of God and audiences.
The interview will be incomplete without touching upon the youngest member of your family, Taimur...
Oh, Taimur is so-ooo cute. He has beautiful eyes. Looks a bit of both- Bebo and
Saif
.
Image Source: Manav Manglani, torput