Cannes Film Festival 2017: Sonam Kapoor Is Sexy In A Plunging Pink Gown
Sonam Kapoor has once again pulled out all the stops for her first red carpet appearance at the Cannes Film Festival 2017 and this time she has chosen an Elie Saab gown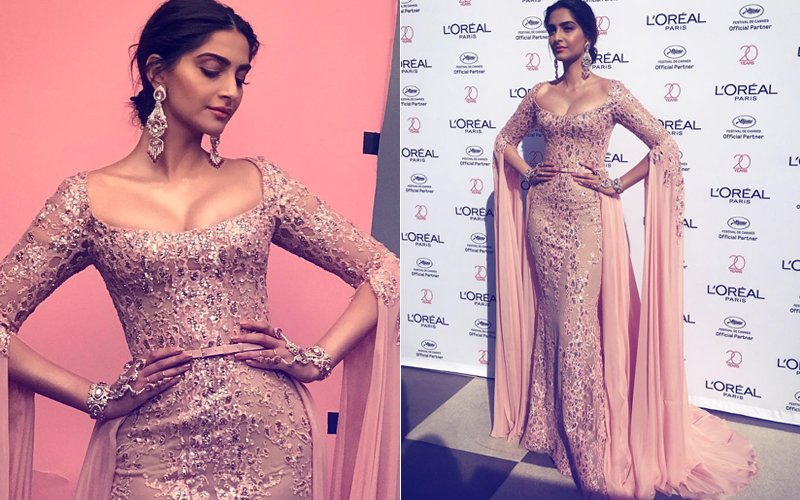 The wait is finally over. Here is what
Sonam Kapoor
is wearing for her first red carpet appearance at Cannes Film festival 2017.
The Bollywood beauty, who had wowed in a holographic saree earlier on the French Riviera, walked the red carpet in a blush pink Elie Saab number which hugged her curves.
The bold neckline and the intricate sleeves, gave the gown a touch of old school glamour. Sonam usually picks avant-garde over sexy, but this time she has stuck to a classic silhouette.
Sonam has her sister Rhea Kapoor by her side, who posted the look on Instagram, revealing all the details of the ensemble.
Rhea posted a picture of her sister, moments before she stepped on to the red carpet, and wrote: "And we are ready in @eliesaabworld custom haute couture, custom made #kalyan jewellery and dripping rose gold in @lorealmakeup #lorealparisindia #lifeatcannes beauty by @namratasoni (sic)"
Sonam Kapoor landed in Cannes on Saturday
and while everyone waited for the fashionista's red carpet appearance, her first look was revealed earlier than expected. The actress had to squeeze in a media interaction, for which she opted for a saree with a white blouse.
The colourful attire was described as a sporty-cum-spicy look according to the many hashtags posted by sister Rhea.
Thumbnail Image Source: instagram/rheakapoor