Chocolate Day 2021: Kim Kardashian's 5 Outings That Tells You How To Wear The Chocolate Colour And Look Sultry Too
On Chocolate Day, here's looking at 5 times when Kim Kardashian donned outfits in the chocolate color, and rocked it like no other!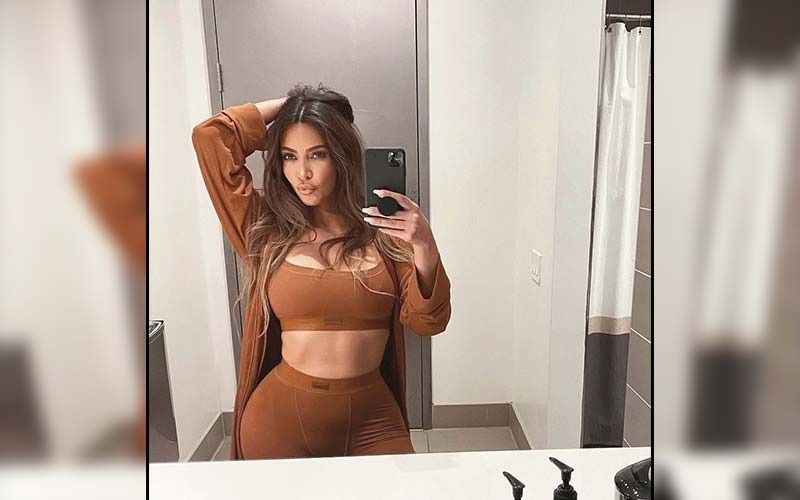 Valentine's Day is only a few days away, and ahead of the V-Day, the celebrations have already begun. Valentine's week is currently on, and today, that is February 9, is celebrated as Chocolate Day. Chocolates have always held a significant place in expressing one's feelings and affection for another person, so on this day, people share chocolates with not just their partner, but also with family and friends. As today is all about chocolate, you can also keep up with the theme and don outfits in the same color. Speaking of which, no one rocks the chocolate brown-colored outfits quite like Kim Kardashian! Here's looking at 5 times when Kim amped up the glamour with chocolate-colored outfits, and rocked it like no other.
Kim Kardashian flaunts her toned abs as she poses for a mirror selfie in an all-brown set from her SKIMS collection.
Kim Kardashian looks simply stunning in a chocolate-colored top, paired with brown puffer jacket, and leather pants in the same color.
Looking all snug and comfy, Kim showcases her brand's luxurious silk collection while she poses for a pic in cocoa-colored loungewear
Kim Kardashian keeps it simple, yet classy in a brown tank top, paired with leather pants of the same color.
Kim Kardashian looks sexy as she slips into a brown mini-dress, and completes her look with minimal makeup, which is on point!
Image Source: Instagram/kimkardashian