Disasters Of The Day: Bipasha Basu And Shraddha Kapoor Dress To Kill, Literally!
One of those days when Bollywood ladies leave you zapped for all the wrong reasons. Shraddha Kapoor and Bipasha Basu's recent public appearance are bizarre! What's up ladies?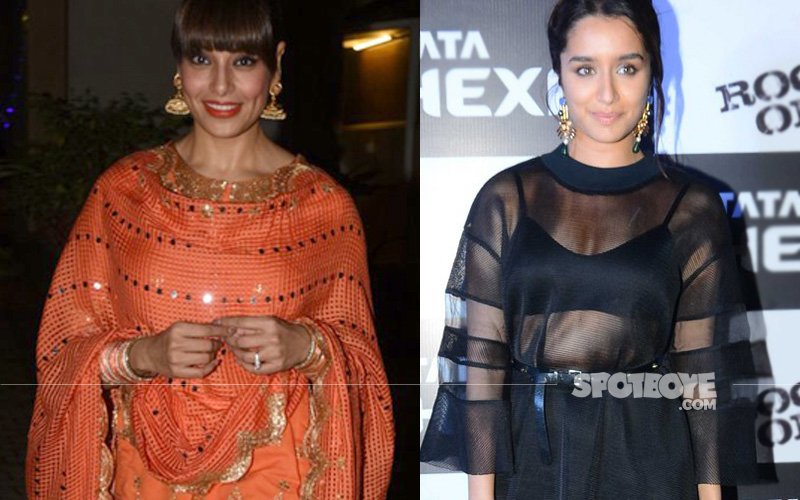 'NOOO!' is what I exclaimed, the moment I saw Bipasha Basu and Shraddha Kapoor on my laptop screen wearing the most hideous pair of clothes.


Starting with Bipasha Basu, I never imagined she could do such a big blunder, considering Bipasha is usually finely dressed and keeps up with the fashion trends amazingly well. So, it pains to see her like this! Firstly, let's talk about her hair-do.
Its festive season, if not ethnic then we definitely opt for indo-western outfits? Who would go to a salon and chop her hair off in fringes during a time when you want to flaunt your Indian wardrobe. Bipasha makes it worse by tying her tresses so tightly in a bun and then accessorising it with a Gajra!!! Ouch!
Coming to her wardrobe, the colour is blinding! Such a bright orange is a complete 'No-No' Bipasha! We understand its Diwali and you want to look festive, but that colour would look better on your sofa or curtains. Neither the cut nor the texture is flattering. I have a feeling that Bipasha also realised this blunder, and hopefully she would have packed this 'Sharara' for good and dumped it deep in her wardrobe.
And now, meet our day's disaster No. 2-Shraddha Kapoor. Let's take it from the top! Shraddha, what's with that high bun and centre partitioned bangs? Wasn't your wardrobe good enough to get you noticed for the faux pas you've done?
I fail to understand, who would put that all together? The inner crop-top and skirt is extremely blah, and the see through cape over it adds more to the misery. And if there was a little bit more scope left for Shraddha's dress to look hideous, it was covered up by the tacky belt.
The earrings which are pretty contemporary, also couldn't save her. If the idea was to experiment with fusion, then it miserably failed!
So ladies, if you're planning a Diwali bash outing in the coming days, please do not Google Bipasha Basu and if you want to know how to 'NOT' wear black then please feel free to Google Shraddha Kapoor.


Image Source: Manav Manglani