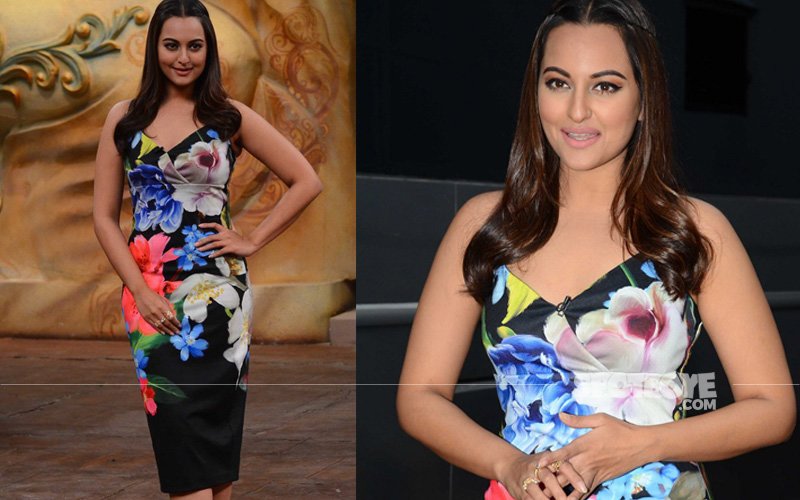 When people say hire a stylist, they mean hire a good one! But looks like, Sonakshi Sinha doesn't believe in 'upping' her style quotient.

I was really pleased looking at this talented actress' last appearance in the series of her film Force 2 promotions. Look below, doesn't she look chic and stylish in those stylish black pants and classic V-neck top?



Image Source: instagram/aslisona

And then, her levels drop down to this:




Sonakshi, these big bold floral prints are passé! Besides the fact that the print is anyways hideous, even the cut of the dress and just everything about it (fabric, texture) is so 'Un-cool'! Maybe if Sonakshi attempted a little less blah hair-do, attention would have got distracted elsewhere! But No! Even her tie-ups are not going with what she is wearing! Packed-off all the heels, is it?




The Force 2 actress made another appearance yesterday wearing something equally bad! After looking at her both appearances, I get a feeling that Sonakshi was missing the 90s fashion! Can you give me a better reason to wear a knee-length 90s wash denim skirt with a VERY DISASTROUS leather belt? And then team it up with a weirdly fitting shirt AND then wear a military green choker??? Whyyy?




You will be surprised to see Sonakshi at all other promotional events till now for Force 2. From trendy shirt dresses to cool airport looks, Sonakshi kept it going really well for her!




Sad, what happened this time round! Here's wishing Sonakshi bounces back to what she rose to off-late!


Thumbnail Image Source: Manav Manglani