Oscar 2020 Red Carpet HOT Or NOT: Natalie Portman, Scarlett Johansson, Gal Gadot, Jessica Alba, Brie Larson
As Oscars 2020 has kick-started and this being one of the most coveted awards, the fashion quotient of the evening has to par excellent, right? Well, our Hollywood divas like Natalie Portman, Scarlett Johansson, Gal Gadot, Jessica Alba and Brie Larson slayed at the red carpet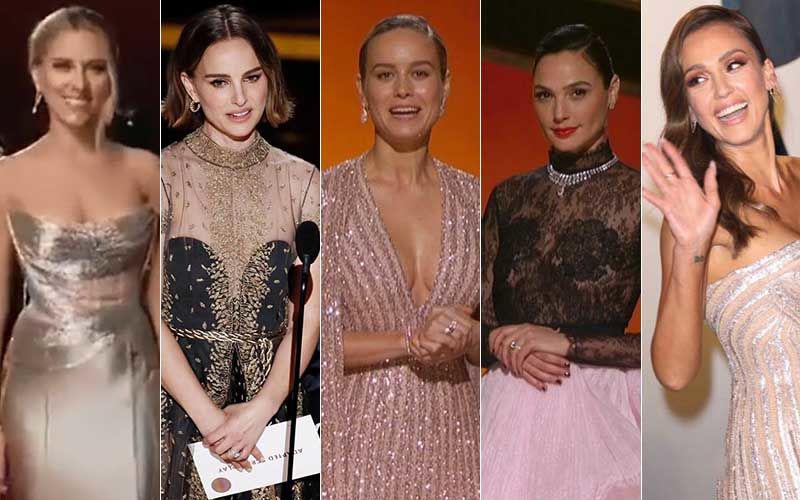 The 92nd Academy Awards Oscars 2020 has started with a bang where we usually look forward to seeing which films, TV shows, foreign films and documentaries will win big. It would be a night where they celebrate films and TV series with full glory. Apart from that, we will also see stardom as A-listers were seen flocking the venue, Brad Pitt, Leonardo Di Caprio, Scarlett Johansson, Joaquin Phoenix, Saoirse Ronan, Natalie Portman, Bella Thorne, Gal Gadot and Rami Malek, to name a few were seen making it to the award function.
However, it will be a night of glamour and glitz where we will see Hollywood divas with their soaring outfits, hence, we are here to talk about Hollywood divas like Natalie Portman, Scarlett Johansson, Gal Gadot, Jessica Alba and Brie Larson who has raised the temperature with fashion quotient. For the red carpet outings, we didn't see a pattern as the divas chose a various range of style, patterns and of course, colours and they all call for attention. While some managed to impress us with their looks, some are simply passé. Take a look at it below:
Jessica Alba – We got to see this Fantastic 4 actress after a long time at the red carpet. The actress opted for a shimmery gold strapless gown with minimal makeup. The actress looked extremely beautiful and we simply can't take our eyes off.
Gal Gadot – The Wonder Woman actress was seen wearing Givenchy gown which quite perplexed us. The gown has a delicate lacework on the top while waist down had a pink ballony skirt sort of a thing which seemed a lot odd.
Scarlett Johansson – The Black Widow actress looked raunchy in this satin gown. Scarlett dazzles the Oscars red carpet in a custom pewter gown with fringe bodice and satin skirt. The intricately hand-draped corset and bias-cut skirt call for applause.
Brie Larson – The Captain Marvel actress was seen in a Celine shimmery gown. The peach colour gown has a thigh-high slit with a plunging neckline which only accentuated her lean figure. However, the winner was the cape that only added more oomph to her ensemble.
Natalie Portman – The Black Swan actress was a certified stunner. She slayed the red carpet with her black-gold maxi gown from the house of Dior. If you take a close look, the cape over her gown had the names of women who directed movies last year, and were snubbed for this year's ceremony. Their names were embossed on her gown.
Meanwhile, the 92nd Academy Awards is taking place at the Dolby Theatre in Los Angeles. Parasite wins the Best Picture Oscar. Renee Zellweger bags the Best Actress In A Leading Role award for Judy while Joaquin Phoenix wins Best Actor Award for Joker.
Image source: Instagram/ cafefilms.ir/ fashion_celebs_critics_/ Twitter/ TheAcademy