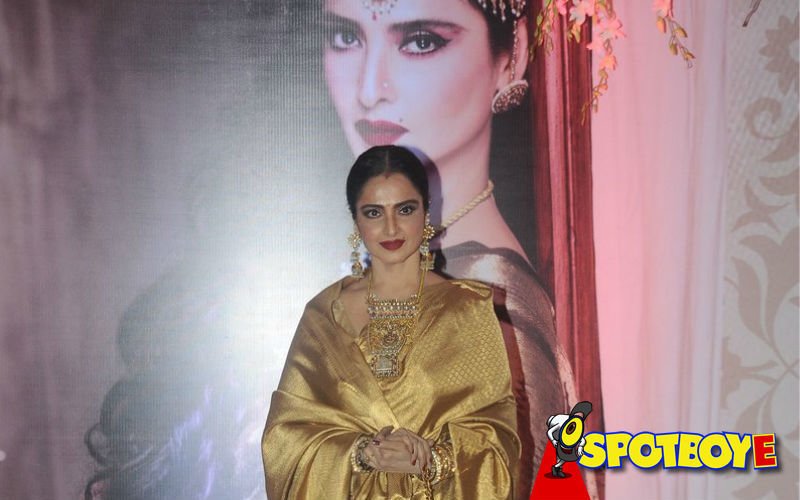 You Wore WHAT!?
What are you most likely to see at awards shows? Glamorous people walking the red carpet, practically everyone receiving an award and top stars grooving to their top songs.



Image source: Agencies

But there's one... almost permanent fixture at most awards shows. Veteran actress Rekha. And almost always Rekha is the one handing out the trophies to the best actor and best actress. Does she have a clause that states she'll only attend if she gives out the top honours? Maybe. But you know what's shinier that the awards themselves? Well, Rekha's style statements of course.



Image source: Manav Manglani, Agencies

Long before Vidya Balan came into the picture, Rekha has been the brand ambassador of the sari. I did not grow up watching her films (it was Kajol for me) but I can safely say that she was my introduction to how to wear a sari and own it. But, and you can't deny this, the one take away from her fashion statements is that they are OTT. Subtle is not a word Rekha likes when it comes to choosing saris.



Image source: Manav Manglani

She's always decked to the nines. In heavy kanjivarams, tons of jewellery, a potli to match, bright red lipstick and sindoor, Rekha is hard to miss amongst Bollywood's 'IT' crowd. I'm not saying she needs to tone it down (Lord knows she's one of the original fashion voices out there) just asking her to mix it up a little.

Wear your gorgeous saris by all means but maybe something in cotton, khadi or chiffon the next time. How about another shade of lipstick?



Image source: Manav Manglani}

Because when she does take it down a notch, Rekha is a sight for sore eyes. Her gorgeous mane framing her ageless face (sorry, didn't mean to go all romance novel there) is a statement she wears very well.



Image source: denimdaily, bollywoodgaram

And, in case you're wondering what she looks like in anything other than a sari, Rekha has worn jeans in public as recent as last year. And even (gasp!) sweatpants and sneakers. And the world continued to spin.

So, maybe the diva might like to think about mixing things up a little. It's never too late.

Thumbnail source: Manav Manglani