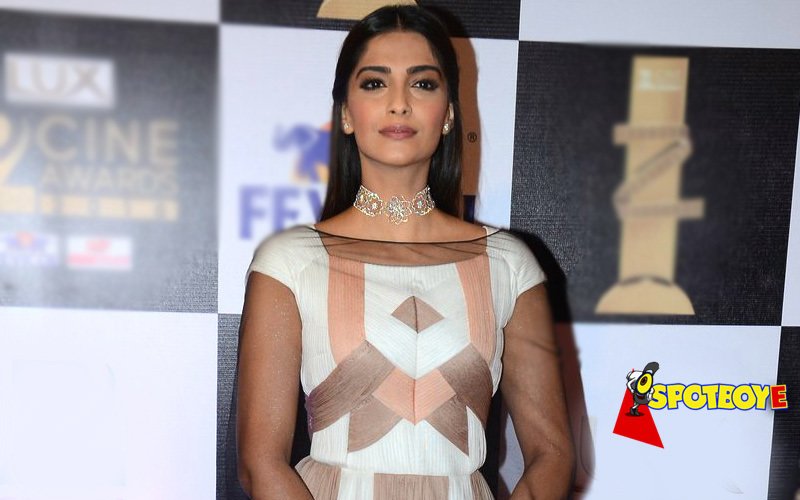 You Wore WHAT!?
If you thought awards season in Bollywood was over, think again. Sonam Kapoor
attended the Zee Cine Awards with a sheer drape over her gown. A confusing choice,
I say.
Here's a look at her fashion pick and that of a few other stars.
Parde Mein Rehne Do Parda Na Uthao should have been the soundtrack to which
Sonam walked the red carpet. Her arms were inside the sheer layer. How did she get
anything done? Imagine shaking hands with someone, checking your phone, scratching your nose with a layer of fabric covering you.
Image source: Manav Manglani, instagram/chinardesai
Sonakshi Sinha hit the red carpet in a blue Nadine Dhody gown with a deep back.
The work on the gown was lovely.
Image source: instagram/chinardesai
She styled it with soft waves, matching blue eye shadow and jewellery that was an
homage to the animal kingdom. What's not to like.
Image source: biscoot


Except maybe the fact that she had worn a similar look to another awards show a few
years ago.
Arjun Kapoor was in a trusted old black suit and red shoes. The shoes, though, were
not just any old red pair.



They were, in fact, bright red pumps. It's great that actors are so comfortable with
their… wait… this is a clear case of movie promotions. Obviously, he's creating buzz
around Ki & Ka's new song. Whatever.
Kriti Sanon wore a gown by Abu Dhabi-based designer Hamda Al Fahim. It's a great
colour and Kriti styled it well. I just hope she did not get food in those shoulder
embellishments. Man, would that have been tough to get out!



Parineeti Chopra was a vision to behold. In her full skirted Tarek Sinno gown and
heavy eyes, she looked lovely. Her hair, though, was another story altogether. A sad
story.
Image source: instagram/ayeshadevitre
She had some funky braids happening but the fact that they ran along her hairline
just did not work.


Ranveer Singh looked like a thorough gentleman in his suit with a velvet jacket.
No. Just no, Rituparna Sengupta. No to the heavy-handed make-up and no the
ensemble. Just no.



Anil Kapoor chose to walk the red carpet in a green jacket. I'm going to fist bump him
for this choice.


Kajol wore a Manish Malhotra anarkali with her hair pulled back. There's nothing to
hate here.


Amy Jackson's Monisha Jaising gown was to die for. The cut of the gown with the
gold accents was novel and so very covetable.



Feathers look good only on some. Birds mostly. Let that be lesson for all of us.
Image source: Manav Manglani