Week's Trending Colour Obsession- RED! Shilpa Shetty, Sonam Kapoor And Janhvi Kapoor Glow In Different Tones Of Red
The romantic hue- red dominates this week's colour trend mood-board story. Shilpa Shetty, Sonam Kapoor and Janhvi Kapoor look so fierce in each of their curated styled looks. Let's check it out…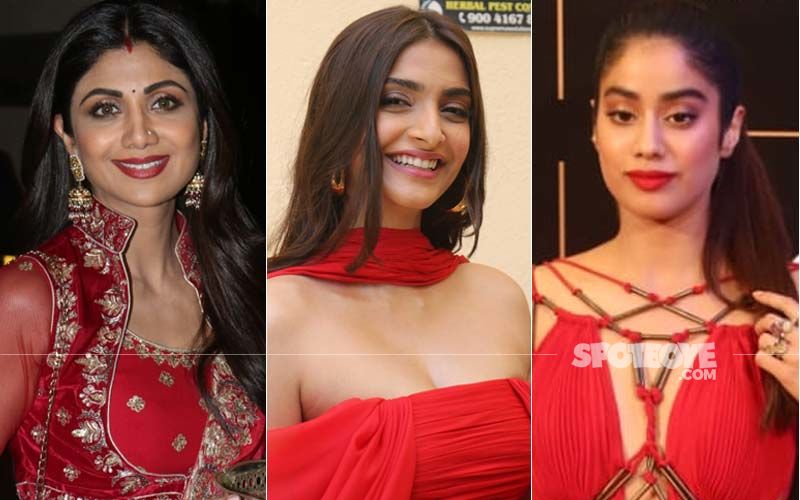 This week it was hard to miss bursts of the colour, red exploding on our Instagram explore page. When the weather is so gloomy, red works as the perfect choice to brighten up our gloomy everyday life. The romantic hue- red dominates this week's colour trend mood-board story. Shilpa Shetty, Sonam Kapoor and Janhvi Kapoor look so fierce in each of their curated styled looks. Let's check it out…
Shilpa Shetty looks stunning in a 4-tone hue gradation creation from Qbik's collection. Styled by stylist, Sanjana Batra- we love how playful the accessories are. A variation of the color-red and bursts of pink and yellow merge to create a playful element that appears to be a mix of traditional saree pleats and a sensual gown variation.
Janhvi Kapoor's fierce deep orange/red bikini is complemented well with a similar tone jacket- coverup. We all know bikinis are so fashionably seductive, but the colour red really takes it to a whole new level. Maybe we all need to include some showstopper red pieces in our swimwear collection!
Sonam Kapoor's look always manages to appear creatively assembled and styled. Wearing couture pieces from Prada and Dior's collection, we love how vintage this entire look feels. The white can-can Molly Goddard skirt contrasts the red well and balances the entire look. & please…how can we miss to mention the delicious cherry leaf earrings!



Image source: SpotboyE archives