Over to a tandoori morgue. This is enough to give you a fit. A corpse's genitals (er, private parts) are milked for laughs. On another occasion, a man's you-know-what have trouble extricating themselves out of a beach chair. Despair.
This open-air exhibition of body parts -- and I might as well go with the juvenile lingo and attitude of the Seth Gordon-directed Baywatch. It relies on the three big Bs- boobs, butts and biceps, to hawk entertainment of the creepo-crude kind. No vulgar gag is , pun intended, left behind. Based on the 1989-2001 TV series on lifeguards, damsels and dudes in distress, and assorted mayhem-haw, the small screen's original star attractions pop up for thoroughly unimpressive cameos.
Meaning you can catch a gasp-and-she's-gone glimpse of the vintage sex symbol Pamela Anderson, who'd frequently be shown in slo-mo so as to accentuate the jigglery-pokery . Plus, there's the yesteryear beach hero bhai, David Hasselhoff, who grabs a little more footage. If you ask me, that's a total waste of guest disappeareances. Grumble rumble.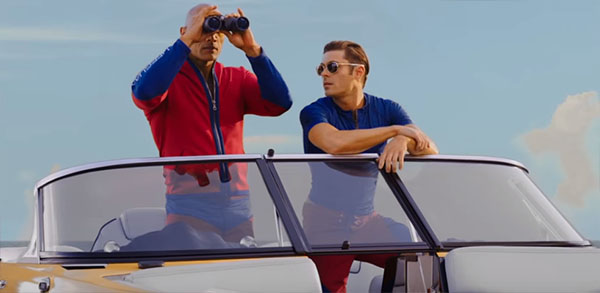 Dwayne Johnson & Zac Efron In A Still From Baywatch
Dwayne 'The Rock' Johnson steps into Hasselhoff's sandals. And he's backed by Zac Efron, enacting a two-time gold medal winner of the swimming title at the Olympics, no less. Needless to inform, Zac's had some issues and has to redeem his honour and that sort of baloney. Frankly, the repartee and the won-upmanship between Johnson and Efron are the best (read endurable) aspect of this Bikini Bounce Party. The bromance between the hunks keeps you mildly amused, while the plot as such thickens and sickens.
Pamela Anderson's role of C.J. Parker,the fearless femme of Sunny Funny California, is assigned to Kelly Rohrbach. And for her support system, there's Alexandra Daddario. Pardon my ignorance, but never heard of these actresses (actresses did I say? Just joking!) before and neither do I long to hear more about them ever again. Parachuting into citrus red swimswear, these two hour-glass figures are straight out of those Playboy/Penthouse centrespreads, an essential component of coming to age in the last millennium. Oh dear, dear, such a lot of retro-tedium going on here.
Okay, so as the elite lifeguards –hey there's one portly intern around too – give all their guts and gumption to solving crime cases, the official law force takes umbrage. Naturally. The lifesavers are told sternly that cracking crime is not their turf fellas, but who listens to cops nowadays? If they did, there would be no script, and certainly no PeeCee who goes through whatever role she's allocated, all haute coutured, dark lipsticked and uber testy as if she's been stung by a bee. Wheee!
Ta ra ram pam pam. Apni
Priyanka Chopra
could have been as cool-as-cucumber salad vamp actually. Snag is that she can't help looking feverish in the circumstances I guess. Named Victoria Leeds, she's responsible for running a drugs-and-real estate racket on the Californian shores. And to be honest, this plot device, strictly bores.
There's precious little for Ms Chopra to do, and if global critics have chanted that she's been 'underused', I'd beg to differ. Ms Chopra has been misused in a part which is more cartoonish than menacing.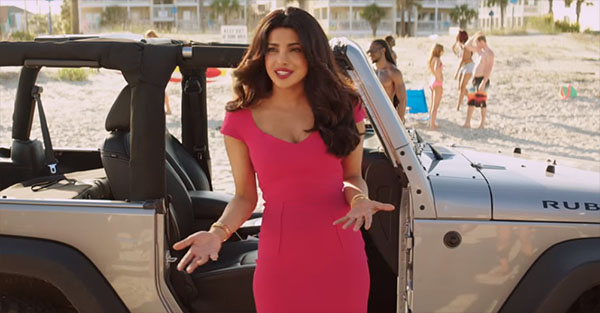 Priyanka Chopra In A Still From Baywatch
Which is much in the vein of
Deepika Padukone
hissing faux sexily, "I don't believe in good guys" in xXx: Return of Xander Cage. Comparisons are odious and all that but what to do? The point I'm belabouring to make is that neither Ms Chopra nor Ms Padukone can consider their Hollywood feature film debuts as feathers in their designer caps.
Indeed, Priyanka Chopra vamped it up more gloriously in Aitraaz . To be fair, she was also quite a knockout in the first season of the TV series Quantico (the rest I haven't pursued since the episodes were becoming as predictable as the mango season in May).
Ah so PeeCee or No-See, Baywatch is punctuated with a blazing yacht, mobike stunts, a drag act and uncool macho one-liners, the sort you've suffered through in the B-grade flicks. Seth Gordon, who's directed films like Horrible Bosses and Identity Thief, is slick-chic enough in terms of technical varnish, but that's it.
Unsolicited suggestion: This Bay is not worth a watch. Seriously, take off to the closest beach or pool for a swim. Far more relaxing.


Image Source: youtube/paramountpictures