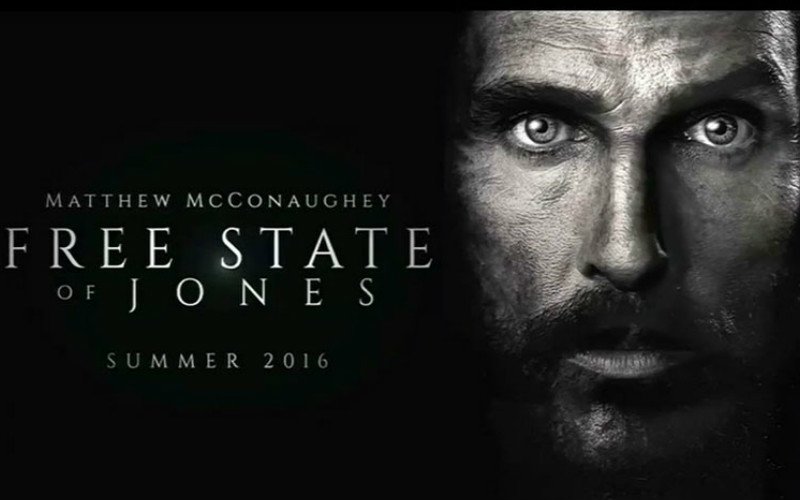 History, they say, is written by the victors. In current times, history is also shown via the media of film. Free State Of Jones tells us the story of Newton Knight, an American farmer/soldier who fought against the Confederates back in the 1800s.

Newton Knight (Matthew McConaughey) has had enough of the Confederate war. The land, stock and feed of his people is being usurped by the army and unrest is at hand. A personal loss finally makes Knight take a decision of deserting the army. What begins as a personal mission for Knight becomes one of the most important incidents in American history, with a tired population looking up to the ex-soldier for confidence, bravery and sacrifice.


Image Source: avclub

Interesting part of history? Definitely. But a simple research online shows that there are varying accounts of the man that Knight was, as is the case with every human being who ever set foot on planet earth. So, keeping the 'based on real events' disclaimer aside, here's what the film is like.

Free State Of Jones is strictly for someone who'd want to know this account of American history and for those who go to the cinema to praise performances, direction, camera angles and the like.
Image Source: filmracket

It begins as a war film, what with the opening scene having a dead body and a head being blown off, but it then tumbles down to become a documentary. Leonard Hartman is out of depth trying to write a story that goes back and forth almost 90 years and so is the scriptwriter, Gary Ross.

Director Gary Ross, though, is spot on, giving us a beautifully shot film with the correct high points and the emotional heft one would want from a historical film.

McConaughey is brilliant as usual and brings to screen a man who has taken a decision that stands against all odds. The supporting cast – comprising Gugu Mbatha-Raw who plays Rachel Knight and Keri Russell as Serena Knight, his estranged wife – gives able support.

All said and done, Free State Of Jones is a well-made historical drama with little entertainment value. We aren't sure if that defines a weekend treat nowadays.
Thumbnail Image Source: theknockturnal