After Justin Bieber's Forever Birds Tattoo Ex-Flame Selena Gomez Gets 'Rare' Inked On Her Neck
As Selena Gomez' album Rare has recently released, the singer took to her social media to share a picture and video as she gets 'Rare' inked on her neck. This, just a few days after ex-beau Justin Bieber's 'Forever Birds' tattoo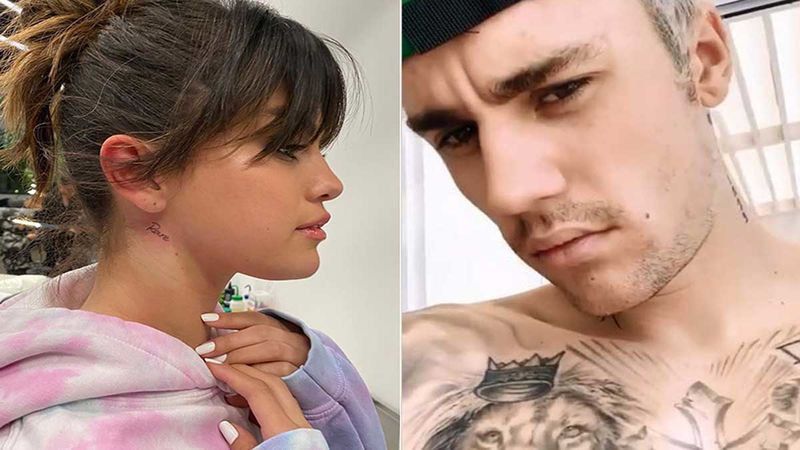 Justin Bieber
and
Selena Gomez
go way back, and the couple has had a good share of past behind them. With Selena and Justin both having moved on in their respective lives, recently, the 'Yummy' singer shared a video of his
60 tattoos that saw he kept a tattoo similar to Selena Gomez
. Now, as Selena Gomez' album Rare has recently released, the singer took to her social media to share a picture and video as she gets 'Rare' inked on her neck, just after ex-beau Justin Bieber's 'Forever Birds' tattoo.
The 'Rare' singer has been over the moon with the release of the latest album 'Rare'. Hence. To celebrate her album release, Selena got 'Rare' inked on her neck FOREVER. Yes, you heard that right! On Instagram, Selena shared a video of her flaunting her swan-like neck that read 'Rare' on the right side of it. Clearly, Gomez finds her album close to her heart and hence decided to ink it on her forever. In the video the RARE singer shared, Gomez, is snapped dressed in a comfortable white unicorn sweatshirt hoodie and manages to look adorable AF. Also Read:
Selena Gomez Says 'Found Myself Protecting People That Never Cared For Me'; Is She Hinting At Justin Bieber?
Earlier, Selena Gomez shared how putting her album 'Rare' together was difficult and many fans have been hinting that some songs, mainly, 'Lose You To Love Me' in it relate to her relationship with Justin Bieber and how he quickly moved on with wife Hailey Bieber. Similarly, Selena also disclosed how 'Rare' almost took 2 years and it has been emotionally draining for her to put the album together.
Needless to say, Gomez has been through much and is in a better place, all thanks to the love fans have poured on her in the past two years. Meanwhile, the album 'Rare' released on January 10, 2020, and consists of 13 songs in total sung by Selena herself.
Image source: Instagram/