Ahead Of Christmas, Kris Jenner Gifts Kylie Jenner's Daughter Stormi A Playhouse
An emotional Kris Jenner surprised Kylie Jenner and her daughter Stormi with a huge playhouse in a new holiday video put up by Kylie. The video sees Kris beaming with joy as she tells Kylie, that she got her old playhouse re-done for her daughter Stormi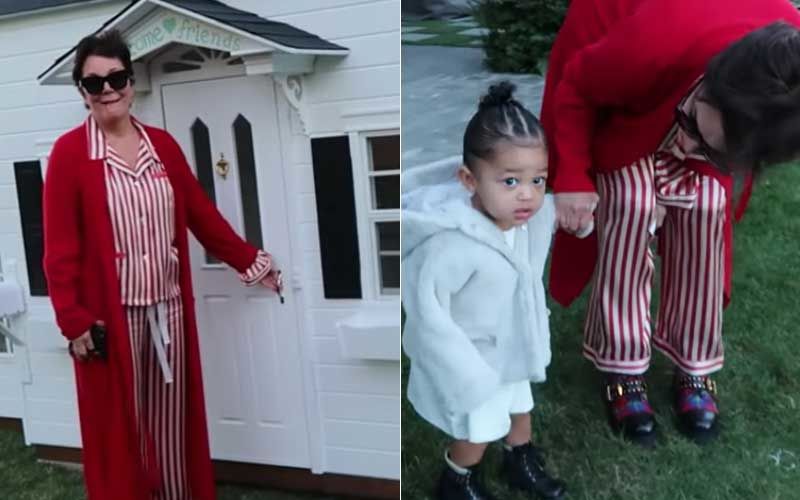 When it comes to being a gift-giver in Kardashians, no one can beat the head of their family, their mother Kris Jenner. But her latest gesture will surely remind you of your Grandma. Kylie Jenner put up Vlog on her YouTube channel that sees her showing off her Christmas décor. Right from the Christmas tree to the flooring, her house looks like the house of everyone's dream. Just like Kylie, we all were surprised when Kris makes an appearance in the video and surprises Kylie with a huge playhouse for Stormi.
Surprised Kylie is seen telling the camera, "I used to have a house like this when I was Stormi's age." The video also sees Kris getting emotional and saying, this reminds her when Kylie was a little girl. I want you to have the same memories with your daughter." The house had "Welcome friends" painted above the door at the entrance. Kris is seen telling Kylie in the video, "I called the lady at the old house and I bought her all new furniture and she gave me all of this and Waldo and Tony had it all re-done." (ALSO READ: Kylie Jenner Flaunts Her Perfect Manicure With Flawless Velvet Chrome Nails Dipped In Christmas-Green Colour)
Kris told Stormi, "This was all of Kylie's furniture when she was a baby." The playhouse includes a picnic table, play kitchen, fake fireplace, fur rug and a baby bed and crib with a baby doll inside. "We have to get you some lipkits," said Kris to Kylie's first cosmetics product that launched her now billion-dollar beauty brand.
Wow, isn't that playhouse breathtakingly beautiful?
Images Source: youtube/kyliejenner