American model Bella Hadid recently appeared mighty upset with pictures and videos sharing platform - Instagram. She had posted about her father's birthplace being Palestine which was later removed by the platform stating that it violates the guidelines set. Bella then took to her Instagram stories to share a screenshot of the message sent to her and penned a long note to the platform talking about how she considers it to be bullying. In the story that was deleted by the platform, she shared that she was proud of her father and his birthplace.
Bella while slamming the platform started off by saying, "Instagram removed my story that only said 'My baba and his birthplace of Palestine' with a photograph of his American passport." She then mentioned, "@instagram exactly what part of me being proud of my fathers birth place of Palestine is 'bullying, harassment, graphic, or sexual nudity'?"
She expressed her frustration and further penned, "Are we not allowed to be Palestinian on Instagram? This, to me, is bullying … You can't erase history by silencing people. It doesn't work like that." In the message sent by Instagram, it stated that Bella's post was against their "community guidelines" that target violence, harassment, hate speech and sexual content.
In her next post, Bella expressed that she is proud to be Palestinian. Bella's sister Gigi Hadid also shared the former's post and wrote that she is proud too. Check out the posts below: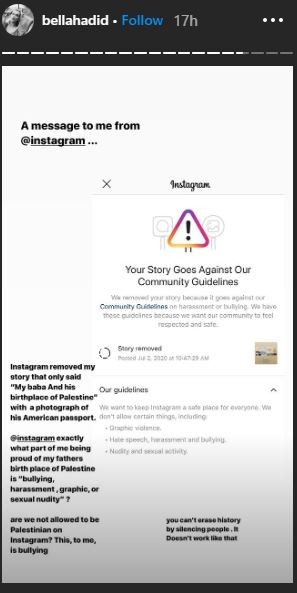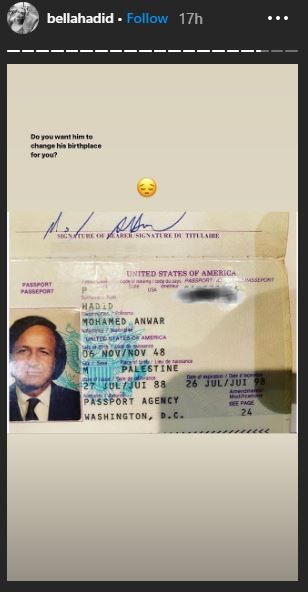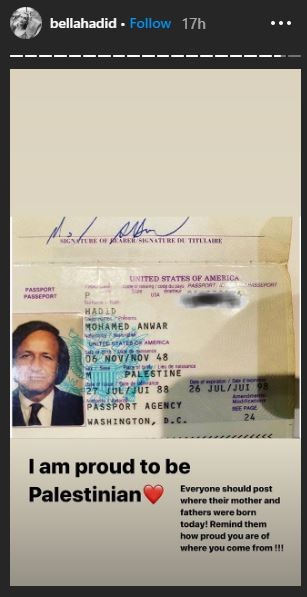 Image Source: Instagram/bellahadid