Brad Pitt Is 'Looking Forward' To Reunite With Ex-Wife Jennifer Aniston At Golden Globes 2020
Ever since the nomination for Golden Globes 2020 were out, fans were keeping their fingers crossed hoping to see the famous ex-couple Brad Pitt and Jennifer Aniston bumping into each other. Following the fans' excitement, the actor himself has expressed a desire to catch up with his ex wife Jennifer Aniston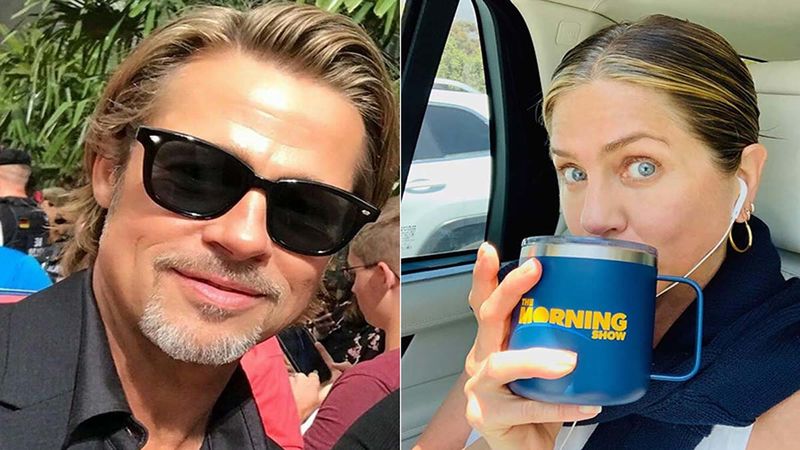 Announcement of
Golden Globes
2020
nomination created a wave of excitement
among the nominees and the fans. With Hollywood celebs bracing up for the grand night to be held on January 5, 2020, fans are excitement with exes Brad Pitt and Jennifer Aniston coming under one roof after 15 long years. With the latest reports in E Online, the
sources were speculating what would possibly happen
, if the two encounter one another at the gala event. Exchanging pleasantries is what we are keeping our finger crossed with! But now the actor himself has expressed his view on the same.
In an exclusive report in Hollywoodlife.com, the actor shared of being eagerly waiting to catch up with his industry folks and this list also includes his ex Jennifer Aniston's name. A close source of this online portal was quoted saying, "Brad looks forward to seeing all of his friends at these industry events, that's one of the highlights for him and Jennifer is now one of those people." The source further added, "There was a time when it would have been awkward, but not anymore." ALSO READ:
Sanjay Dutt's Marathi Production Debut 'Baba' Will Be Screened At Golden Globes 2020
The ex couple do have many mutual friends; hence many expect it to be an organic conversation minus awkwardness between the two.
E!online had also
reported of Brad attending Jennifer's 50th birthday
earlier this year. The source was quoted saying, "Earlier in 2019, the actor was reported to have attended Jennifer's 50th birthday bash. Source further added, "Someone extended the invitation to Brad to come to Jen's party and he accepted. He wanted to support Jen and it was a momentous occasion. But that's the extent of it. It was a social evening with a lot of people who have been a part of her life. They definitely aren't dating or on that path. They are friendly, but that's it."
While Jennifer is nominated for Best Performance by an Actress in a Television Series – Drama category, Brad has bagged a nomination for the Best Actor in supporting role for Once Upon A Time In Hollywood.
Image Source: Instagram/jenniferaniston/bradpittofflcial