Chris Evans: In Captain America- Civil War, Steve Rogers realizes that he can trust no one!
Here's the latest update from the world of Bollywood. We bet you wouldn't want to miss this. Read on for details... Captain America drops his guard and speaks about his upcoming Marvel movie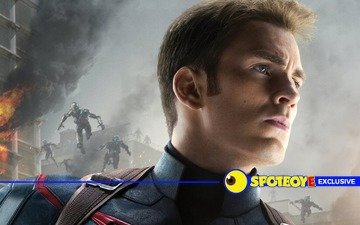 Chris Evans had almost let go off playing the role of Captain America. But now that he has played it in over five films, he considers it the best decision of his life.
Let's hear more about the film from Steve Rogers aka Captain America himself.
Excerpts:
Outline Captain America's team...
There's an underlying plot going on with the Winter Soldier, which sets the majority of the Avengers on his tail. Steve is trying to intercept this while this entire Sokovia Accords conflict is happening alongside. So it's a matter of who initially accepts Steve's friendship with the Winter Soldier, and also accepts his views about this Sokovia Accords. Steve obviously starts out with Falcon as he's always been his right hand man for a while now. Falcon brings on Ant Man because he has a little history with him and Steve also has Scarlet Witch and Hawkeye by his side.
Image Source: screenrant
How's playing Captain America different this time in Civil War?
What I think is nice about where they're pushing him is that it's the first time Steve doesn't really know the answer. In the first Captain America, it's pretty clear that Nazis are bad. In the second film, Captain America: The Winter Soldier, its S.H.I.E.L.D. being run by Hydra, who is the bad guy. In both the Avengers movies, the aliens were the bad guys and so we wanted to fight them. It's always pretty cut and dry for Steve Rogers to know which side of the coin to fall on, but this movie is tricky because this conflict is a little more akin to a day-to-day struggle that we all go through where there are no clear lines between what is right and what is wrong. There's just a point of view, and I think it's hard for Steve Rogers to understand what's the right thing to do and what's his role.
Image Source: cosmicbooknews
Steve has always sided with the government in the past, however, this time he is ready to go against them. Could you explain this dilemma in his mind?
It's a nice exchange of roles in terms what you would think his instinct would tell him to do. Steve's always been a company man. He takes orders; he's a military guy, so if the government as a unit feels that something is for the best, then who's Steve to question it? Tony Stark (Iron Man) by the same regard is someone who dances to the beat of his own drum and does what he wants to do and how he wants to do it, so you wouldn't expect him to want to sign any type of accords or documents. But in this story Steve's going through a lack of trust for other people. He's seen the government fail multiple times, so I think he feels that he can't trust anyone apart from himself at this point of time. At the same time, Tony has a bit of a guilty conscience. He's feeling a need to show some allegiance to someone other than himself. That's why he decides to side with the government.
Steve and Tony have been partners in the Avengers movies. Was it hard for Steve to be in a conflict with Tony?
Yes, and I think that's what makes Civil War very interesting. It's not an Enemy vs Hero or Villain vs Hero. It's Friend vs Friend. This is sometimes the most dramatic conflict. When people actually have a history with one another, and care about each other to a point where they would consider themselves brothers--- the conflict is that much more difficult to navigate.
Image Source:
What about the other characters? Was it fun to bring them also in this Friend vs Friend war?
It's great. What Marvel is so good at doing is weaving this giant blanket together, so any time you get to be the bridge between worlds and universes. It's exciting. When I saw Ant Man, I was enjoying it and saying to myself, "Oh yeah, we're going to have this guy." You get to blend these universes and that's a real treat.
Steve has been close to Black Widow. Was it hard for him to fight her out?
That's what makes the Civil War so tragic because they've all been close with everyone. Black Widow and Steve have had some beautiful moments. In Captain America: The Winter Soldier, Black Widow and Steve really bonded in a lot of ways. But, the most heartbreaking friendship to see is Steve and Tony. They're very different but that's what makes them such a unique pairing.
Image Source: moviepilot
And there always seems to be something Steve can't let go of with Bucky aka the Winter Soldier. Why is that?
Bucky is Steve's best friend. He's his oldest friend in the world. I don't think Steve is the kind of guy who grew up as Mr. Popular, so Bucky was the guy who has always been there. He's always had his back and Steve's a loyal guy. I'm sure there's a certain sense of guilt based on what happened to Bucky but all of their combined tragedies just brought them closer together.
Image Source: bioscopeblog
This is the second time you are being directed by the Russo brothers. They are also going to direct you in two future Avengers movies. How's it working with them?
I love the Russos. They're great. They're so easy-going. They're not pretentious. It's a pleasure just being around them as men but they also have this encyclopedic knowledge of film making. The Russos have a really good way of bringing everyone on the same page. They're technicians, which I also really like. They're quick and they're precise. They know what they want, and we just have a good line of communication open between us.
What's the most enjoyable thing about playing Steve Rogers aka Captain America?
He's a good man. Anytime you get to go to set and try to live in a character's headspace for a certain amount of time and process scenes through his eyes, you can't help but take some of that home with you. And why not take home a little bit of Steve Rogers?
Image Source: filmweb
What's that one word that describes this Captain America film and differentiates it from the rest?
Grounded. It's a grounded story. The Russos make human stories with a superhero feel as opposed to superhero movies with human touches. It's real storytelling about a genuine family conflict. That's what makes it so great. Like I said, there's no right, there's no wrong, there's no clear evil on either side of this. It's just a matter of who you agree with.
Is it fun for you to play these more grounded, humane moments?
You never go into the Avengers movies thinking, "I'm going to play this like a comic book." You always go into it trying to play the grounded version and the real version as well.
Thumbnail Image Source: facebook/CaptainAmerica
They say the best things in life are free! India's favourite music channels 9XM, 9X Jalwa, 9X Jhakaas, 9X Tashan, 9XO are available Free-To-Air. Make a request for these channels from your Cable, DTH or HITS operator.