With the coronavirus pandemic taking over the world, a lot of things have come to a standstill and people are locked inside their houses, as a preventive measure. Well, celebrities out there are having a tough time because seldom they spend so much time in their houses. While many of them are making the best out of it by either working out spending some quality time with their loved ones, there are also a bunch of people who are eating to kill time. Yes, you read that right! Well, Khloe Kardashian is among others who belong to that category.
Taking to her Instagram, the reality TV star shared a streak of memes hinting at her sudden love for food amid the coronavirus quarantine. It turns out that she has even postponed her plans of having a summer body for this very reason. A picture shared by Khloe sees a before and after version of a quarantined Barbie. Well, in her case, the before picture has a fit Barbie, whereas the later version sees her all chubby and a little fatter.
Her next meme read, "Due to coronavirus my summer body will be postponed until 2021. Thank you for understanding." Ahh! We can totally understand and relate, Khloe!
Check out the pictures below: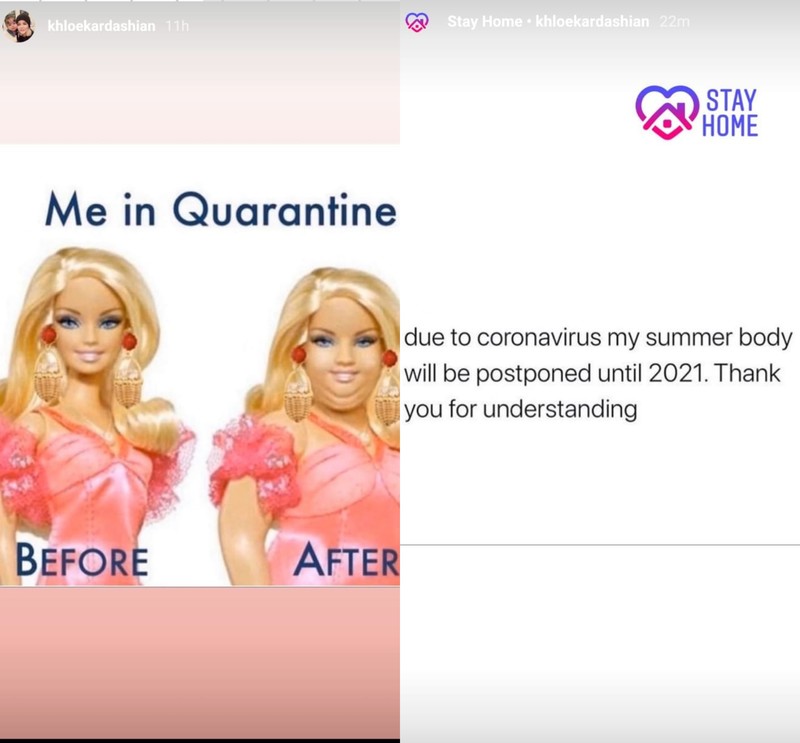 Meanwhile, Khloe Kardashian is reportedly isolating with her ex-husband Tristan Thompson, whom she had accused of cheating. A source close to the couple said to US Weekly, "Khloe, Tristan and True are quarantining together.
"Khloe doesn't have bad or negative feelings toward Tristan at this point. Being quarantined has made her have a soft spot for him, and she knows he will always be part of her life in some way because he is True's dad. Khloe has been open and receptive toward Tristan."
image source: instagram/khloekardashian