Deadpool Ryan Reynolds Mocks Contagion Director Steven Soderbergh Who Is Appointed To Lead Hollywood's Cornavirus Committee
Deadpool star Ryan Reynolds has quite an amusing reaction to the news suggesting that Contagion director Steven Soderbergh will decide when directors can get back to work post the Coronavirus threat is over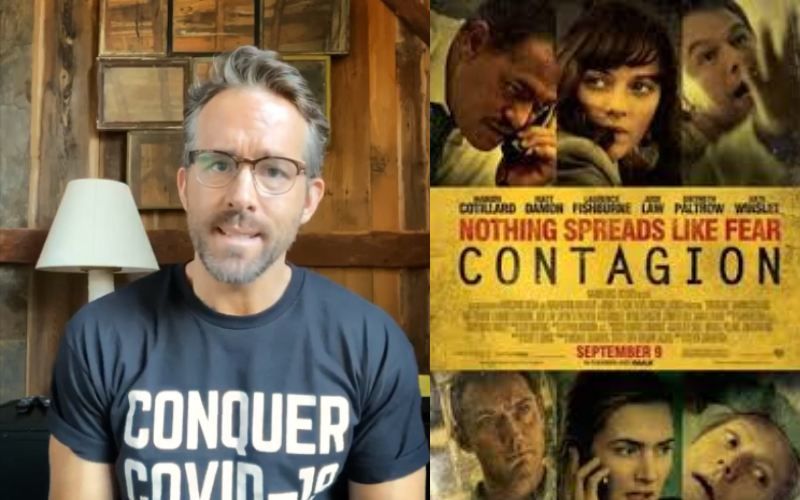 A committee of directors has been created to access the Coronavirus pandemic and its effect on the industry. Contagion director Steven Soderbergh is appointed as the head of this committee and he is going to be the one to decide when the directors can get back to work post the Coronavirus threat is over. The Directors Guild Of America has chosen him to be in the lead as his movie Contagion proved to be quite relatable during the pandemic phase. Reportedly, he has closely worked with epidemiologists while making his film. However, Deadpool star Ryan Reynolds has an amusing response to this piece of news.
Taking to Twitter, Ryan Reynolds twisted his qualifications and wrote, "I played a medical student in the 1998 sitcom, Two Guys a Girl and a Pizza place. Let me know if you need my help." Ryan sort of seems to have mocked the director and the position he now holds because of his 2011 film - Contagion. Ryan's comment gave rise to all sorts of hilarious responses from his followers. One of the followers wrote, "I've worn a stethoscope in two YouTube videos. I'm one phone call away." Another one joked, "I used to play hospital with my stuffed animals when I was 8 way ahead of you." LOL
Talking about the Guild trying to find ways for the safe return of directors to the sets, DGA President Thomas Schlamme and National Executive Director Russell Hollander in a statement said, "Rest assured, this is something we've been spending a great deal of time thinking about as well. While we don't have an answer as to when production will resume, we are taking steps to address how we can be safe when it does happen. A national board committee, spearheaded by Steven Soderbergh and with members from all categories, has been appointed to do a thorough examination of the issues at hand and to make recommendations to the board," as reported by Variety.
I played a medical student in the 1998 sitcom, Two Guys a Girl and a Pizza place. Let me know if you need my help.

— Ryan Reynolds (@VancityReynolds) April 17, 2020
I've worn a stethoscope in two YouTube videos. I'm one phone call away.

— Jason Lange (@JasonRLange) April 17, 2020
I used to play hospital with my stuffed animals when I was 8 way ahead of you

— This is genocide Ⓥ (@Habitat4Humilty) April 19, 2020
Image Source: Instagram/vancityreynolds/en.wikipedia.oreg