Emmy Awards 2021: From Hannah Waddingham's Winning Reaction To The Crown Making History; Here Are The Most Memorable Moments From This Year's Event
As the best of American TV got felicitated today with the biggest TV awards at the 73rd Primetime Emmy Awards, here's a look at some of the most memorable moments from this year's ceremony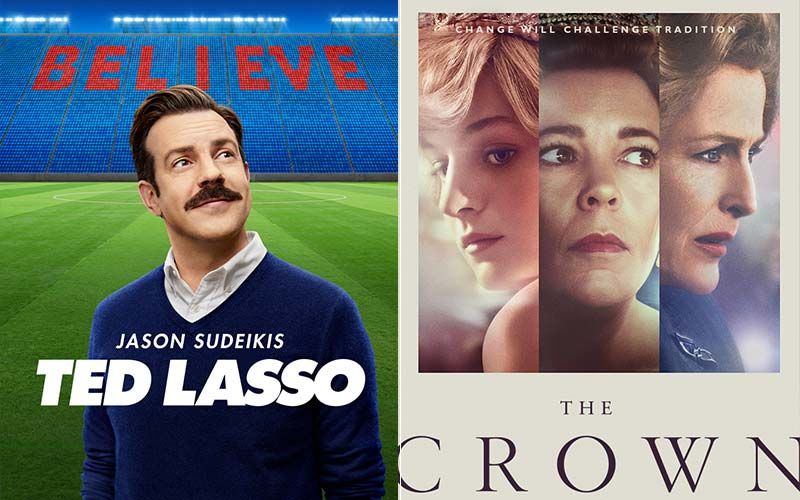 It was a celebration of American TV today at the 73rd Primetime Emmy Awards. After having a virtual ceremony last year, with nominees and guests appearing through zoom calls, this year's edition took a step towards normalcy with a live event with an audience. However, the number of people allowed were limited and apart from the American centre, there was a small team of guests in London as well, who joined the event live.
While The Crown, Ted Lasso, Mare Of Easttown, Hacks and The Queen's Gambit emerged as the big winners of the evening, here's a look at some of the most memorable moments from this year's ceremony hosted by Cedric The Entertainer.
Hannah Waddingham winning reaction
The first award for the night was for the Outstanding Supporting Actress in a Comedy Series and it went to Hannah Waddingham for Ted Lasso. The actress was so excited and elated with the win that she did everything, including screaming and almost sitting down out of surprise on the stage. She even made a case for more western musical theatre to be presented on screen at the end of her speech. Also, hers was just the first win of the show for the night as it went on to win three more awards—Brett Goldstein winning Supporting actor in a Comedy series, Jason Sudeikis winning Leading actor in a comedy series and the show winning Outstanding Comedy Series.
Brett Goldstein swearing in his acceptance speech
When Brett received his award for Outstanding Supporting Actor in a Comedy Series for Ted Lasso, he was pleasantly surprised. And even though he opened his speech saying he was told he isn't allowed to swear on stage, the actor couldn't stop himself from bringing a little of his character Roy Kent alive. A little part of his speech had to be muted off due to the swearing, but his award was well deserved.
Evan Peters giving a shoutout to Kate Winslet
Mare Of Easttown was a big winner of the night winning three awards—Kate Winslet for Leading Actress in a Limited or Anthology series or Movie, Evan Peters for Supporting Actor and Julianne Nicholson for Supporting Actress. In his acceptance speech, Evan gave a shout out to the Academy award winning co-star of his screaming, "Thank you Kate Winslet for being Kate Winslet".
Scott Frank taking his own time for his acceptance speech
The Queen's Gambit was also a big winner of the night taking home two trophies for Outstanding Limited or Anthology Series or Movie, and for Outstanding Direction for Scott Frank. Now, the winners were requested to make their acceptance speech within 45 seconds before they would be played off by the orchestra. However, when Scott went on to accept his award at the stage, he did not pay any attention to the time rule. He took his sweet time and was played off three to four times by the orchestra but the maker didn't stop before completing his over three-minute-long speech. He even took the time in the middle to ask the orchestra to stop the music and seemed unfazed by it.
Michaela Coel dedicating her award to victims of sexual assault
Michaela, who had written, directed and starred in the miniseries I May Destroy You, won the Outstanding Writing for a Limited or Anthology Series or Movie Award at the ceremony. Overwhelmed by the win, Michaela dedicated her award to the victims of sexual assault, making her acceptance speech, one of the most memorable ones.
Two Academy Award winning actresses won Emmy
Olivia Colman won the Outstanding Leading Actress in a Drama Series for her role as Queen Elizabeth II in The Crown and Kate Winslet won the Outstanding Leading Actress in a Limited or Anthology series or Movie for Mare Of Easttown, and it was a special feat as both these actresses have previously won an Academy Award as well. While Kate won her Best Actress Oscar in 2009 for The Reader, Olivia won hers in 2019 for The Favourite.
The Crown made a sweeping history
In last year's Emmys, Schitt's Creek created history by becoming the first comedy show to win all seven major awards of the night in the Comedy category, including Actor, Actress, Supporting Actor, Supporting Actress, Writing, Direction and Comedy Series. No one had thought that we'd get to see a clean sweep again so soon. But it happened just in the next edition, as Netflix's The Crown swept all the seven awards in the Drama series category, becoming the first drama to do that.
Image Source: YouTube/TelevisionAcademy/73rdEmmysAward2021, IMDb