From Khloe Kardashian To Tom Hanks To Ellen Degeneres; Hollywood Stars Who Were Diagnosed With COVID-19 In 2020
In 2020, many have contracted Coronavirus but take a look at Hollywood's first high-profile case of the outbreak. Right from Tom Hanks, Robert Pattinson to Kanye West and Cristiano Ronaldo, stars who tested positive for COVID-19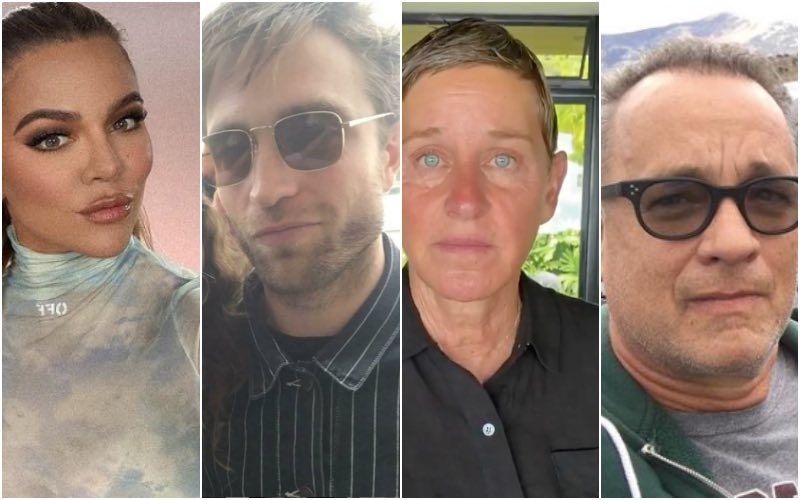 The Coronavirus scare hasn't died yet but many people have succumbed to this deadly virus in the past. Not just laymen, the virus that has been proved to be fatal has also been a horror for the celebrities as well. Bollywood top stars Arjun Kapoor, Amitabh Bachchan, Abhishek Bachchan, Aishwarya Rai Bachchan, Malaika Arora, Varun Dhawan, Neetu Kapoor and many more tested positive and recovered from it. Other than Bollywood celeb, even stars in the West have contracted Coronavirus and having said that take a look at Hollywood's first high-profile case of the outbreak.
Stars like Quantum of Solace star Olga Kurylenko, Game Of Thrones actor Kristofer Hivju, Frozen 2'sRachel Mathews, Madonna, Prince Charles, Prince Williams and many more have come under the radar. However, we have jotted down 10 stars, right from Tom Hanks, Robert Pattinson to Kanye West and Cristiano Ronaldo, who tested positive for COVID-19. Take a look at it here
Tom Hanks: Forrest Gump actor and his wife Rita Wilson took everyone by surprise when they announced on social media that they tested positive for COVID- 19 in March. After staying in complete isolation for some time, they recovered.
Idris Elba: On March 16, the Thor star and wife Sabrina Dhowre Elba were diagnosed with COVID-19. The couple was doing fine and remained quarantined together until recovery. Sharing the news, he wrote, "I tested positive for Covid 19. I feel ok, I have no symptoms so far but have been isolated."
This morning I tested positive for Covid 19. I feel ok, I have no symptoms so far but have been isolated since I found out about my possible exposure to the virus. Stay home people and be pragmatic. I will keep you updated on how I'm doing 👊🏾👊🏾 No panic. pic.twitter.com/Lg7HVMZglZ

— Idris Elba (@idriselba) March 16, 2020
Donald Trump and wife Melaine Trump: The current president of the US and the first lady announced on Twitter in October that they tested positive for Coronavirus. After getting treated from Walter Reed Medical Center, Trump said don't be afraid of it.
Tonight, @FLOTUS and I tested positive for COVID-19. We will begin our quarantine and recovery process immediately. We will get through this TOGETHER!

— Donald J. Trump (@realDonaldTrump) October 2, 2020
Khloe Kardashian: She had tested positive for Coronavirus a few months back. The designer and reality show star revealed in one of the episodes of Keeping Up With The Kardashians.
Ellen DeGeneres: The talk show host announced in a statement on December 10 that she has tested positive for COVID-19, but thankfully is "feeling fine right now."
Robert Pattinson: The Twilight star tested positive for COVID-19 recently. Due to which, reportedly, his shoot for the upcoming film, The Batman came into a halt.
Cristiano Ronaldo: The soccer star first tested positive for Covid-19 on October 13 while playing for Portugal UEFA Nations League Tournament. Now, he has recovered from the deadly virus.
Neil Pattrick Harris: How I Met Your Mother star revealed to have contracted the virus in March-April. He admitted to having lost his sense of taste and smell.
Kanye West: Keeping Up With The Kardashians' Kim Kardashian's husband and rapper Kanye West was diagnosed with the same around March. Kim revealed that it was a scary experience as she was with four kids and no one to help.
Jim Parson: In March, the Big Bang Theory star and his husband contracted with the novel virus. Speaking about their journey in The Jimmy Fallon Show, he said, ″We didn't know what it was. We thought we had colds. And then it seemed less likely, and then finally we lost our sense of smell and taste."
Image source: Instagram/ theellenshow/ tomahanks/ robertpattinsonu/ khloekardashian