HOLLYWOOD'S HOT METER: Nicole Kidman, Kim Kardashian, Emma Watson Or Hailey Baldwin - Monochromatic Obsessed
It's time to dive in the world of black and white with Nicole Kidman, Kim Kardashian, Emma Watson and Hailey Baldwin as monochromes are going to rule today's Hollywood's Hot Meter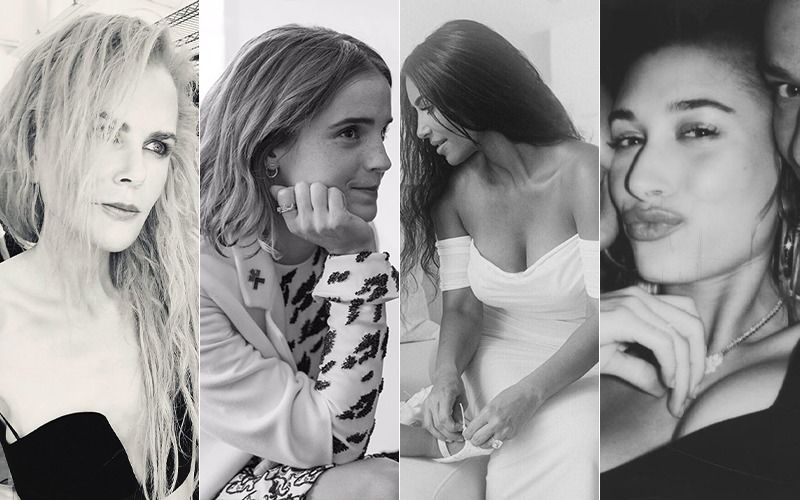 Let's agree to this, filters are the best thing that has ever happened to a social media addict. We love to add more aesthetics to our pictures and nothing has helped us better than the monochrome filter. The magic wand that helps us to go back to the black and white era is simply THE BEST filter one has ever created. And we must say, Hollywood divas have excelled it when it comes to using this filter. Be it Nicole Kidman, Kim Kardashian, Emma Watson or Hailey Baldwin - these ladies have shared many black and white pictures on social media making us fall in love with them.
Starting with Nicole Kidman, the lady is definitely a poser. She is pretty active on social media and one can say that she is obsessed with the monochrome filter. There are many pictures of hers that are completely black and white and mind you, all of them are drop-dead gorgeous. One of the pictures sees her starring herself in the mirror while taking a selfie. It's next-level perfect and the filter is just adding to her charm.
Next, we have Kim Kardashian, who is also pretty obsessed with black and white. She often shares monochromatic pictures on her social media feed and all we can do is gush over them as if it were the first time she has shared a black and white image.
The Beauty and Beast star Emma Watson too is sort off fond of this filter. One picture of Emma sees her seated on a table in a body-con white dress pulling off a very sexy pose. Our jaws have dropped to the floor.
Last, it is Hailey Bieber, who is making us go in weak in the knees with all her classy black and white images. Even her wedding pictures were two-toned.
We like them all, can't pick a favourite, can you?
Image Source: Instagram/nicolekidman/kimkardashian/emmawatson/haileybieber