Hugh Jackman Mocks Ryan Reynolds With His Magazine Cover As He Congratulates John Legend On Being 'People's Sexiest Man Alive 2019'
About yesterday, People's magazine declared John Legend the 'Sexiest Man Alive 2019'. As Twitterati do not find him hot enough, in a funny way, Hugh Jackman mocked Ryan Reynolds while congratulating John Legend on winning the title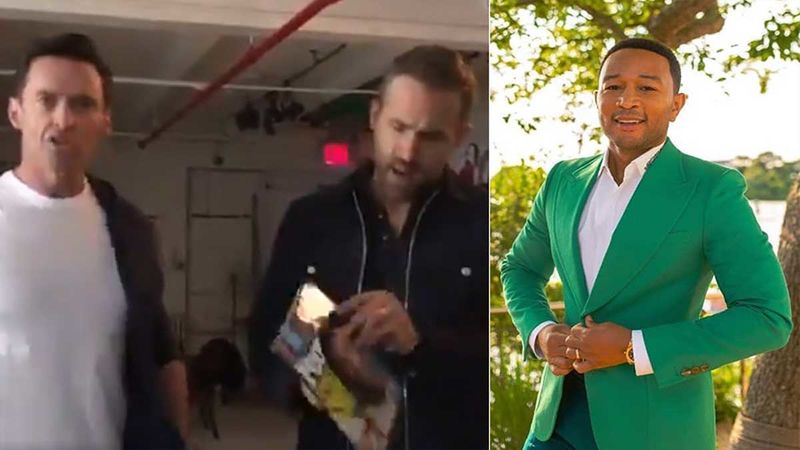 African-American singer
John Legend
has been having a good year with him winning many awards. The singer has achieved a big win for him this year by being the youngest EGOT (Emmy, Grammy, Oscar, Tony) Awards winner in history. As John is the first African-American singer to win all four titles, the singer has been coveted with the 'Sexiest Man Alive 2019' title. Meanwhile, as Legend has surprised many with him being the sexiest man alive 2019, Hugh Jackman and Ryan Reynolds made a video congratulatory John Legend on winning the title and question People's decision with sarcasm.
Hugh Jackman recently took to his Twitter to share a video with fans sharing his opinion on John Legend being declared as ' People's Sexiest Man Alive 2019.' The actor shared the video which featured Ryan Reynolds and him walking by in a basement area. While Hugh is spotted holding the People's Magazine's 2008 issue with him on the cover as the 'Sexiest Man Alive' he trolls Ryan Reynolds who did win the same title in 2010. The Hollywood stars talk about the People's selection process for the title. While Legend received a lot of flak on receiving the title on Twitter, Hugh Jackman tweeted the video writing, "Dear John. Massive congrats on joining this prestigious group. 99% of the time People get it right. ie Blake, DJ. A a word of caution. There's the 1%. It's important you fall in w the right crowd. Enjoy your reign. HJ @people@VancityReynolds @johnlegend @blakeshelton@TheRock." Also Read:
Jennifer Aniston Brings Her Furry Best Friend Clyde To Work, But It's Her Perfectly-Toned Legs That Caught Our Eyes
Congratulating John on his win and joining the prestigious 'Sexiest Man Alive' group, Jackman mentioned how 99% of the time 'People's magazine' gets it right and there's the other 1% where the magazine fails to declare. Asking him to enjoy his reign being the 'Sexiest Man Alive', Hugh explains how it's necessary to fall in the right crowd, of course, Ryan falling in the 1% category.
Meanwhile, as John Legend was awarded the 'Sexiest Man Alive' title, the beloved wife of the singer Chrissy Teigen updated her status to 'sleeping with the sexiest man alive,' and also shared how the sexiest man alive just made her a ham sandwich. While John Legend couldn't believe being the sexiest man alive,
Idris Elba also congratulated the singer on his win
.
Image source: Instagram/ John Legend, Twitter/ Hugh Jackman