Jennifer Lawrence Fangirls Over Ariana Grande; Reveals She Felt Like A 'Radio Contest Winner' When She Met The Singer, Adds 'She's So Tiny And I'm A Huge Fan Of Her Music'
Jennifer Lawrence fangirls over Ariana Grande and says the singer is so tiny and admits she's a huge fan of her music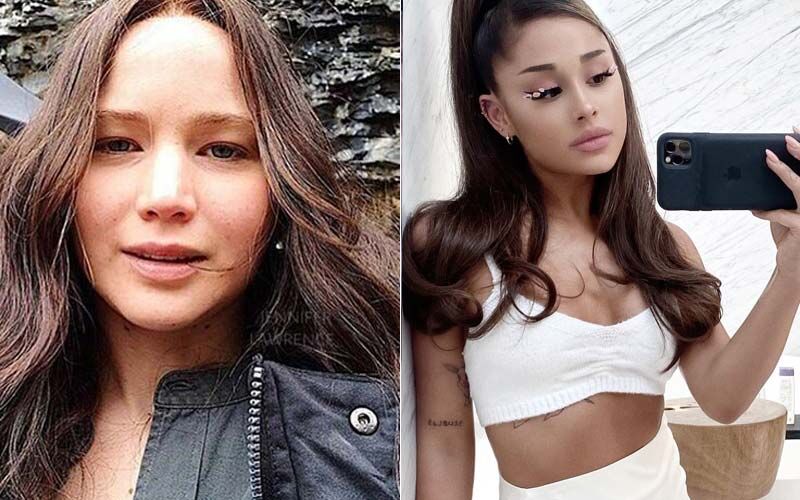 Jennifer Lawrence is a huge fan of Ariana Grande and she wants the world to know. The stunning actress, who is expecting her first child with husband Cooke Maroney, recently revealed that she felt like a 'radio contest winner' when she met the singer in person. During an interview with Pallabi Dey Purkayastha from WION, JLaw said, "She is so tiny. I mean it the meeting) was shocking. She's so tiny. And I mean I'm a huge fan of her music and Scott's. It's just like, you know, like overwhelming."
During an interview with Entertainment Tonight, Jennifer said she was starstruck by Ariana more than Meryl Streep.
Lawrence also teased her own album as a result of being inspired by Grande. "I mean, I sound similar, don't get me wrong - better even. I'm coming out with something, you'll see," she joked.
During a recent Q&A session with the Don't Look Up cast, Lawrence said, "She can't make bad music. I've since reflected on my behaviour with Ariana Grande. I went full radio contest winner. I was so excited and nervous that at one point, I just kind of walked into her hotel room and sat down. I've just been thinking about it a lot lately. There were all of these trunks for her hair and makeup, and I was like, 'Do you live here?'" Variety reported.
A few days ago, JLaw attended the premiere of Don't Look Up. The Oscar-winning actress wore a golden gown and looked beautiful beyond words. She was joined by Leonardo DiCaprio, Meryl Streep, Jonah Hill, Kid Cudi and others. 'Don't Look Up' will be released in theaters on December 10 and will hit Netflix on December 24.
Image Source:Instagram/jenniferlawrence_/ArianaGrande