Khloe Kardashian Whips Up A Delicious Surprise For Her Munchkin True Thompson's 2nd Birthday; This Is Lockdown B'day Goals
On the occasion of True Thompson's birthday, mommy Khloe Kardashian took to her Instagram account and shared a series of photos of True who seemed completely thrilled and excited for her birthday bash. She calls TuTu her entire world, while on the other hand, daddy Tristan Thompson sends out the sweetest wish saying she will always be daddy's little girl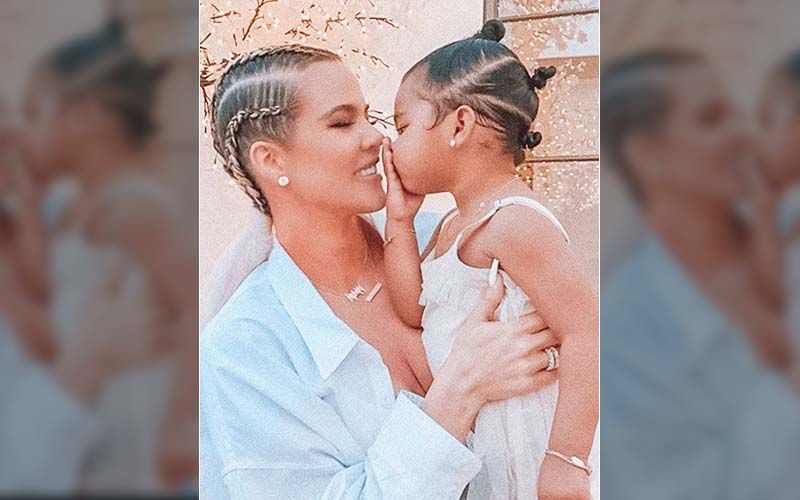 Today, the little munchkin and daughter of Khloe Kardashian and Tristan Thompson, True Thompson has turned 2 years old. As proud parents, they are over the moon as their daughter turned a year older. On the occasion of her birthday, mommy Khloe Kardashian took to her Instagram account and shared a series of photos of True who seemed completely thrilled and excited for her birthday bash poses for the cameras on the bed. In the pictures, a doting mother decorated her room with pink balloons and a large 2 digit is also seen floating in the air. Ah! It simply looks gorgeous.
Wishing her TuTu on Instagram, she wrote a heartwarming caption for her daughter who she called True her unforgettable memories. She also called daughter her entire world as Khloe's caption read, "Happy birthday my sweet TuTu!! You are all of my unforgettable memories of the past few years, the precious magical moments of the present and the promise of a happy future. You are literally my entire world! I can't believe you are TWO!! You make my life complete and I can't wait to have forever with you!!! Until the end of time; I love you my sweet girl." She then ended the note by saying, "PS This new face she's making makes me so happy!"
True's father Tristan has also shared a lovely note for his daughter on her special day. He shared quite a few pictures of True and called her Daddy's Twin. Captioning the snaps, "Happy Birthday to my sweet baby True. You have no idea how much daddy loves you. I can't believe how fast time has flown by. You will always be daddy's little girl. I Love you soo much Tutu. Happy birthday day. #DaddysTwin"
We also went through True's aunt and her best friends' mom Kim Kardashian's account to see what she has to say about the little birthday girl. She too posted some pictures and backed them with, "My sweet baby True. Happy 2nd Birthday! I wish we could all be there with you to celebrate you today! I love you so much precious girl! Looking through pictures to post made me so happy, this cousin bond is so special and will last forever"
We also came across granny Kris Jenner's post which read, "Happy Birthday to our precious True!!! You are such a blessing in our lives and we love you so much!!!! You are such light and sunshine and we can't wait to celebrate you very soon!!! Happy Birthday Angel bunny I love you Lovey Xoxox"
Image source: Instagram/ khloekardashian