Kim Kardashian is pursuing law and is planning to take the BAR exam in the year 2022. For the same, she is prepping hard and taking all the online tests available. Recently, she shared a picture of the exam question that she came across while studying. What's so fascinating about this question, you may ask! Well, this question is all Tiger King-themed and even has a mention of Carole Baskin the rival of Joe Exotic in the series. Now, isn't that interesting?
Kim shared the picture of the question on her Instagram stories and captioned it as, "OMG my law school studying is Tiger King themed today." She also attached a GIF of Maldonado-Passage laughing. The question that is a part of her test reads, "A woman visited a tiger rescue zoo with her family. While she was there, she tripped over a tiger's tail and injured her arm. Who should the woman sue and what is her best theory of liability?" Kim has four answers to choose from and the last one is Carole Baskin. Lol.
As per JD Advising, the correct answer to the question is "The owner of the zoo, for negligence." Explaining the reason, the site states, "Even though Joe Exotic likes to blame Carole Baskin for everything, it would not necessarily be her fault."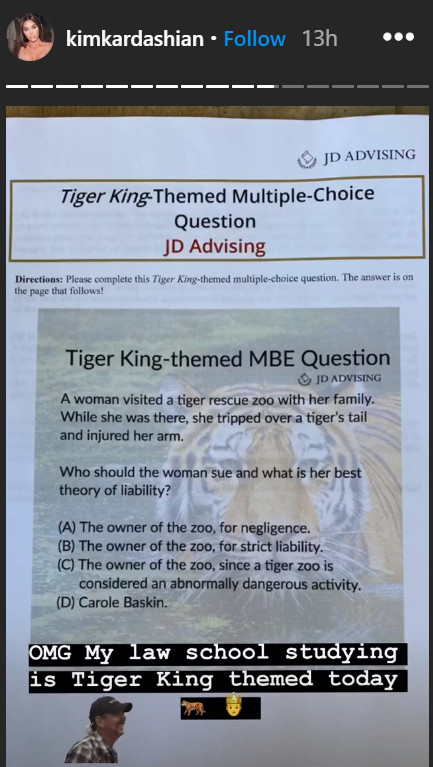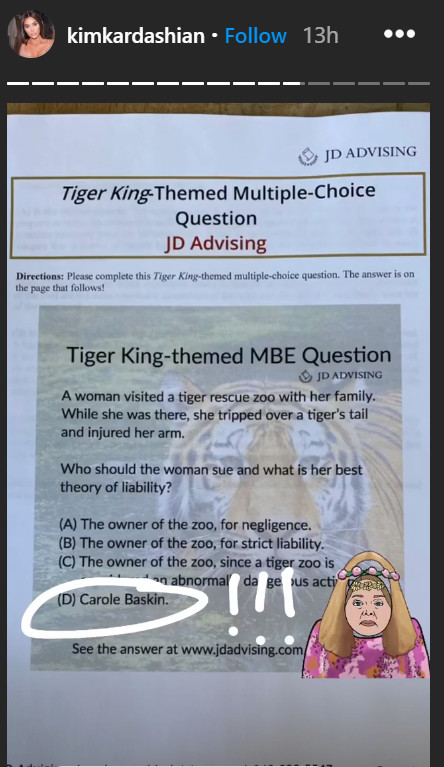 It was in an interview with VOGUE that Kim revealed her desire to be a lawyer. It happened after she successfully campaigned to get 63-year-old Alice Marie Johnson out of Jail. She had then quoted, "It's never one person who gets things done; it's always a collective of people, and I've always known my role, but I just felt like I wanted to be able to fight for people who have paid their dues to society. I just felt like the system could be so different, and I wanted to fight to fix it, and if I knew more, I could do more." (Also Read
: Kim Kardashian Wants To Have A Serious Conversation On Social Distancing; Daughter North West Won't Stop Interrupting - WATCH)
Image Source: Instagram/kimkardashian/ew.com