Hot And Sexy Outfits Kim Kardashian Wore In 2019: From A Metallic Top To The World's Tightest Corset
Owing to her huge fan-following on social media, Kim Kardashian constantly treats fans with various pictures. As Kim Kardashian is the queen of snazziest appearances, here are the 2019 looks of the fashion mogul, from a metallic top to the world's tightest corset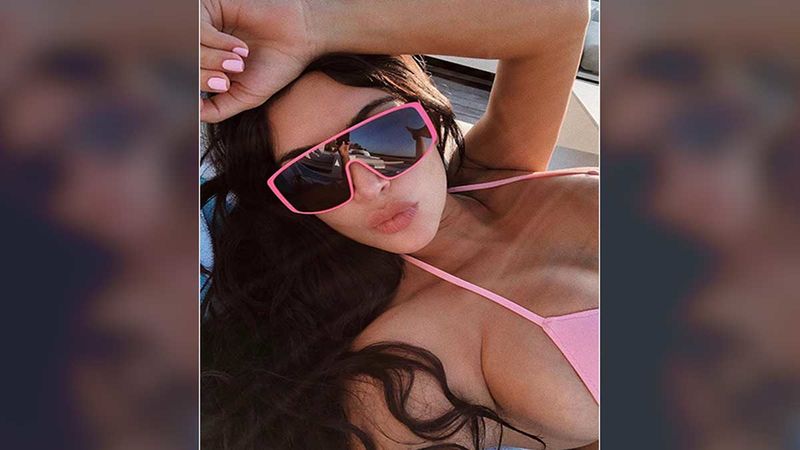 Kim Kardashian
is one of the most popular and known celebrities worldwide. The beauty mogul rose to fame with her popular show Keeping Up With The Kardashians and has turned out to be a fan-favourite ever since. As Kim is known for her activeness on social media, the beauty mogul constantly treats fans with glamorous pictures of her as well as her family. The beauty mogul is a mother to four kids North West, Saint West, Chicago West, and Psalm West and often proves the love she has for her kids.
Apart from managing to maintain the balance between work and personal life, Kim Kardashian has been busy with her work commitment. While the mogul makes many appearances owing to her busy and popular lifestyle, Kim keeps us posted about her too-glam looks. Well, as Kim Kardashian is the queen of snazziest appearances, here are the 2019 looks of the mogul from a metallic top to the world's tightest corset. Also Read:
Kim Kardashian Talks About Her Painful Pregnancies; Underwent Five Surgeries In 1 And A Half Years
Kim Kardashian recently took to her Instagram to share a picture with her Ace, sister Khloe Kardashian. While the sisters look great as they get papped, dressed in a cool teal green silk outfit, Kim nails her boss-lady look as she heads out in style.
Beauty mogul Kim Kardashian steals the show with her teal green snakeskin dress. The beauty mogul is dressed to impress at the People's Choice Awards night 2019
Promoting her make-up brand KKW, Kim Kardashian's sultry picture dressed in a silver netted sheer outfit is LIT! The beauty mogul definitely knows how to leave fans drooling.
It's Leather pants and a sweater for the fans to start clicking the picture of Kim Kardashian with their phones. The picture above and Kim heartbreaking smile, clearly proves the beauty mogul is the queen of many hearts
Why so hot Kim Kardashian! The beauty mogul manages to rock a simple body-sticking silver-colored dress at an event. Kim Kardashian has managed to pull off her 'Glow Worm' look.
Kim Kardashian flaunts her curvaceous body in the sexiest shapewear ever. The beauty mogul takes her pink-colored shapewear to a whole different level with her charm.
None other than Kim Kardashian can look super hot and glamorous in a black corset. The beauty mogul looks like a sexy Latina as she poses in a well textured black corset with a thick choker.
Kim Kardashian nails her casual appearance in a sexy velvet gown. The mogul perfectly pairs her outfit with Chanel eyewear, and sexy stilettos and her high pony adds oomph.
Kim Kardashian strikes a Queen-like pose in her sexy black corset outfit, along with Kim's charm, her emerald green stone studded and the black cross-shaped choker is engaging.
Kim Kardashian proves she is surely Hot as Hell! The beauty mogul and her fiery and feisty multicolored jumpsuit is rising the temperature.
Meanwhile, as 2019 is coming to an end, this year, Kim Kardashian has been a fan-favorite with her constant posts on social media. As Christmas is inching closer, Kim was recently seen enjoying her time baking gingerbread cookies with son Saint West. The beauty mogul also got brutally trolled recently for over-editing daughter North West's picture.
Image source: Instagram/ Kim Kardashian