Kim Kardashian's Spills The Secret On The Kind Of Underwear She Wears That Helps 'Compliment Her Figure'
Recently, Kim Kardashian brought a new range of soft yet supportive underwear from SKIMS that will do wonders to highlight the hourglass shape just like the Keeping Up With The Kardashians star. As she modelled for her own brand, she shared a few pictures of it on Instagram and must say, they do look pretty flattering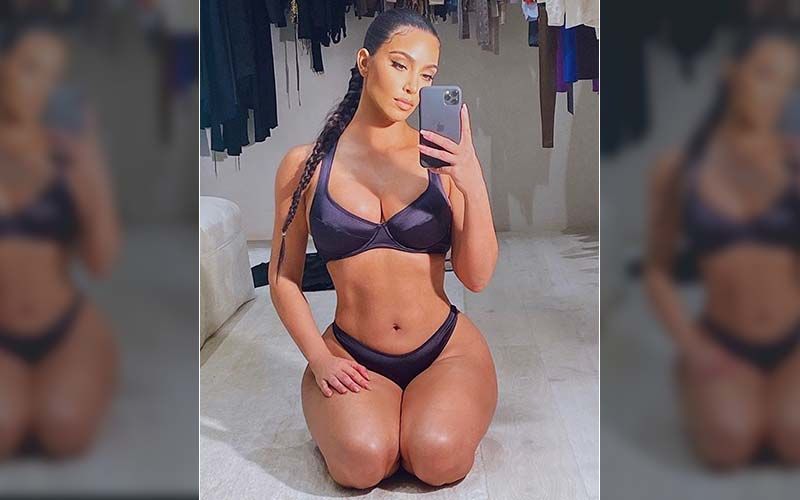 If you are looking for a slim waist, comfy underwear yet something to compliment your body also, then Kim Kardashian's SKIMS is what you need right now as her new underwear emphasizes on all these features! That's right! Kim Kardashian who is the owner of SKIMS shapewear brand has been emphasizing on bringing out the best in a woman, yet something that looks classy and comfy. Since the beauty mogul, herself is known for putting her sexy curves on display very well, who could be better at promoting this kind of shapewear that enhances both shape and the look.
Well, promoting her new soft yet supportive underwear from SKIMS, the Keeping Up With The Kardashians star posed in her own brand's clothes, the new Stretch Rib loungewear that certainly did wonders to highlight her hourglass shape. If you are already impressed by the wear, you can get it in the three colours — bone, slate green and soot. As she modelled for her own brand, she shared a few pictures of it on Instagram and must say, they do look pretty flattering.
While sharing the pictures, she said it will compliment your figure, so ladies, what are you waiting for? Go crazy. She captioned the pictures as, "Soft yet supportive, @SKIMS Stretch Rib is designed to complement your figure." She also mentioned that the product is available in different sizes and colours. "Shop now in 3 colours and in sizes XXS - 5X at SKIMS.COM and enjoy free shipping on domestic orders over $75.
Image source: Instagram/ kimkardashian