Lady Gaga Gets 10 Mil Dollar From Tim Cook On FaceTime For COVID-19 Relief Concert; Says 'Next Single's Called Tim Cook'-WATCH
Lady Gaga and Jimmy Fallon surprised Tim Cook with a FaceTime call, secure a sizeable donation of 10 million dollars from the Apple CEO, check out the video!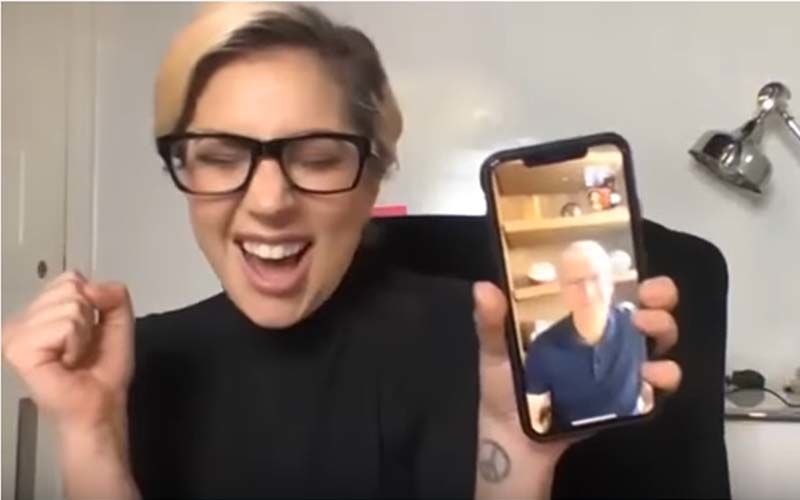 People all around the world are staying indoors and are self-isolating, amid the Coronavirus pandemic. Shootings for films and shows have been halted, and gigs and concerts have been canceled. However, our favorite stars are coming together virtually by digital means from the comfort of their own homes, for interviews, concerts and more. The most random of people forming a trio would be Lady Gaga, Jimmy Fallon and Tim Cook, and yet they did come together for something very special recently.
A special at home episode of The Tonight Show Starring Jimmy Fallon made it possible for these three to come together. The episode aired on Monday and Jimmy Fallon and the singer discussed her latest announcement, One World: Together at Home global benefit concert. Gaga said that she needed to reach Tim Cook to see if he would donate to the cause supporting WHO and healthcare workers in fighting against Coronavirus. Lady Gaga said, "I think we should call Tim Cook. I don't know if he knows he's going to be on T.V. just yet, but let's just FaceTime him and find out."
Once Lady Gaga connected to Tim, she reminded him of the donation they discussed earlier and asked if it is confirmed. Tim said, "You can confirm me. We are so proud to be a part of this."
Lady Gaga was visibly excited and she said, "My next single is called 'Tim Cook.' I'm putting it out tomorrow. You just helped a lot of people." Jimmy Fallon later shared that Apple has donated 10 million dollars to the One World: Together at Home initiative.
Image Source: YouTube/The Tonight Show Starring Jimmy Fallon, Instagram/ladygaga