Nick And Joe Jonas Impersonate Kim And Khloe Kardashian's 'Don't Be F*cking Rude' Fight; It's Hella' Fun - VIDEO
Nick Jonas, Joe Jonas and Kevin Jonas recently recreated an iconic scene from Keeping Up With The Kardashians- the legendary purse fight between Kim and Khloe Kardashian. The video is so hilarious, it compelled Kim, and Khloe themselves to comment on the video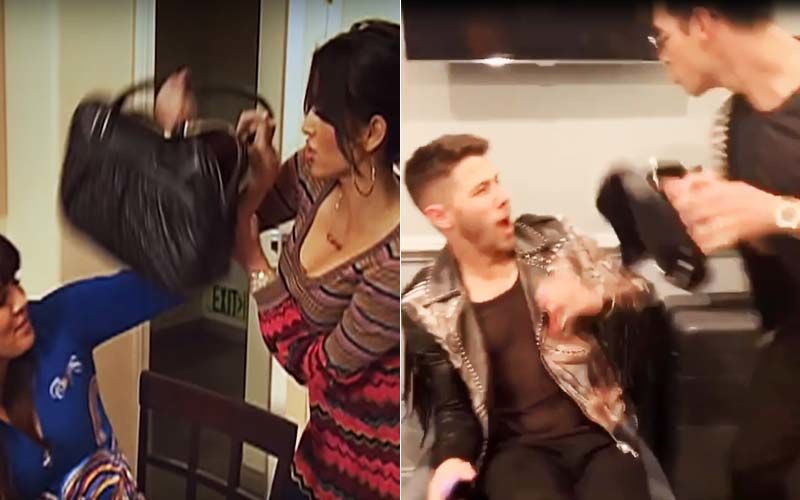 Jonas Brothers, one of the most popular rock-pop band, also have another talent. Nick Jonas, Kevin Jonas, and Joe Jonas have great acting skills and have also starred in Disney film Camp Rock, and television series Jonas Brothers: Living The Dream. Now, once again, putting their acting skills on display, the Jonas brothers recently recreated an iconic scene from Keeping Up With The Kardashians- the legendary purse fight between Kim and Khloe Kardashian. The video is so hilarious, it compelled Kim, and Khloe themselves to comment on the video.
Joe Jonas took to his Instagram to share the video, and captioned it as, "Don't be Rude!" The scene opens with Joe bursting in through the door, lip-syncing to Kim saying, "Don't be f*cking rude!" He then slams his purse at Nick, who plays the role of Khloe. It is hilarious, to say the least. Kim commented, "OMGGGGGGGG," while Khloe wrote, "Hahaha nailed it!!!!!!" That's not all, Nick's wife Priyanka Chopra commented, "Gold," and Hailey Bieber also couldn't help but laugh at their antics. She wrote, "Lmfaoooooo," while Diplo commented, "Give me that jacket." The video is unmissable, check it out here:
For all those who haven't seen the iconic purse fight of Kim and Khloe Kardashian, here's the video:
The fight between Kim and Khloe Kardashian was in the 2008 episode of Keeping Up With The Kardashians titled, "Kardashian Civil War." Kim had been furious with Khloe because the latter slammed Rob's door in her face.
Image Source: Instagram/joejonas/commentsbycelebs, YouTue/Keeping Up With The Kardashians