OnlyFans Star Bella Thorne Gets ENGAGED To Producer Mark Emms After Less Than A Year Of Dating! Bride-To-Be Flaunts Her Massive Ring In These PICS
Bella's personal life took a turn on May 13, 2023, as Mark proposed to her and she said, Yes! The two even had a family celebration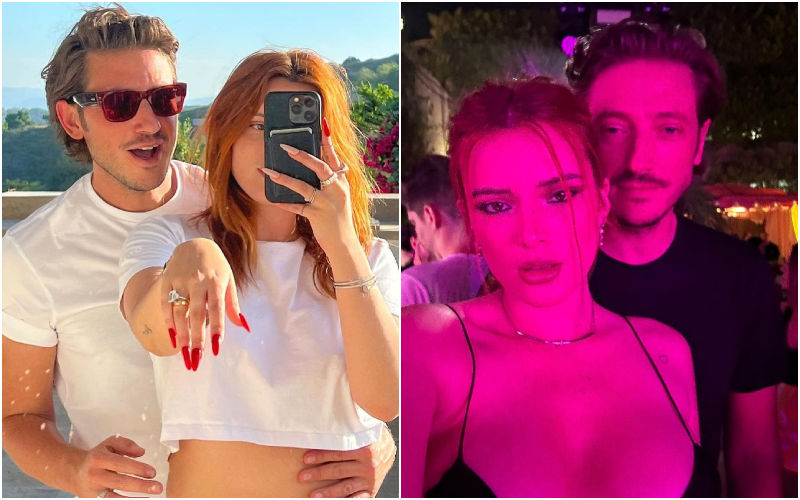 Wedding bells have been ringing for Bella Thorne and Mark Emms, who have decided to get hitched and take their relationship a notch higher. Taking to her Instagram handle on Friday, the former Disney Channel star declared her engagement to a businessman and executive producer of "Bad Vegan."

Sharing the update on her relationship, Bella shared a picture which saw her flaunting her engagement ring in a series of private pictures with Emms standing behind her. "My love," she said in her Instagram caption.
For the unaware, Bella and Mark got together in 2022 while at Cara Delevingne's birthday party in Ibiza, according to Vogue which made the announcement Friday.
For the actor, "It was love at first sight as the sun rose." The day before Mother's Day, Emms reportedly proposed to Thorne with "a 10-plus-carat emerald-cut diamond ring." On Valentine's Day, Thorne declared her relationship with Emms, who is a co-owner of the New York City club the Mulberry, Instagram official.
Bella Thorne and her ex-boyfriend Benjamin Mascolo walked down the aisle in 2021, however, a year later the actors broke off their engagement, and parted ways "amicably," according to People Magazine.
Bella's personal life took a turn on May 13, 2023, as Mark proposed to her and she said, Yes! The two even had a family celebration.
Speaking to Vogue, Bella revealed that she has begun organising for the big event, "Every bride does not need one gown, but four!" Bella did not specify a date for the wedding but stated that she would choose a country manor in Britain.
In June 2022, Bella finally got candid about her breakup with singer and actor Benjamin on her Instagram Stories, saying, "I broke up with Ben for my own reasons." The actress at the time pleaded with fans to refrain from asking questions about the breakup because it was a "personal matter."
The upcoming horror-comedy "Saint Clare," which depicts the story of a calm college student with a "divine vocation for killing," is one of Bella's upcoming projects.
Image Source: Instagram