Ryan Reynolds And Blake Lively Joke About Fourth Pregnancy On Social Media; Looks Like The Deadpool Star Does Not Want To Have More Kids
Ryan Reynolds and actress wife Blake Lively joke about fourth pregnancy on social media. From their fun banter, it looks like the Deadpool star does not wish to have more kids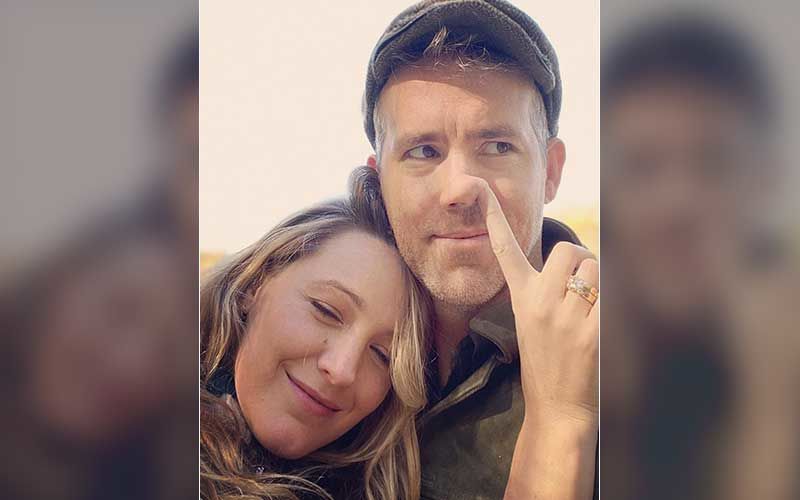 Ryan Reynolds and actress wife Blake Lively have been happily married and are parents to three wonderful kids. Ryan and Blake are known to one of the coolest parents ever and are also the most-loved couple in Hollywood, among fans. It was just recently that after Reynolds shared a post on his social media, actress wife Blake Lively and he joke about fourth pregnancy on social media. From their fun banter, it looks like the Deadpool star does not wish to have more kids. Read On about it
On Instagram, Ryan Reynolds shared a brief video from his 2010 film Buried and wrote, "Before Deadpool, I was an actor. One of my favorite projects was a film called "Buried" and it's now on @Hulu. 10 years later, it really holds up!"
While Ryan joked about how he was an actor before he starred in Deadpool, the video features him taking a swig from a flask. Reynolds also joked and wrote, "Although I don't recall the aggressive product placement," as his brand name- Aviation Gin, was edited in the clip and featured in several places of the scene.
Replying to the post, wife Blake Lively wrote, "I think this just got me pregnant." While the Gossip Girl replied to her dearest husband's post, in his typical fashion, Ryan Reynolds replied with a witty comment. He wrote, "I will be out of the office starting July 22nd through the middle of forever and ever," and joked. He then continued, "If you need immediate assistance during my absence, please contact someone. Anyone. Otherwise, I will respond to your message as soon as possible upon my unlikely return. Thank you." Also Read:
Ryan Reynolds Trolls Brad Pitt With A Never Seen Before Pic From The Sets Of Deadpool 2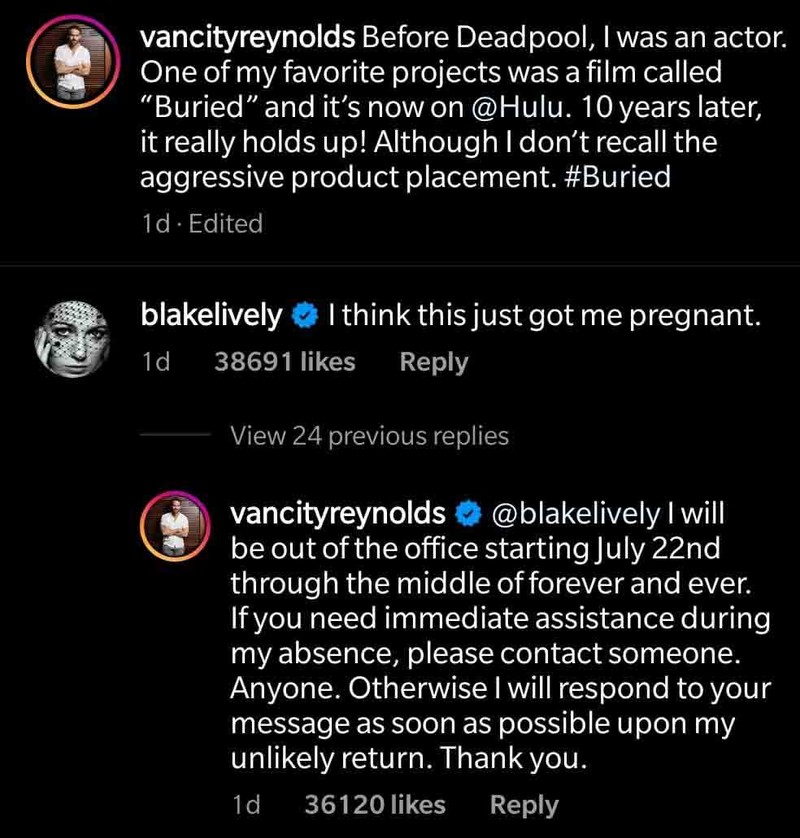 Meanwhile, as Ryan Reynolds and Blake Lively joke about having a fourth baby, with his response, the Deadpool 2 star made it quite clear that he does not want to have a baby any time soon. Reynolds and Lively share three daughters: James, Inez, and their third child that was born last year. The couple is yet to announce the name of their third baby.
Image source: Instagram/ Ryan Reynolds