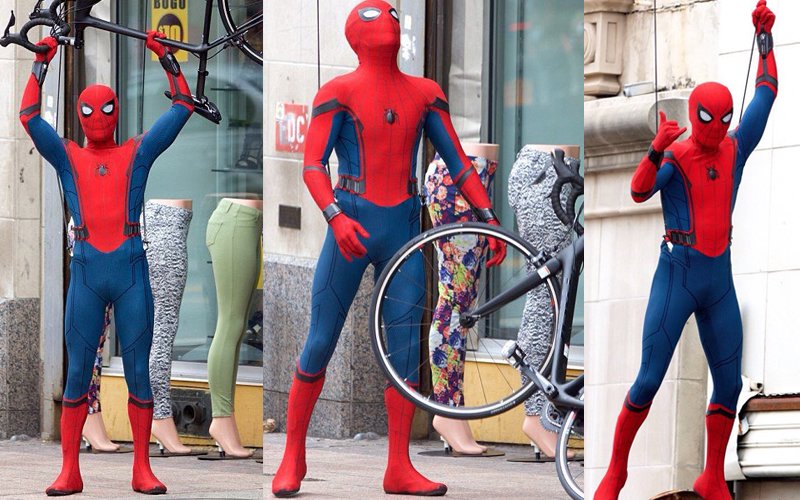 Your browser does not support the video tag.
Spider-Man: Homecoming has created the right buzz with photos from the set showing Tom Holland in an all-new Spidey suit. Also, there's that news of Robert Downey Jr. making an appearance as Iron-Man in the film.
Now, photos of Spidey in action have been posted on Twitter we have them here. The photos show Spidey sliding down picking up a bicycle and riding it in the end. Looks like Spidey is part of a hot pursuit in these photos, which are the first ones showing Spidey in action.

The film has Tom Holland play Spider-Man in his first standalone film. Tom made his debut as the web-crawler in the super-hit Captain America: Civil War, where he sided with Robert Downey Jr.'s Tony Stark.

SpotboyE.com earlier brought to you pictures of Tom Holland as Spider-Man from the sets. We also told you when Holland Instagrammed a picture of himself in the Spidey suit.
This is the second reboot for Spider-Man. Tobey Maguire first played Spider-Man in three films until that franchise was wrapped up with Spider-Man 3 in 2007. The first reboot starred Andrew Garfield and it wrapped up with The Amazing Spider-Man in 2014. This reboot is set to release in 2017.


Spider-Man: Homecoming is definitely on our must-see list right now.
Thumnbnail Image Source: twitter/filmfreed