Times When Kylie Jenner's Munchkin Stormi Webster Won Hearts With Her Cuteness: Videos That Prove She's A Sweetheart
As Kylie Jenner's daughter Stormi Webster is winning hearts with her cuteness on the internet, here are videos of the times when the little munchkin has proved she's a sweetheart. Check it out!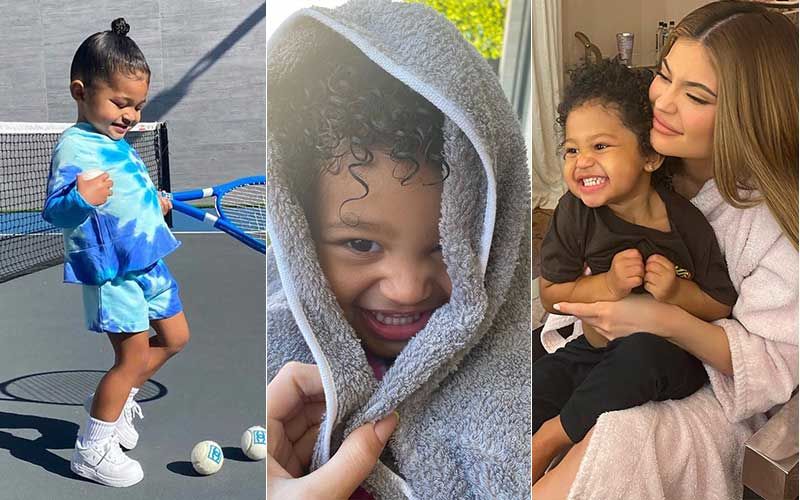 Born to parents Kylie Jenner and Travis Scott, a member of the Kar-Jenner clan, Stormi Webster has turned out to be an internet sensation, thanks to her cuteness. Ever since her Stormi's birth, her mother, Kylie Jenner has been constantly sharing love soaked pictures and videos of her little one which are too hard to miss. Be it Stormi's pictures after dressing up, accompanying Kylie to the office like a pro, or her lavish Birthday bashes, the little one's life is totally eye-grabbing and proves she is one hell of a lucky kid.
As Kylie Jenner little one is winning hearts with her cuteness on the internet off late with her 'patience' or 'sass', here are videos of the times when the little munchkin has proved she's a sweetheart. Check it out!
As Stormi Webster proves she's a pro always with her cutesy actions, in the video below, the little munchkin is spotted heading to the pool to throw her doll away, but instead leaves it down on the ground being totally savage.
The best moment when Stormi Webster waited for Kylie to return. In the video, Stormi looks adorable as she waits for Kylie to return and says, "PATIENCE PATIENCE" to control herself from eating the chocolates in the bowl in front of her. Watch!

The video below is from the time when Kylie Jenner lifted Stormi Webster to give fans a visual representation of how she will be after attending a post lockdown party. Check it out!
Standing in front of massive flower vase filled with yellow roses, Stormi is adorable beyond words as she goes on to give her mom Kylie Jenner a rose. Watch the cutest video:
We all remember the time when grandmom Kris Jenner gifted Kylie little one a massive dollhouse. In the throwback video, Stormi is seen playing in her dollhouse. The munchkin is spotted talking to her doll and putting her to sleep, while mother Kylie films her from behind. She also goes on to greet Kylie Jenner later. Watch below:
When Stormi said there's a Minion- In a video shared on Instagram, Stormi is spotted raising her hand high while munching on to something. Soon after, mommy Kylie goes on to ask Stormi what's under her armpits, to which she says, "I don't know." As the cute banter between the mother-daughter duo continues, Stormi says there's a minion under her hand and its adorbs. Check it out!
In the video, Kylie is spotted asking baby Stormi to scream, "Aaaaaaa," aloud. The little munchkin goes on to enact her mommy in return while in her arms. See the video!
When the little munchkin said, "I love you mommy goose," in the cutest way possible, literally making hearts melt. In the video shared by Kylie, as the mother-daughter have some fun times, when the make-up mogul says, "I love you baby goose," cuddling Stormi, she replies repeating it and calling her mommy a goose. Watch the video below:
Image source: Instagram/ Kylie Jenner