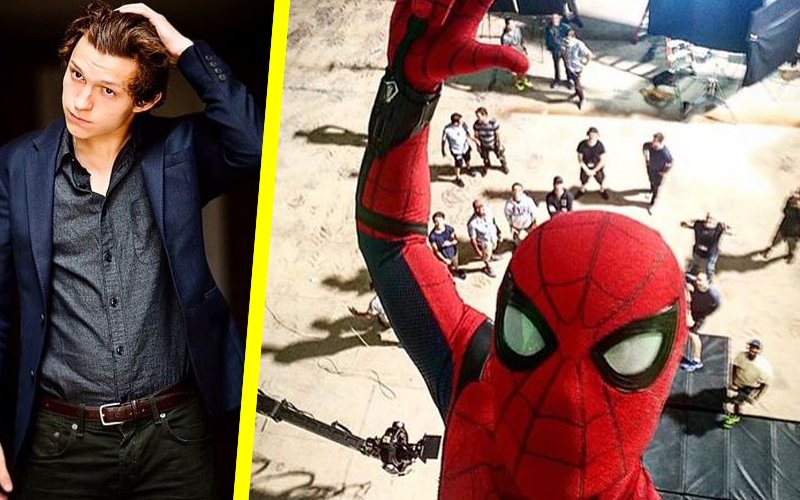 Nope, we aren't the only ones excited about the upcoming Spider-Man film, Spider-Man: Homecoming. Tom Holland, who plays the titular character, is kicked up enough to post a selfie right from the set!



On display is not just part of the Spidey suit but the web-slingers that we told you about in this earlier post, where SpotBoyE.com revealed the new Spider-Man suit (SpotboyE reveals Spider-Man: Homecoming costume, Jun 29).
We get a better look at the web-slingers this time and this version looks very similar to the ones in the cartoon series. The picture is unclear but looks like Tom was shooting for an action scene set in the evening.

With almost no details revealed about the film, the previous post that revealed the Spider suit and this one are two of the very few insights into the upcoming superhero caper as yet. Tom earlier did an amazing act as the web-slinger in Captain America: Civil War and fans can't wait for the film, scheduled to release in November, 2017.
In Captain America: Civil War, Spider-Man plays somewhat of a protégé to Robert Downey Jr.'s Iron-Man and battles with him against Captain America. Fans loved this fresh faced young 'un who battled with the biggest names from the Marvel Universe. Tom's take on Spider-Man in Civil War was his debut as the character, but his first stand-alone film will be the upcoming Spider-Man: Homecoming. The Jon Watts directed film will also see Robert Downey Jr. as Iron-Man.

The Spider-Man character has gone through two reboots earlier. The first film, starring Tobey Maguire as Spider-Man released in 2002 and spawned two sequels in 2004 and 2007. The series was rebooted with Andrew Garfield playing Spider-Man in The Amazing Spider-Man and The Amazing Spider-Man 2 in 2012 and 2014.


Thumbnail Image Source: instagram/tomholland2013