Tom Holland-Zendaya Visit Kerala's Munnar? Lovebirds Stopped Holding Hands As They Explore The Tea Gardens! Fans Say, 'It's Totally Real'
The picture featured Zendaya wearing an oversized green turtleneck with grey pants, while tom was seen in a grey shirt, black trousers and matching sneakers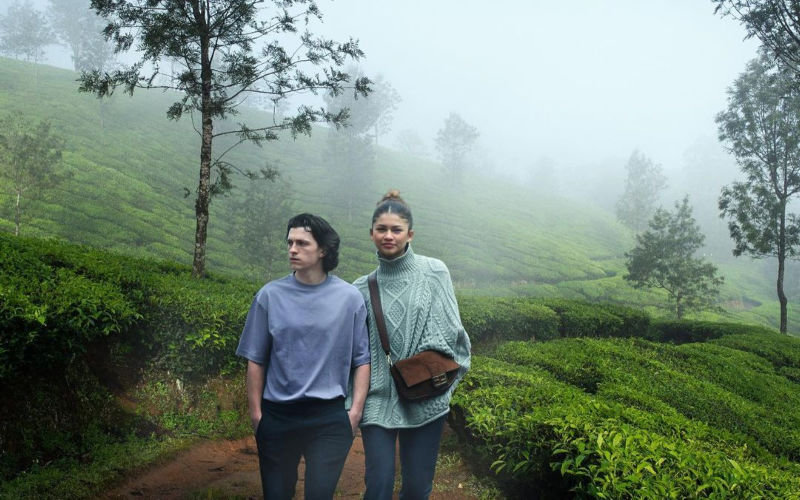 Zendaya and Tom Holland landed in India on their maiden trip together to the country. The couple were rumored to be in Mumbai for Nita Mukesh Ambani's Cultural Centre's opening. However, in an instant, the loved-up couple were not even spotted at the star-studded gala that was attended by a slew of Bollywood stars including Alia Bhatt, Kareena Kapoor, Deepika Padukone and Priyanka Chopra as well as international celebs such as Gigi Hadid and Nick Jonas.

As a part of April Fool's Day, which is celebrated on April 1, the official Instagram handle of Kerala Tourism shared a photo of Zendaya and Tom with the caption, "Guess who we spotted far away from home?" The caption included hashtags 'faraway home', 'Munnar' and 'Kerala tourism'.
In no time, the comments section was flooded with fans' reactions, who had been eagerly waiting for an update on Zendaya and Tom Holland's India visit.
While many joked about the 'epic' photo, some claimed that it was one of the best April Fool's prank. Some also claimed that Tom and Zendaya's photo was edited, and the picture was originally clicked in Boston last year.
Reacting to the post, one person commented, "Hater will say it's Photoshopped! As a designer, I stand by it it's real." One more person fell for the edited photo, and commented, "It's totally real. They were spotted at the Mumbai airport, and who knew they were en route to God's own country." One more asked, "Is this for real?" However, many joked about the quality of editing. One wrote, "White balance is not matched... try to improve." One more wrote, "Good April Fool's prank."