Ahead Of Sardar Udham's Release, Vicky Kaushal, Shoojit Sircar And Ronnie Lahiri Give An Insight Into The Life Of Sardar Udham Singh, OTT Releases And Censorship - EXCLUSIVE
Sardar Udham starring Vicky Kaushal and Banita Sandhu is all set for release. The film directed by Shoojit Sircar will stream on 16th October on Amazon Prime Video. Sardar Udham a biopic drama also features Shaun Scott and Stephen Hogan.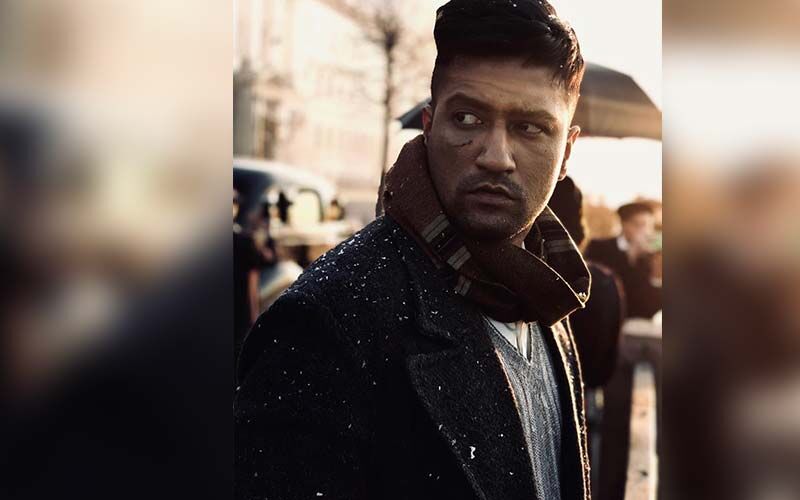 The audience are already saying that Vicky is going to get another National Award for Sardar Udham. How do you feel these comments coming your way?
Vicky: We are just very very happy that the earnestness and the sensitivity with which we had tried to tell the story that has landed. You know the intention of making this film has landed with the trailer. And that for us is the biggest reward with this trailer. Of course, there are many things that are yet to be shared with our audiences till the film comes out on October 16th. But we are just very happy that they have resonated with the soul of the film that we show through our trailers and excited for the times ahead.
Do you agree with your fans and with the audiences that you might get another National Award for this?
Vicky: No, I do not think about the future so much. For me it's very important that people connect to the film and Sardar Udham, that's my biggest reward.
Shoojit sir 21 years of your dream and hard work is onscreen and It is hardly like two days now for it release, how do you feel?
Shoojit: I am at this moment quite excited. When you make a film you are anyway excited like a child. I somehow wish that people understand what I am trying to say through this film or the way the story is. I hope they get engaged to it and just relate to it and they take it back home. I said that is why the film is made because it should be relevant. Somebody would leave his or her TikTok and watch this film or not. I think that is the reason that we want him to go and come and watch this film. That's it.
How much is it pure to the story?
Shoojit: This is based of course on true events, but yes for cinema you do fictionalize a lot of portions. There is a boundary, there is a territory. You just can't go just out of it. So there are moments where we have taken some liberty, but that liberty can only be taken when I know the subject as much in-depth. I have tried my best that I don't divert and be on the very thin edge. I hope that we are right.
How much have you made sure that you have straight-through to the character?
Vicky: I have tried my best and also what happens is when you act you cannot act in fear or portray a character getting scared. So we have tried our level best to stay true to that state of mind that Sardar Udham was always in. To be completely respectful of the story, the part, and the intention of bringing out the story from Soojit da has been so so pure. Pure is the only word that is coming to my mind right now and it's been that. And I think when that is in check and that is in place actions follow. I guess the fear was never there because our intentions were clear, our actions were. The way we are telling the story is as close to realism as possible. So on those grounds, we were only working with a lot of optimism and zeal to tell this story and bring out this story to the people and not in fear.
How was it working with Shoojit and Vicky?
Ronnie: I have collaborated with Soojit for many films so there's nothing new. I mean, this was a different film. In a way, it is s interesting because no two films of art are the same. So that way we challenge ourselves even more and especially with Sardar Udham what happened was we were shooting for Gulabo Sitabo and back to back, we shot these two films. So that was a big challenge creating one world, which was Lucknow and that one Hawaii, and suddenly creating London 1930s. It was interesting and a good thing that it was challenging because otherwise you get complacent and you start making these mistakes. So it was like two different films, two different eras, two different worlds we were creating. So that was good fun. And collaborating with Vicky was my first time an amazing experience, wonderful human being. We have obviously cast him because he is a great actor, but what matters to me is him as an individual, as a person. That is where I connect, not with the actor. He as a human being is as real as we are a regular middle-class boy with a lot of values, that is what we kind of resonate on that.
Do you plan to make anything special for the Amazon OTT web series or OTT movie for Amazon after Gulabo Sitabo?
Shoojit: Yes, of course. why not? If there are some more ideas come by and then I will surely make film why not? I will make films for OTT also and I will make films generally for theater, cinematic experience, but whether it's an OTT or whether it's a theater my making style or my cinematic narrative that won't change, it will always be cinematic. So I will of course, make films. Why not?
Would you call Sardar Udham the most challenging film of your career?
Vicky: I would call it the biggest film of my career and also the most enriching film of my career. I would say that the depth to which I have had to explore myself to find Sardar Udham inside me because that's somewhere, we are also trying to say that Sardar Udham is there inside each one of us. I got the wonderful opportunity to find that person inside me was an opportunity of a lifetime for me. I will always cherish that for the rest of my filmography, for the rest of my life. I am always going to cherish the opportunity that I got to find Sardar Udham in my heart.
What about OTT censorship? What are your thoughts on that?
Shoojit: OTT is no different than the theatrical release. It is the same audience. If there is a diktat you will have to censor and I will abide by it because it's the law of the land. If the law and land applies to a cinema theater release and the same applies to an OTT, I think we should follow it. I am really grateful and thankful to the CBFC, the entire team, that they have liked the film and they understood the ethos of the film, the sensitivity of the film. And they have given us UA, that's what we wanted. I am really happy that they understood the film and they were with me completely on this censorship and it all depends. It is very subjective. Some people, some filmmakers have also have overdone it also it's not that people don't do overdo it. That is the reason we are in this place that it is required that to be censored. If those people may not have overdone, it may not have flared up these things But censorship if there is a law of the land, we should abide by it.
Vicky: Primarily will go with exactly what he said. In the whole process, the world of filmmaking giving that expression out a film is always a director and a writer's mediums and actor just merely becomes a vessel. So I think I am a very small part of the whole program to say this or that should happen. Eventually, I am only being a vessel to present that vision to the audiences It is what the filmmakers feel about the whole thing. Like he said as a citizen of this country if it is a law, then we should abide by it.
Ronnie: Firstly censor if it's by the law, we have to abide. But most importantly, I think we internally should be more responsible. Self-censorship is the most important right? As per your question about the OTT, we are still learning this sudden shift that happened that OTT doesn't require censorship. I would put it down to my personal experience, like how I started in a boarding school till the 12th, and suddenly I went into college, with no restrictions, and I just didn't know how to handle my freedom. So I feel this is what has happened with OTT. The filmmakers throughout were stuck with that sensor board and suddenly they said there is no censorship, and then they just went overboard. They will be mature at some point and automatically they will sell sensors.
You have a good lineup of films like The Great Indian family and Mr Lele. Can you give us some updates on that? What stage are they in?
Vicky: Yes there are a few projects coming in the times to come forward. Let's see. It is still all in the making process. The shoot is finished post-production is going on. I am excited for those stories to also come out. They are very different from Sardar Udham. Right now definitely this was the time that we have all been waiting for for two years since we have completed the film. For 20 years this thought originated in his mind. It is a very special time going on for us to present this story, to present this person, to present this ideology to the audiences.
Theatres are releasing on the 22nd of October. Is there a slight disappointment that it won't release in theaters and releasing on OTT?
Shoojit: No, there is no disappointment as such because there won't be much difference in terms of what you take out of the cinema. We shot this film before the Covid we didn't know the situation it is. Now I think we will have to adapt to the situation. We will have to adapt to because nothing was planned as such Covid was never planned. We will have to adapt to it and see where it goes. There is no disappointment if everything goes all right in the next few months we will come back with a film and released it in a theater also and also an OTT. But OTT is here for now. It will go parallel. Both will adjust now. Earlier like we used to make a film it will release and okay give it to OTT. No OTT will now be one of the dominant factors in terms of making a film. It may have a very parallel release, some kind of a way the producers and the distributors will have to figure out to coexist.
Do you think it will be difficult now to get the audience back because there is still a fear?
Shoojit: It will vary from film to film. That's what, at this moment, the way the behaviors we are seeing it will vary from film to film. It will not vary in general. Maybe in some films, people will just flock to theaters like mad and in some films, they will want peacefully sitting here. For example, a lot of my friends, elderly, parents who are plus 55 or 60 have told me we will sit at home and watch it. Some not all. You will have to figure out a way, there are some people who would want to see it peacefully alone sitting at home, some would want to go to the theaters and watch it.
Image source/Vicky Kaushal/Instagram